Ricardo and Filipe Martins (Peter Julian)

While others are sleeping, Filipe and Ricardo Martins are part of Boston College's overnight workforce that cleans the classrooms, offices, hallways and other spaces of Boston College.

The two custodial staff supervisors are also two-time BC alumni. On Monday, in the bright light of day, they joined 4,287 of their fellow undergraduate and graduate students as they received their master's degrees in leadership and administration from the Woods College of Advancing Studies.

For the two brothers, who earned their bachelor's degrees from the Woods College just a few years ago, the advanced degrees help to fulfill not only their dreams, but the dreams of their parents: their late mother, Rosa, who passed away in 2005, and their father, Manuel, who has worked on the University's custodial staff for nearly 20 years.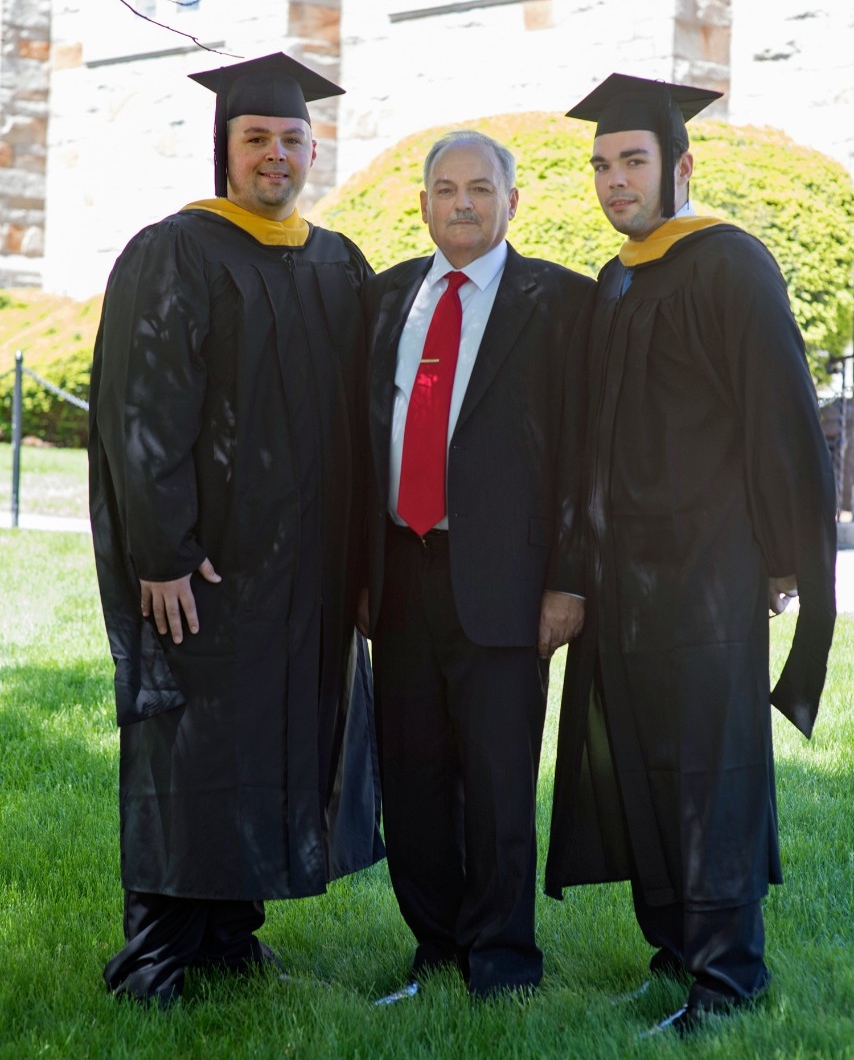 "My father emigrated from Portugal at a time when the average person got a sixth-grade education in that country," said Filipe Martins, who came to work as a custodian at BC in 2011. "He always made sure that education was our top priority. He's worked hard all his life. He came here from Portugal and this past March he became a U.S. citizen. It's a great thing. He provided us this great opportunity and we took it. BC has provided us with so much and we are grateful."

Ricardo Martins started working at BC in 2002 and earned his bachelor's degree in corporate systems in 2015.

Their mother shared their father's belief in education.

"He always wanted us to do better and do things he couldn't do," said Ricardo. "Our mom always said, 'Education is huge. Go as far as you can.' They never had that chance and they wanted us to have that chance."

Making use of tuition remission for the children of employees, Filipe Martins began his undergraduate studies in the Woods College in 2010, a year before he began working here, and earned a bachelor's degree corporate systems in 2016. Both brothers embarked on their masters' degrees in 2016. Their sister, Nancy, earned her bachelor's degree from the Woods College in 2011.

The brothers have risen from custodian to supervisory roles. They work the overnight shift, starting at 11 p.m. and concluding their work at 7:30 a.m.

"It was not an easy task," said Filipe. "But working nights kind of worked out in my favor. I'd wake up at 3 p.m. and head in for class. It's kind of the beginning of my day. I'd go to class and then I'd go to work."

"We are very proud of the hard work that Ricardo and Filipe have done to complete their master's degrees. They epitomize the variety of students and backgrounds of those who come to Woods College to seek a degree and pursue an education that they know will lead them to a fuller and more rewarding life – but especially a life that is directed at service to others through education."

Ricardo said he's always felt encouraged by the BC community, including his co-workers.

"We've had great support. They want us to get our education, to better ourselves. It's great to take advantage of it and do it. I think everybody should do it. I met a lot of great classmates and great faculty too. We've met people we wouldn't have met working overnights, but taking classes gave us the chance to meet them. You definitely build some good relationships."

"We are very proud of the hard work that Ricardo and Filipe have done to complete their master's degrees," said Woods College Dean James P. Burns, IVD. "They epitomize the variety of students and backgrounds of those who come to Woods College to seek a degree and pursue an education that they know will lead them to a fuller and more rewarding life – but especially a life that is directed at service to others through education."

Ricardo said coming to work at the University – and his father's constant urging – convinced him to pursue his undergraduate degree, taking advantage of the tuition remission benefit for employees.

"I never thought I was a school person," he said. "I thought I'd go out and earn money and work. But he got me here. I saw everyone else going to school and my parents encouraged me to go to school. So, I started slowly: one class a semester, then two and sometimes three. That's how I got back into school and here I am graduating with my master's degree."

Manuel Martins is thrilled to see his sons earn their advanced degrees. "I always encouraged my kids to pursue higher education and I am very proud of all three of them going to school here at BC and receiving their degrees. Filipe and Ricardo getting their master's degrees this year is a great accomplishment and I am very proud of the both of them."
Ed Hayward | University Communications | May 2018