At the 2016 Veterans Remembrance Ceremony, a Joint Services ROTC Color Guard of Boston College included Navy Midshipmen Kaitlin Kowker '20 and Dean Hochman '20, and Army cadets Jack Thompson '20, Matthew Kenny '19, and Michael Buzy '18. (Photo by Frank Curran)

Connell School of Nursing Professor Ann Wolbert Burgess, an internationally recognized leader in the treatment of victims of trauma, was guest speaker at the 16th annual Boston College Veterans Remembrance Mass and Ceremony on Friday, Nov. 11.
Burgess is the leader of the College Warrior Athlete Initiative, funded by the Wounded Warrior Project, which pairs student-athletes with post-9/11 veterans to improve the veterans' fitness levels. She also teaches a course called Wounded Warriors in Transition that introduces undergraduates to the issues facing the more than 65,000 U.S. military service members who have been wounded since 2001, including those with traumatic brain injuries and post-traumatic stress disorder. Earlier this fall, Burgess was honored as "Living Legend" by the American Academy of Nursing, the academy's highest honor.
The day's events began at 9:30 a.m. with Mass in St. Ignatius Church with alumnus Robert Keane, S.J., rector of the Jesuit Community at BC, presiding. Fr. Keane, who also was homilist, served more than two decades as a U.S. Navy chaplain before retiring from military service as a captain.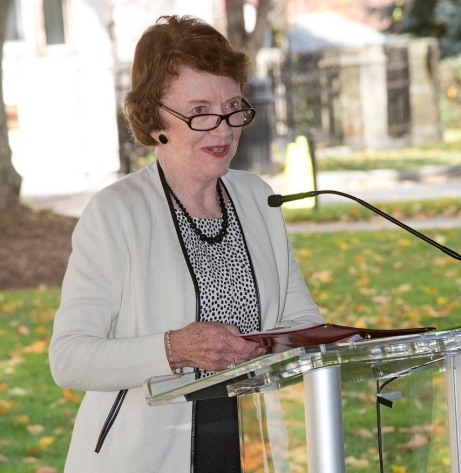 A ceremony honoring all alumni who have served, or are currently serving, in the armed forces, followed at the Boston College Veterans Memorial on Burns Library lawn, where BC students in the ROTC program read aloud the names of those graduates  who died during the nation's military conflicts.
In her remarks at the memorial, Burgess traced the evolution of the ways soldiers and scientists took measure of the trauma of combat, from the 18th century descriptions of "nostalgia" to "shell shock" to the contemporary diagnosis of post-traumatic stress disorder, or PTSD.

"War impacts everyone—leaving visible and invisible wounds on the warriors who fight, disrupting their families and communities, and leaving lasting imprints on communities and countries," Burgess told the assembled crowd of several hundred attendees, including nearly 80 veterans.

The Collegiate Warrior Athlete Initiative—launched to help veterans with reintegration into society, easing the rapid shift from military to civilian life, which now provokes health problems including obesity, substance abuse, depression, and suicide—is just one response from BC, said Burgess, who also cited the work of the Boston College Veterans Alumni Network and her new course.

"The first time I offered Wounded Warriors in Transition, I thought I would be lucky to get five students. I had 43 students who wanted to take the class," said Burgess, adding that the first hurdle her undergraduates face is finding and speaking with a veteran in their family or community.
The University has also launched the BC Veterans Affinity Group to improve outreach and services to Boston College students and employees who have served their country.

Helping veterans find support within their families and communities may be one of the most significant steps toward helping those who struggle with physical injuries, mental health, or the return to civilian life, said Burgess.

"Social support appears to act as either a protective factor against developing PTSD or a moderating factor against PTSD symptoms," Burgess said. "Fifty years after reintegration, World War II veterans identified social support from comrades, wives and family members an important lifelong coping strategy."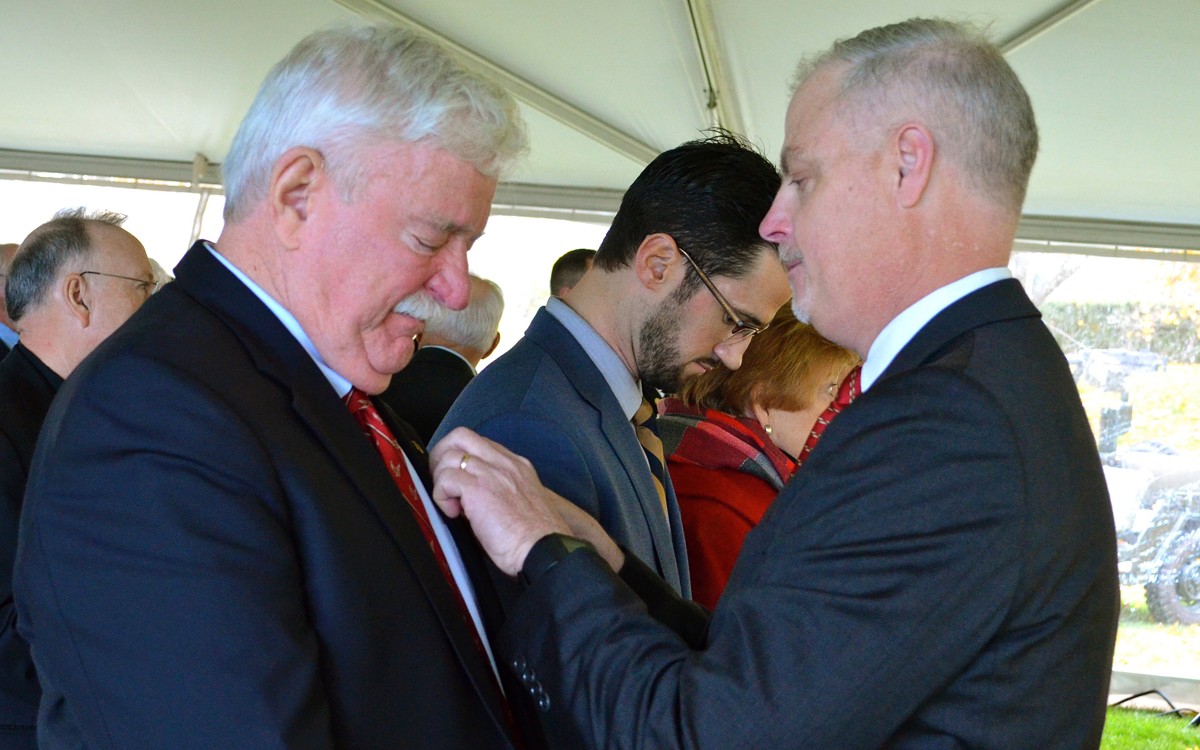 The ceremony concluded with the introduction of a commemorative pin for BC alumni veterans, the quarter-sized pin comprised of the American and Boston College flags, "joined by and supported by" the word "veteran," said Army National Guard Retired Colonel George Harrington '80. Each veteran in attendance had a pin placed on his or her lapel.
"This is to recognize the commitment of the men and women of this great nation and this great institution," said Harrington.
The Veterans Remembrance Mass and Ceremony is organized by the Boston College Alumni Association with support from the BC Veterans Alumni Network, BC Army ROTC, and the University's departments of human resources and campus ministry. A reception followed in Gasson 100.
In addition, the Connell School of Nursing hosted a public panel discussion with VA Hospital representatives on the current state of mental healthcare for veterans.

Kathleen Sullivan and Ed Hayward | University Communications