A BC Theater Department production of "Evita" at Robsham Theater, Thursday-Saturday 7:30 p.m.; Sunday 2 p.m. (Photo by Lee Pellegrini)

A campus appearance by Emmy-winning network television executive Tracey Wigfield '05 highlights the 19th Boston College Arts Festival on April 27-29, the annual showcase for the University community's artistic talents.
Festival participants once again include some 1,000 BC students, faculty, staff and administrators. More than 80 events – most of them free – will feature artists with diverse talents and highlight performing, visual and literary arts programs. The festival is open to the public as well as the University community.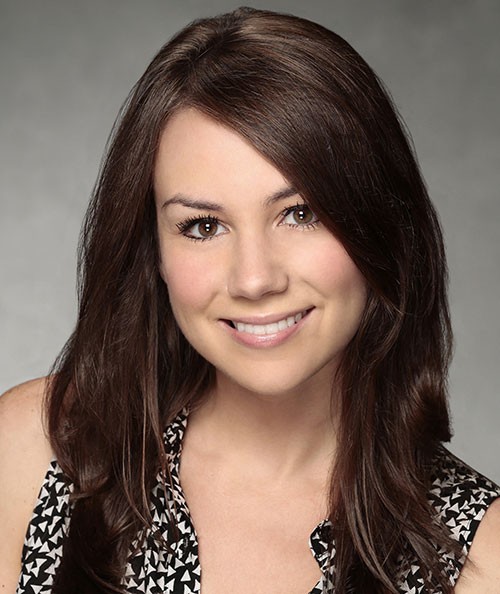 Tracy Wigfield '05.
Wigfield, writer and co-producer for the popular NBC series "30 Rock" – and creator of the network series "Great News" (premiering April 25) – will be honored with the Boston College Arts Council Alumni Award for Distinguished Achievement at a public ceremony on April 28 at 4 p.m. in the Stokes Art Tent on Stokes Lawn.
She also will take part in a career-related interview program titled "Inside the BC Studio" (April 27, 3 p.m., Stokes Art Tent), at which she will be interviewed by Professor of Theatre Scott T. Cummings; a program featuring selections from "30 Rock" and "Great News" as well as "The Mindy Project," in which she acted and also was co-executive producer and writer (April 27, 6 p.m., Stokes Art Tent); and a panel discussion (April 28, 2 p.m., Stokes Art Tent) on the business of television production with accomplished alumni Vanity Fair television writer Richard Lawson '05 and Independent Television Festival Executive Director and New York Picture Company Producer Philip Gilpin Jr. '03.
"Tracey Wigfield is an ideal role model for young women today," said BC Theatre Department Chair and Associate Professor Crystal Tiala, who chairs the Arts Council. "Post-graduation, Tracey began as an intern and within 10 years became an Emmy-winning writer, comedian, actress and producer. She has the tenacity, talent, and intelligence that make her extremely successful. Plus, she has a kind and giving heart that makes us all happy to witness her rise in the entertainment industry. Tracey has set the bar for excellence very high indeed."  
[Read about Wigfield and past alumni award winners here]
The April 28 Arts Council awards will also be presented to recognize artistic accomplishments and contributions of nine BC students and Andrew Tavarelli, a professor of the practice in BC's Art, Art History, and Film Studies Department. During his long and accomplished career as a painter his work has been shown nationally in 27 solo and numerous group exhibitions, and his works are in many public and private collections in the U.S. and abroad. He has taught painting and drawing at BC for 40 years, served as department assistant chair and directs the Senior Project Program for studio art majors.
Children and family entertainment will be a major part of the festival schedule on Saturday, April 29, from noon-5 p.m.: performances of "Charlie and the Chocolate Factory" (by BC students in the Theatre for Youth Class) and "Peter and the Wolf" by the BC Chamber Music Society, as well as arts and crafts, face painting, a dance workshop, story hour and an instrument petting zoo.  
Other Arts Festival events include: dance showcases featuring BC faculty and student choreographers; BC Underground, a collaborative arts event with spoken-word artists, rappers, break dancers, DJs and electronic music artists; BC's Best, presenting student musicians who perform original works in a variety of genres; and a Jane Austen–Edgar Allan Poe "Smackdown," in which English faculty members and students will debate the merits of these authors – "the gloves come off in this hour-long rumble that will drag literary analysis into the era of professional wrestling," according to organizers.
For event locations and updates, visit the Arts Festival website or call (617) 552-ARTS (2787).   
-Rosanne Pellegrini / University Communications