With his third cup of green tea in one hand and a fresh smile on his face, Martin Jarmond hops down from the golf cart that has sped him from Alumni Stadium to the spot where he likes to greet the earliest of early-arriving tailgaters on Lower Campus. "B.Y.O.E.—bring your own energy," he chirps. Then the William V. Campbell Director of Athletics with just 17 months on the job takes a deep breath. The gate opens, and cars clamor past, festooned with magnetic stickers of eagles in flight. "Good morning!" Jarmond shouts, trying to make eye contact with the faces behind every windshield. "Happy game day! Are you ready?"
It is a few minutes after 9:00 a.m. on the last Saturday in September. Kickoff for the Eagles' football game against the Temple Owls is still three hours away, and Jarmond has been at the Heights for three hours already, rolling onto campus before sunrise to jog a few laps around the reservoir, as the predawn glow gave way to sunshine and warmth and a busy running path. A quick shower and a change into a gleaming white Boston College pullover, and he was headed to a conference room in the stadium basement for the 7:30 a.m. meeting of police and fire and parking officers rotating through their final pregame checks. Upstairs, in Jarmond's glass-sided office suite overlooking the gridiron, caterers were setting up tables and chairs for the spread that he and a dozen or so guests would graze on as they watched the game later: tiny hamburgers, shrimp cocktail, steak fries, a cheese and fruit plate. And on every table, a small crystal dish filled with maroon and gold M&Ms.
But now, joined by Wesley Ellison Stewart, development director for athletics, Jarmond is shouting energetic greetings into the swelling traffic. "We love you!" a woman's voice calls back from somewhere inside a blue sedan.
Jarmond: "We love you too!"
A family of four in eagle-shaped hats marches by, pulling a wagon full of provisions. The parents of a Boston College baseball player stop to shake Jarmond's hand ("Can I tell you how much excitement you've brought?"). Several undergraduate women saunter past in sweats, sipping Dunkin' Donuts coffee. "Where's mine?" Jarmond teases. "Sorry," one woman answers. "You didn't text us."
At 38 years old, Jarmond is the youngest athletic director in a Power Five conference, and the first African-American AD in Boston College history. A North Carolina native, he was point guard and captain of UNC Wilmington's basketball team, and he helped lead the Seahawks to their first NCAA tournament in 2000. He earned his MBA and master's of sports administration at Ohio University, then came six years in Michigan State's athletics department and another eight at Ohio State, where he worked his way up to become number two in the department, before coming to Chestnut Hill in the spring of 2017. Since Jarmond arrived on the Heights, the football team has cracked the Associated Press poll following a 10-year absence, the men's basketball team had its first winning season after a drought almost that long, men's hockey went 20–14–3, and women's hockey won the Beanpot. At a fundraiser two nights before today's football game, Jarmond had announced a five-year, $150 million capital campaign for athletics, the first of its kind for the University. "A donor once told me that as an AD you're an evangelist," Jarmond says. "You're always selling winning, or you're selling hope." Right now, Jarmond is selling a little bit of both.
By 9:30, the streets and parking lots surrounding Conte Forum and Alumni Stadium are a humming topography of tents and banners and canvas chairs and miniature grills and folding tables piled with food and drink. Jarmond weaves through the crowd, shaking hands, sampling sweets (he cannot resist apple desserts, it turns out), exchanging small talk and stories and laughter, keeping moving. "The mayor," his coaches and teammates called him back at UNC Wilmington. He knew everybody and would talk to anyone.
Jarmond stops for a few brief but deep conversations with parents and athletes in other sports—skiing, swimming and diving, the spirit groups. "Always make time for the parents," he says. "They're trusting you with their kid." He drops by the women's basketball tailgate, sinks a couple of cornhole tosses, banters with a few visiting high school players hanging out on the edges. "I just want to know, can you handle?" he ribs them. "Yep," one square-jawed, diminutive point guard responds, looking straight at him. Jarmond rocks on his heels, then shoots back approvingly, "You've got some swagger. That's good."
Everywhere, fans greet him as a celebrity, eager to introduce him to their spouses, their children, their children's spouses. They want to shake his hand, touch his shoulder, make some kind of physical contact. An older man walks up and stands close, a story pouring out of him: He's a Northeastern grad, but his wife worked at Boston College for decades. She died a couple of years ago. He comes to the games to remember her. Elsewhere, ESPN broadcaster Joe Tessitore '93—who jumped on a last-minute flight to Boston when he got word that his son, John, a freshman kicker for the Eagles, would be starting today—sees Jarmond approaching his tailgate and pulls him in tight. "I love what you're doing here," he says. "I mean it. What you're doing here is wonderful."
It goes on like this for two hours. At one point, Jarmond ducks into a Conte Forum practice gym to spend a few minutes with a men's basketball prospect, a blonde, reedy kid, slightly shy and impossibly young. Sitting courtside as a team practice thunders back and forth a few feet away, Jarmond talks with the high schooler's father about maturity and playing style, and with his mother about job placement rates and coaches as teachers. "Any questions you have, you let me know," he says, already hustling back out into the sunlight, where soon the football team, in ties and sportscoats, will emerge from their 18-minute pregame Mass at St. Mary's Chapel, to process with the marching band down Higgins Stairs toward the stadium: the Eagle Walk. Jarmond takes up a position midway down the stairs, to dap them as they walk by. The bell tower chimes. "It'll be about four minutes now," he says, and in four minutes, the players appear. Jarmond holds out his fist, and one by one, they bump it with their own.
It already feels like a full day by noon, when the game kicks off. Jarmond is back in his office suite, now bustling with guests who stand chatting near the wall of windows. Jarmond's wife, Jessica, who is a dentist, is there with their daughters, a three-year-old and a nine-month-old wearing matching maroon dresses and white-feather face paint. There's an anxious energy in the room. The truth is, the Eagles need this game, especially after the previous weekend's surprise loss to unranked Purdue—an early snag in what was predicted to be a very strong season, and a performance that a couple of tailgaters had groused at Jarmond about earlier. Among the answers he gave them was something he says again now: "Mind right, game right"—focus on what's ahead.
---
The first quarter doesn't exactly calm nerves. The Eagles' first possession ends in a touchdown, but Temple evens the score in the next series, and then a fumble on the kickoff return gives the Owls a second touchdown. Boston College answers, but misses the extra point. When Jarmond heads down to the sidelines after the first quarter for a pair of recognition ceremonies, the score is 14–13 Temple and the buoyant chatter in his office has mostly fallen quiet. He watches much of the second quarter from the turf, standing beside the team with former Eagle John Johnson '17, now a safety for the Los Angeles Rams. "Winning is contagious," Johnson says, almost as if it were a prescription. Jarmond nods. But out on the field, Temple is marching toward the end zone again. When a 20-yard pass puts the Owls at the 1-yard line and a final push drives the ball over the goal line, Jarmond has seen enough. "Let's go," he says, barreling back inside.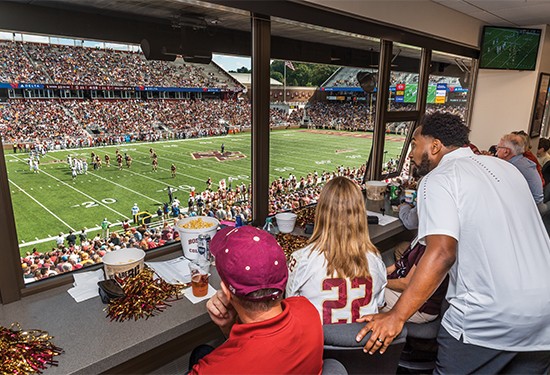 When he gets upstairs, though, he doesn't return to his suite, but veers left, to an empty office down the hall. He shuts the door and rolls a chair over to the window. It's quiet in here, and the lights are off. For the first time all day, Jarmond stops vibrating; his attention is whole, hushed, undivided. With just under seven minutes left in the first half, the Eagles, six yards short of a first down, are about to punt again. The score is 21–13, Temple. "I always say this is so fragile," Jarmond says. "A week ago, we were 3 and 0, and 23rd in the country." He's talking about the game, and the season, but also about every game and season, and every sport. The slightest shifts can mean the difference between winning and losing. "Well," he says, "we'll see what we're made of here."
The punt lands deep. Temple's quarterback connects on a long pass, and then another. But when he puts the ball in the air a third time, Eagles junior Hamp Cheevers comes down with an interception. Three plays later, star sophomore running back AJ Dillon finds a hole and races for 52 yards. Touchdown, Boston College.
The next four minutes and 25 seconds are a mad blur: a two-point conversion for the Eagles, and then another interception that turns into another Dillon touchdown (later an ankle injury would take him out of the game). Then with 20 seconds left in the half, the Eagles kick a field goal. Suddenly the score is 31–21, Boston College. "Like I said," Jarmond says, rising to his feet, beaming again, and buzzing, "it's just so fragile. Five minutes ago, it felt like the world is falling apart. Now it's like new life." He strides back to his suite where everybody is waiting. There is laughter and someone slaps him on the shoulder. "I might have to do some pushups at halftime," Jarmond jokes, the stress falling away from him.
The second half winds to a slower, easier close. Jarmond spends a few minutes with William P. Leahy, SJ, in the President's box. ("We have a great relationship—he's somebody who will ask questions like, 'How are you sleeping?' Or, 'How are you finding time for yourself?'") Jarmond stops by the visiting athletic director's suite, where Betsy Kraft explains that her husband, Patrick, Temple's AD, is sweating out the game on the sidelines. "I know how he feels," Jarmond says.
Each team piles another 14 points on the score before the afternoon is over, and Temple makes another couple of runs at the lead—a blizzard of first downs early in the fourth quarter causes Jarmond some consternation—but the game never again feels much in danger. The final minutes find Jarmond leaning back in a tall spectator chair in his suite, his wife in a chair beside him, his arm around her shoulders. When the game clock sinks to zero, it's just past 4:00 p.m., and the sky is starting to dim. Jarmond looks away from the field with a grin: "Never in doubt."
 
Lydialyle Gibson is a Boston-based writer.