Photos by John Quackenbos, Boston College Athletics. 
Internet-based highlight shows for college basketball teams are nothing new—but not many are narrated in Mandarin, China's most widely spoken dialect.
Last month, Boston College men's basketball introduced a new video series on YouTube, "The Mandarin Minute," hosted by team student manager Siqi Wang '19 and Eagles guard Jordan Chatman '19.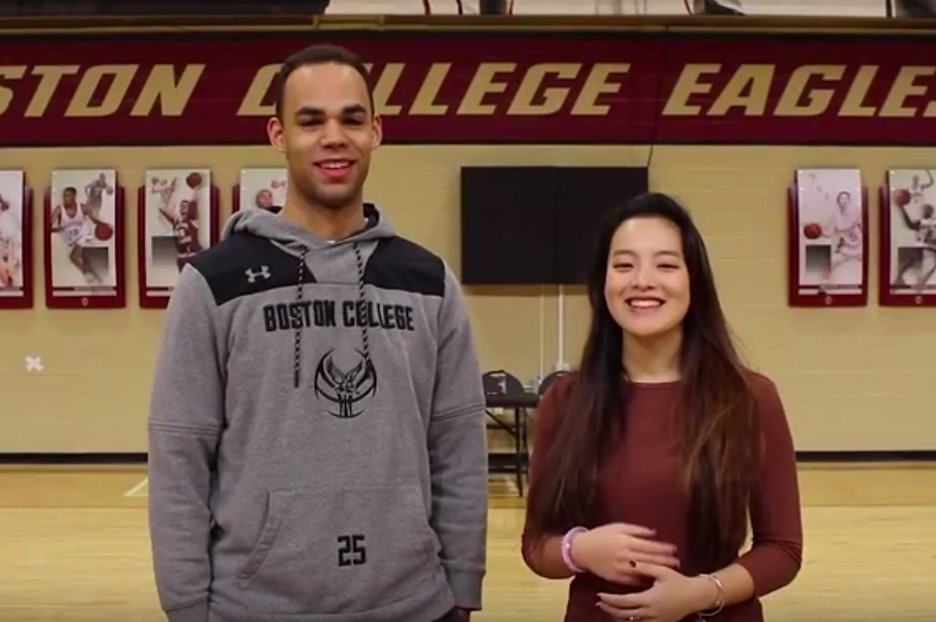 Wang, a Shanghai native majoring in communication, said she had always wanted "to introduce BC basketball to people in China, but never had a chance. This was the perfect opportunity."
Chatman learned Mandarin as part of his two-year mission in Taiwan with the Church of Jesus Christ and Latter-Day Saints prior to enrolling at BC. It is the language he primarily speaks at home with his wife Chelsea.
"It's always special anytime I have the opportunity to speak the Mandarin language, knowing the struggles it took to learn it," Chatman said. "This is a fun opportunity for me to share BC basketball with my Mandarin-speaking friends in Asia, the U.S., and many others."
Two episodes—subtitled in English—were released prior to the semester break, with Wang and Chatman discussing the team's recent games (video clips of the Eagles in action were included) and offering a preview of upcoming contests.
Chinese students make up close to 50 percent of BC's total international student population, with 469 undergraduates and 927 total, including graduate programs, noted Boston College Athletics administrators. 
"This is a unique opportunity to promote Boston College men's basketball's brand—locally and internationally," said Mike Laprey, BC Athletics' associate director of communications. "Basketball is immensely popular in China and Boston has a robust Chinese population. We hope this is a way to combine all of these elements in a positive way and introduce BC men's basketball to a new population of fans."
"Mandarin Minute" is available via the BC Athletics YouTube channel.
—Boston College Athletics