Above: A rendering of the planned recreational center, a 244,000 square-foot facility that will benefit all BC students, faculty, and staff.
Boston College's much-anticipated recreation center will be named in honor of the Connell family, in recognition of a $50 million "Light the World" campaign gift from BC Trustee Associate Margot C. Connell, the University announced today.

Construction of the 244,000 square-foot, four-story facility, which will replace the Flynn Recreation Complex, is underway at the former site of Edmond's Hall on Thomas More Road. It will include a state-of-the-art fitness center, jogging track, natatorium with lap and instructional pools, four wood-floor basketball courts, three tennis courts, two multi-activity courts and multi-purpose rooms for spin, yoga and fitness classes, among other amenities. The building will open in the summer of 2019.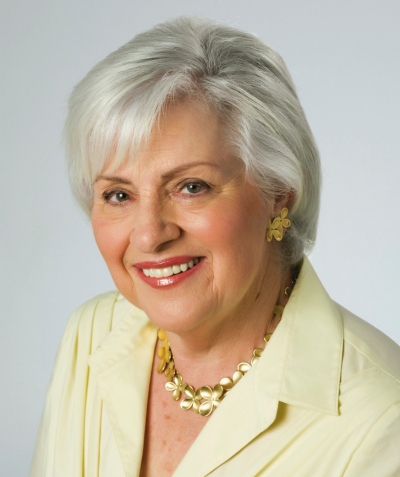 Boston College Trustee Associate Margot Connell

Connell, an active supporter of education and health care in Boston and chair of the board of Connell Limited Partnership, is the mother of six BC graduates and the widow of the late William F. Connell '59, a longtime BC trustee for whom the School of Nursing is named. Connell said she made the gift to provide an outlet for students engaged in the rigorous demands of a BC education.

"Sports have always been a big part of our family, and Bill and I always felt that sports and recreation provided a physical outlet for students that is very important," said Connell. "Having already supported an academic endeavor through the School of Nursing, I talked it over with my children and they thought supporting the recreation center was a great idea and something that was needed at Boston College."

University President William P. Leahy, S.J., praised Connell for her gift and for her unwavering support of Boston College. "Margot has been a matriarch of the BC community who has witnessed first-hand the positive effects that a Jesuit education of the mind, body and spirit can have on students," said Fr. Leahy.  "We are grateful to her for her generosity in naming this facility."
An avid golfer and sports enthusiast who observed many of BC's most memorable sports moments alongside her husband and children, Connell says that while she has seen all the good that athletics can do, she is particularly excited about the benefit the new facility will have on the BC community.
"There are so many students at BC who, while being stars in high school, will not play sports at the Division I level," said Connell. "So, to have another opportunity to participate in their sport — either through club or recreational activities — or simply to be able to swim if they want to or to try yoga, run or shoot baskets, is very important to their well-being and overall development."  

The mother of Monica Healey '88, Lisa McNamara '89, Courtenay '91, William '94, Terence '02 and Timothy '03, J.D. '12, Connell is also the grandmother of 17, including two grandsons currently attending Boston College and two granddaughters and two nieces who are recent graduates. "All of my grandchildren are athletic," said Connell. "I take a measure of pride in knowing that they will benefit from this facility."      

Born and raised in Ossining, NY, Connell received her BA from Michigan State University and taught math and science in New York and California.  In addition to her and her late husband's many activities in support of Boston College, Connell is a member of the John F. Kennedy Library Foundation.  She was also awarded the Richard Cardinal Cushing Award from St. Mary's High School of Lynn for her commitment to Catholic education and her personal and professional life accomplishments.

She also established the Connell Nursing Research Scholars Program and the Connell Ethics Fellowship at Massachusetts General Hospital's Institute for Patient Care, and she and Bill funded the Connell and O'Reilly Families Cell Manipulation Core Facility and the Connell Family Fund for Melanoma Vaccine Development at Dana-Farber Cancer Institute in Boston. The St. Elizabeth's Hospital Emergency Room is also named in honor of Bill Connell.

Yet despite her varied interests and commitments, Connell says that Boston College plays a unique role in her and her family's life.

"Bill always said, 'If it wasn't for BC, I would not be where I am today.' I have been very lucky; I have been blessed, and the ability to share my good fortune with my children's blessings makes me happy."    

Connell credits her personal relationships with Fr. Leahy, the late University Chancellor J. Donald Monan, S.J., and Senior Vice President for University Advancement James J. Husson for helping to make her commitment to BC so meaningful.

"BC has made me feel a part of the community," said Connell. "It is a special place that has a warmth, a charisma, that you don't feel anywhere else. Supporting BC through this facility just gives me a good feeling."

A longstanding and energetic volunteer on behalf of Boston College, Connell served as a convening co-chair of the "Light the World" campaign.  In recognition of her lifelong accomplishments and years of service, she received an honorary degree from Boston College in 2009.  

"This new recreation center has been a long time coming, and will have a day-in, day-out impact on student life on campus when it opens in 2019," said Connell. "I look forward to it and to the promise it holds for all members of the BC community."

 —Jack Dunn | University Communications