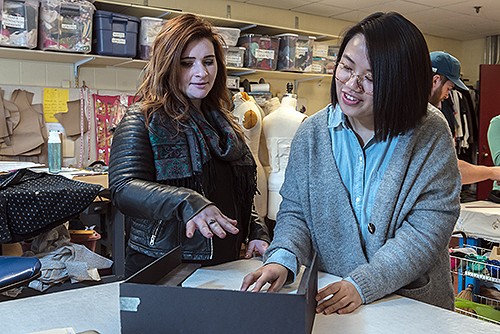 The theme of gender parity continues this semester at the Robsham Theater Arts Center through the array of productions selected this academic year by the Theatre Department, including a production of 2016-17 Monan Professor in Theater Arts Sheri Wilner's "Kingdom City."
The appointment of the award-winning playwright and arts educator as Monan Professor prompted deliberate consideration of gender representation, according to Theatre Department Chair and Associate Professor Crystal Tiala, as evidenced in the female playwrights, directors and roles showcased this season. A recent study by the New York City-based Dramatist Guild, where Wilner directs the Fellows Program, showed a pattern of gender disparity in the national theater scene.
"There is a real serious bias in the United States that women don't produce comparable work to men," said Tiala.
Keeping with the season's theme, Wilner developed and is teaching the course Contemporary Female Playwrights, which exposes students to diverse female-written work and includes guest lectures from Boston theater professionals –including playwrights, dramaturgs and literary managers – on the roots, manifestations and consequences of gender disparity on stage. 
Following last month's staging of "What Every Girl Should Know," the spring production schedule continues Feb. 16-19 with Sarah Ruhl's "Eurydice," which will be directed by Grace Fucci '17 and performed in the Bonn Studio Theater. It provides a new look at the classic, male-centric Greek myth Orpheus, with a focus on the heroine's agency independent from the men in her life.   
According to Fucci, this marks the first time in her experience that Robsham has featured two female-written student workshops directed by women with female leads (Cassie Chapados '17 directed "What Every Girl Should Know").
Wilner's "Kingdom City," which features a boundary-pushing female lead, will be presented March 22-26 in the Bonn Studio Theater, directed by Associate Professor of Theatre John Houchin. The play, inspired by a real event in Fulton, Mo., follows a female theater director's struggle to produce a provocative play in a conservative Midwest town.
The celebrated Andrew Lloyd Webber musical "Evita," the story of controversial Argentinian leader Eva Peron, will be staged April 26-30 on the Mainstage under the direction of Paul Daigneault '87, founder and producing artistic director of Boston's SpeakEasy Stage Company and 2011-12 Monan Professor. With a score that fuses haunting chorales with exuberant Latin, pop and jazz influences, "Evita" creates an arresting theatrical portrait and adds historical and political layers to the Robsham season's broader gender discussion, according to organizers.
Concluding the season on April 29, during the annual Arts Festival, is "Now & Then," a collection of new, short plays by alumni playwrights, directed by Professor of Theatre Scott T. Cummings. The original works, which will be showcased in the Bonn Studio Theater, include "Twenty-Three" by Emily Dendinger '05; "Tiny Chairs for Plastic Dolls" by Emma Stanton '06; "An Appeal" by Patricia Noonan '07; "A Single Night of a Lifetime" by Jeff Augustin '08, and "Scratch Until" by Patrick '08 and Daniel Lazour '13. "Now & Then" will be presented at 2 p.m. and 5 p.m.; admission is free, no ticket required.
Theatre Department productions run at 7:30 p.m. on weekdays and Saturdays, and at 2 p.m. on Sundays. Ticket prices (including service fee) are $17 for adults; $12 for students with valid ID; $12 for seniors, and $12 for BC faculty/staff (one ticket per BCID.) Click here for tickets.
–University Communications