When the Astaza Middle Eastern Ensemble performs in concert, its members not only expect, but encourage, lively audience participation – they consider it to be a measure of success.

The group's most recent campus appearance, titled "Oriental Vibes," was sponsored by the Islamic Civilization and Societies Program and the Music Department, and featured several types of musical repertoire as well as active response to the preferences of the audience, which included the group's following of local community members.  

 "This is something new for the students and I love for them to experience it," said the group's academic director, Assistant Professor of Music Ann Lucas. "They learn a program, but things change based on how the musicians feel and what the audience wants. People from the community will yell as soon as they hear something they like." 

Such audience interaction is the norm in many places in the Middle East, according to Lucas. "It's not polite to sit quietly if you are enjoying the performance, you have to tell us. When that happens, we adjust the program."

So if the audience is active – cheering a particular verse or a short improvisation – they can have a role in shaping what comes next: The popular verse may be repeated, or the improvisation lengthened.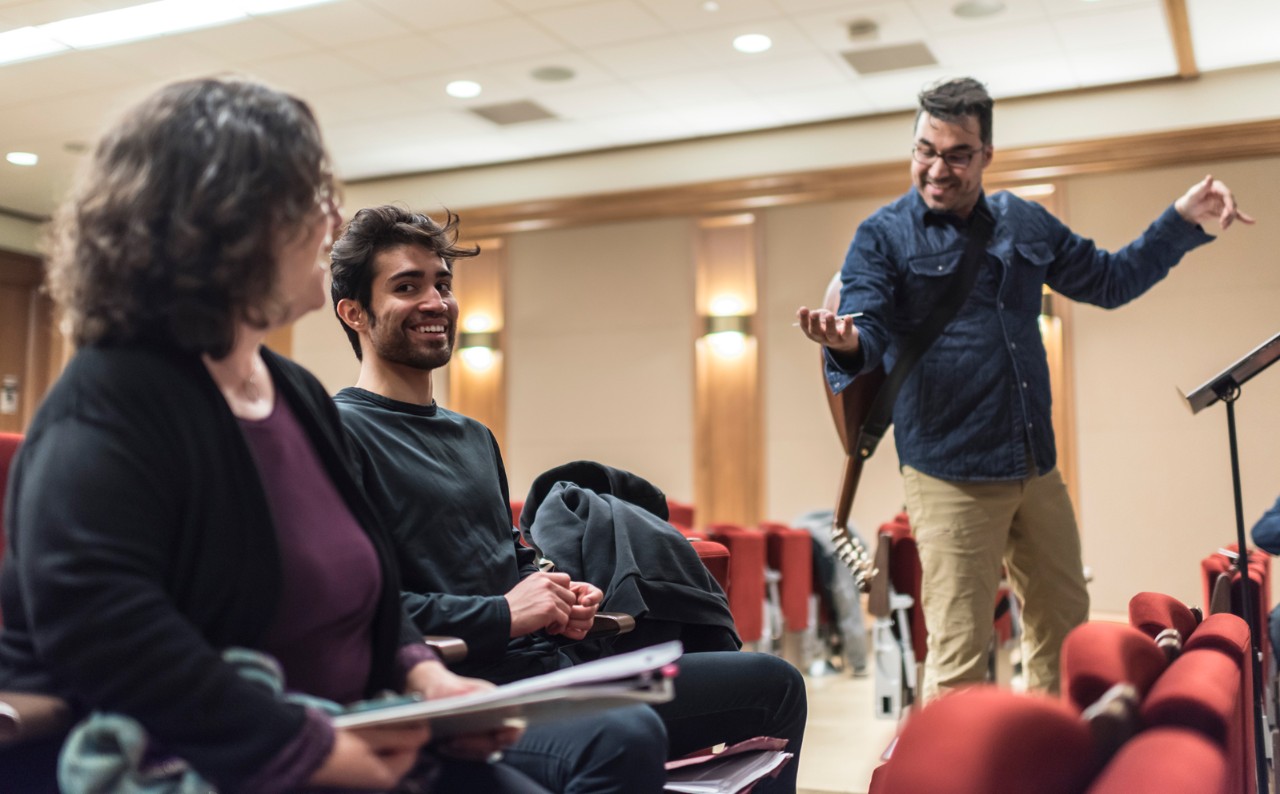 The concerts feature Arabic songs that use old Andalusian poetry (muwashshahat); a song and an instrumental composition from 20th-century composer Mohamed Abdel Wahab, known as "the Mozart of Egypt"; a lively debkah song (an athletic line dance done in the Eastern Levant), and a Turkish repertoire. The music is played on instruments such as violin, cello, nay (reed flute), oud (a fretless Middle Eastern lute), qanun (trapezoidal zither), and three types of drums: the goblet-shaped tabla, duf (frame drum), and riqq (small frame drum with tambourine cymbals). 

An ethnomusicologist, Lucas formed the ensemble to teach students different styles of music from the Middle East and to allow them to experience different cultures through the act of learning and making music.

"I was brought to BC to broaden students' horizons in the study of music, to teach them about different ways of making music throughout the world, but also about the complex relationship between music and its social contexts," she explained.

Astaza "is a great way for students to simultaneously interact with different music and a different culture. I want students to see the Middle East I see, which is full of music and poetry, parties and dancing. This isn't a side of the Middle East that gets talked about a lot, but it is part of everyday life," she said. Students relate to the idea of "music as part of the enjoyment of friends and family, of fun and social engagement." 

The eight BC students in the ensemble play under musical director Nizar Ballout, a Lebanese singer and oud player who is a renowned performer in the Middle East, according to Lucas. 

"He has years of performance and teaching experience that serve our students well. He is also curious and still learning new music, and very good at teaching the music completely by ear – the traditional way of teaching this music." 

"When I came up with the name 'Astaza,' which means 'masterful,' I wasn't expecting less from our students – though microtones in Middle Eastern music and pronunciation of Oriental dialects could be challenging," said Ballout. "But so far, I am amazed at our students' commitment, professionalism and their continuous desire to explore music of different cultures, with new vocal and instrumental forms."

Musicians from the community round out the 13-member ensemble, and "are thrilled to see our students learn their music, and very helpful to them," said Lucas. In addition to its campus appearances, Astaza performs for Boston-area Middle Eastern cultural organizations.

For accomplished violinist Dan Fitzgerald '19, the ensemble offers "a strong sense of community. We are a group of musicians from different backgrounds united under the common purpose of doing justice to great Middle Eastern works. Most importantly, it's fun. It excites the audience, who join in with clapping, hooting and celebration, which excites us."


The ensemble also benefits from a professional musician: Artist-in-residence Jamal Sinno helps with teaching and intonation. His instrument, the qanun, has a special quality that helps students learn the many scales that are not part of Western music. Students also have access to master musicians through workshops. 

 Lucas credits the Office of the Provost and Dean of Faculties and the Institute for the Liberal Arts with support for these resources. 

"Middle Eastern music is fundamentally different than Western music: much of it exists as oral tradition, played by musicians who know the songs by heart without the need for sheet music," Fitzgerald said. "Learning to approach music in this way has increased my understanding of the instrument I've played for 15-plus years, and opened me up to a refreshingly different musical world."


—Rosanne Pellegrini | University Communications