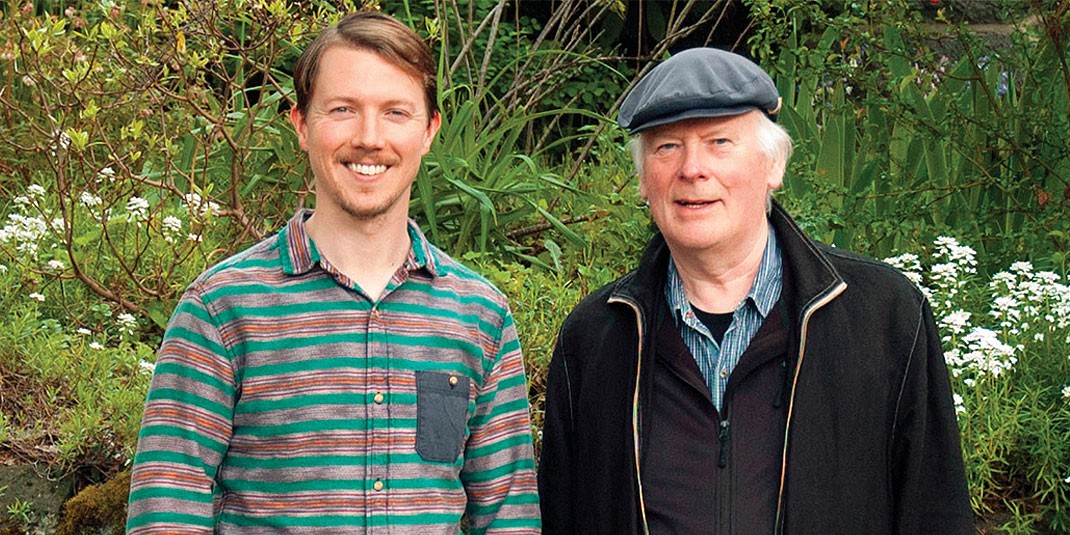 Accomplished Irish singers like Brian Ó hAirt and Len Graham (L-R) will be featured in this fall's Gaelic Roots series.
Boston College's acclaimed Gaelic Roots series – which hosts renowned performers and experts for concerts and lectures related to Irish, Scottish, and American folk music traditions – will have a songs-and-stories theme for the fall season, according to Sheila Falls, a part-time member of the Music Department faculty and interim director for the series.
"Last semester, we had an emphasis on instrumental music, so the idea was to change things up," said Falls, who became Gaelic Roots interim director after founder and longtime organizer Seamus Connolly retired at the end of 2015. "So this semester, we're going to look at how the singing and story-telling traditions are linked in Gaelic music. We are fortunate to have outstanding individuals coming to campus who will both entertain and enlighten."
On Sept. 15, Gaelic Roots will present a combination concert and film screening with Seán Ó Sé, an integral part of the modern Irish folk music revival for decades. 
A native of West Cork, Ó Sé worked with musician, composer and arranger Seán Ó Riada and his groundbreaking Ceoltóirí Chualann ensemble, which presented Irish traditional music in a new, contemporary style and set the stage for further innovation. His career – which has spanned the concert stage, radio and recording – is the subject of the documentary "Seán Ó Sé: A Life in Song and Story," which will be screened. Produced by Wheaton College Professor of Music Matthew Allen, the film also explores Ó Sé's roots in the song and story-telling traditions.
Irish singers from different generations and backgrounds but with a shared love of song traditions will unite on Oct. 20 when Gaelic Roots hosts Len Graham and Brian Ó hAirt.
Graham is one of Ireland's most respected traditional singers, and is equally known for his dedication to preserving old songs and stories, especially in and around his native County Antrim. He also has collaborated with numerous singers and storytellers, including John Campbell, with whom he gave presentations during "The Troubles" on the shared cultural traditions of the Republic of Ireland and Northern Ireland. Graham has been featured or appeared on some 20 recordings, and many songs he collected and recorded have wound up in the repertoire of leading Irish bands such as The Chieftains, Altan and Cherish the Ladies.
The American-born Ó hAirt has focused on the sean-nos (old style) traditions found in the west of Ireland, which includes many songs in Gaelic. He has performed as a soloist and as a member of the bands Cé and, more recently, Bua. Together, he and Graham affirm the commonality of the stories, songs, tunes and dance from two seemingly disparate regions as "the one tradition."
On Nov. 10, Gaelic Roots will welcome back one of its most frequent, and popular, guests, Robbie O'Connell.  The County Waterford native has cultivated a reputation as a songwriter whose compositions, such as "Hard to Say Goodbye," "Keg of Brandy," "Islander's Lament" and "The Man from Connemara," have become part of countless other singers' repertoires, as well as audience favorites. But O'Connell also has a firm, and entertaining, grasp of the Irish song tradition.
The fall schedule will conclude with a Dec. 1 event; details will be announced at a later date.
Gaelic Roots events take place at the Theology and Ministry Library (117 Lake Street) on Brighton Campus, unless otherwise indicated, and begin at 6:30 p.m. Admission is free and open to the public, but registration is requested; go to the Gaelic Roots website for links to registration, as well as information about the series.
 Gaelic Roots is sponsored by the Center for Irish Programs in collaboration with the Alumni Association.  
—Sean Smith | News & Public Affairs