Pink is a pigment loaded with connotation. The website Color Psychology calls it "very contradictory," noting that "its meaning can depend greatly on the culture and context in which it is presented."
This contentious color is the focus of "Seeing Pink," an exhibition of photographs by Lisa Kessler, a part-time faculty member in the Art, Art History and Film Studies Department.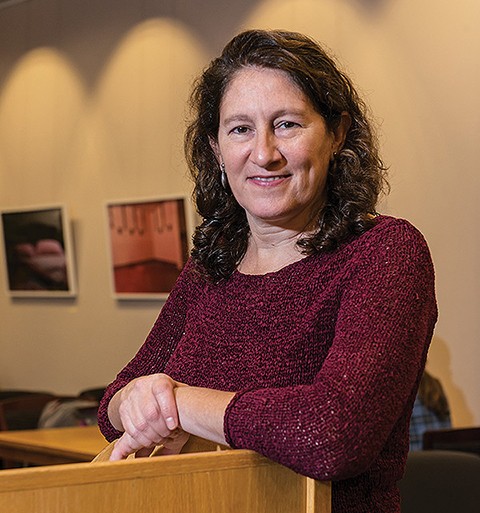 Lisa Kessler
The selection of 15 images is part of a larger body of some 80 works that explore the color pink in America. These documentary photographs "play with the myriad connotations we attach to pink, a color charged with meaning," according to Kessler.   
Why pink?
"It's a sensational color," Kessler says. "Pink stands out, it draws our eye and affects our senses. It is jam-packed with all kinds of meanings, many of them conflicting. It is a gender marker, symbolizing everything that is female – from delicate pink baby clothes to the ubiquitous shocking pink, to the many shades of breast cancer awareness.
"I was not a fan of the color pink. But I like conflict, I like meaning, and I wanted to work on a project that might make people smile."
Kessler's feeling "that we are all pink inside" – and the notion that she "could broaden my vision by narrowing my focus on this one hue" – launched a journey in 2007 that has sent her across the US looking for the color pink, including a return over the summer to Pink Hill, NC. 
The works represent a range of subject matter based on her extensive research: "Some I go to and others I come upon," she explains. In the former approach, she arranges access to places where she thinks she "can create photographs that resonate with some idea about the color pink." 
In the latter, she has "been fortunate to come upon some wonderful pink gems that I never could have imagined," like "Cornfield." "Photographing in the real world you don't know what will happen, what you'll discover, what marks you will find that people have made. I'm interested in the different ways people use the color pink either to convey their ideas about gender or simply because they like the way it looks."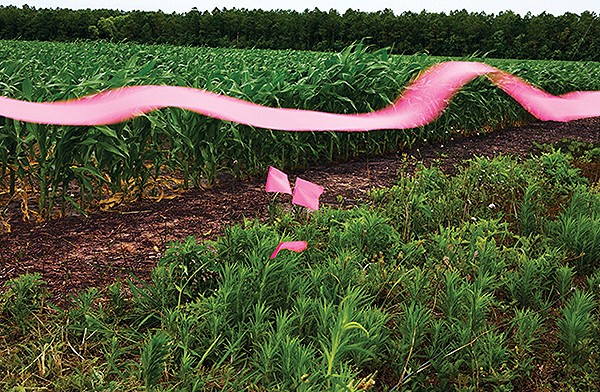 "Cornfield" - One of the many pieces in Kessler's exhibit.
Kessler said she is happy for her students and colleagues to see the work at BC.
The department "is a very friendly and supportive place for an artist. I enjoy the exchange of ideas with my colleagues there and at the McMullen Museum," added Kessler, who teaches Photography 1, a black-and-white darkroom class.
Beyond BC, "Seeing Pink" has been displayed at the Danforth Museum as well as other venues and described in a Boston Globe review as "zesty and playful without being at all unserious."
Kessler is at work on a book based on the project and named for the exhibit.
"The work is accessible but also conceptual. People expect documentary work to be done in one community or to be about one particular subject. 'Seeing Pink' is more conceptual, more about the ideas we bring to the color rather than the color itself."  
Asked if the color pink has grown on her during its near-decade at the center of this project, she said: "The color doesn't have a hold over me anymore, I'm not afraid of feeling diminished by it, and I now enjoy the spectacle the color can create."
"Seeing Pink," Kessler explains, "revels in the sensations of pink, both fettered and unfettered by our ideas. Pink is simply a color, but it is also a signifier, one that confines and liberates, and ultimately holds a mirror to our culture." 
The exhibit, sponsored by the Boston College Libraries, is on view through December 31 in the O'Neill Library Level Three Gallery. For more information, visit the exhibit website.
—Rosanne Pellegrini | University Communications