Lincoln, Lonnie, and Me, 2012, video installation and mixed media © Carrie Mae Weems/Courtesy of Jack Shainman Gallery, New York
The McMullen Museum of Art at Boston College will debut Carrie Mae Weems: Strategies of Engagement, a groundbreaking exhibition that examines the American artist's diverse and innovative career through both celebrated and rarely exhibited projects.
The exhibition is on display in the Daley Family and Monan Galleries of the McMullen Museum through December 13.

Weems has produced a unique body of aesthetically and politically powerful work during the last 30 years, investigating family relationships, cultural identity, sexism, class, political systems, and the consequences of power through art, and employing photographs, text, fabric, audio, digital images, installation, and video.
"To mount a large number of installation pieces produced over decades by Carrie Mae Weems, one of the most innovative and powerful artists in America today, to have a critical group of faculty from a wide range of disciplines eager to focus scholarly inquiry on that artist's work, and to display artwork that addresses the most pressing and complex problems in current minds, presents a rare opportunity to a museum," said McMullen Museum Director and Professor of Art History Nancy Netzer.

"With the generosity and wise advice of the artist, the McMullen and faculty curators [Boston College Professor of English] Robin Lydenberg and [Art History faculty member] Ash Anderson have made the most of this good fortune. We are pleased to invite audiences, both here and at the exhibition's subsequent venues, to engage in myriad ways with the work of Carrie Mae Weems and to ponder the deeper questions she poses for contemporary society," Netzer said.

A concurrent exhibition in the Museum Atrium—titled Hartmut Austen: Not There, Not Here—presents 22 abstract paintings by artist Hartmut Austen, an assistant professor of painting in BC's Art, Art History, and Film Department. The works often evoke either interior spaces or landscapes in distress. Created during the past decade, the paintings aim to visualize the transient nature of place.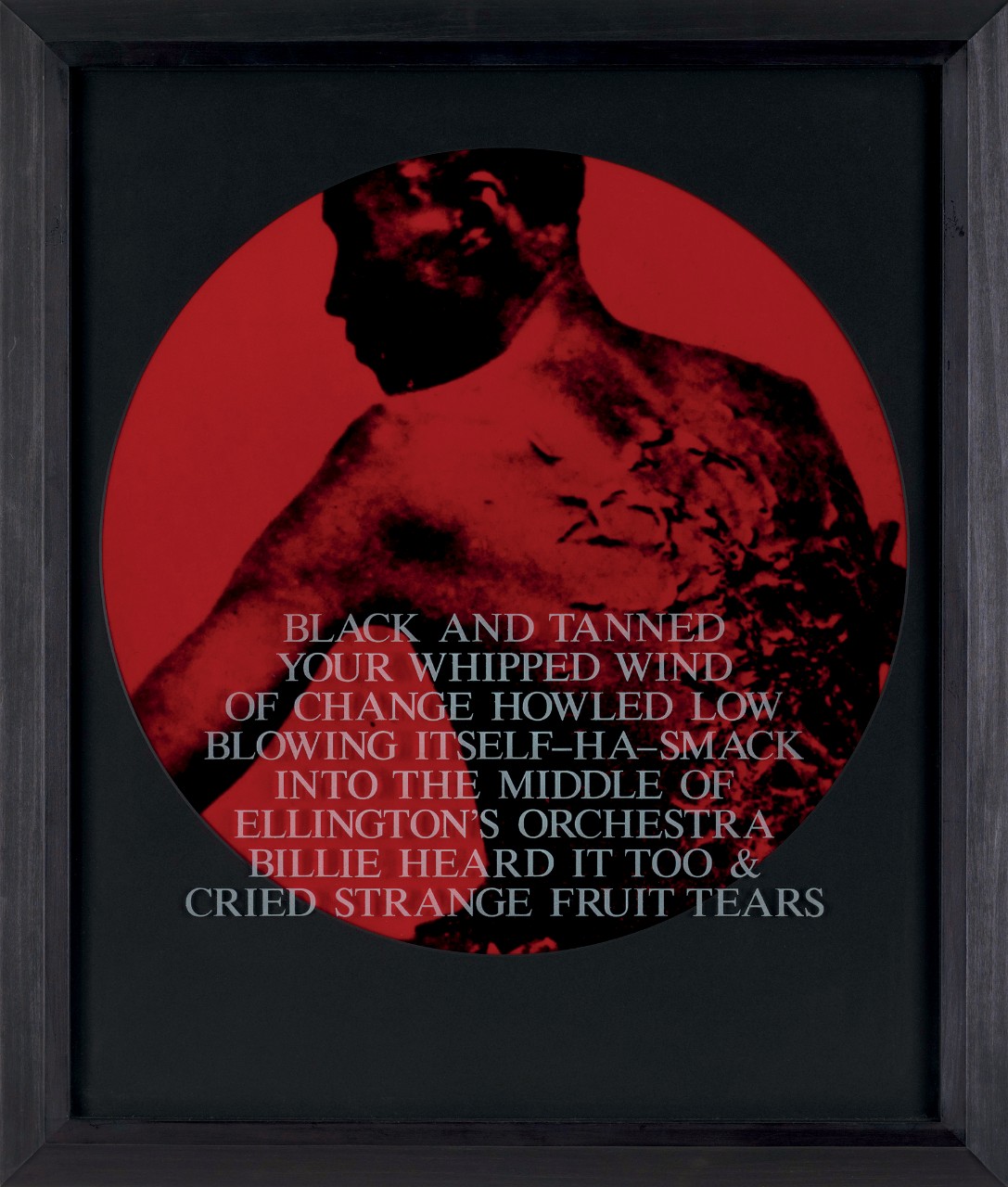 Carrie Mae Weems: Strategies of Engagement comprises 124 diverse works including photography, video, and mixed-media. It focuses on the relational aspect of Weems's art, recreating original installations in which viewers wander among suspended images on translucent fabric, enveloped by the artist's audio narration, or stand confronted with video and photographic works that expose systems of power and injustice. The resulting immersion in moments of global and historical struggle prepares viewers for a more engaged discussion of American history through such difficult issues as violence, survival, and the need for radical social change.

Entering that territory with Weems, according to organizers, visitors have an experience that is intellectually and ethically challenging, sometimes imbued with melancholy seriousness, sometimes with playful or ominous wit, and occasionally with unexpected moments of hope and grace.

Born in Portland, Oregon in 1953, Weems is the recipient of numerous awards, grants, and fellowships including the MacArthur "genius grant"; U.S. Department of State Medal of Arts; Joseph H. Hazen Rome Prize; W. E. B. Du Bois Medal from Harvard University; and Louis Comfort Tiffany Foundation Award. Her artwork is included in major public and private collections nationally and internationally. Weems lives and works in Syracuse, New York and is represented by Jack Shainman Gallery, New York.

Organized by the McMullen Museum, Strategies of Engagement is curated by Lydenberg and Anderson. Major support has been provided by the Patrons of the McMullen Museum and Robert '63 and Ann Marie Reardon P '91.

 "Carrie Mae Weems: Strategies of Engagement presents a selection of the artist's work that invites viewers to engage mentally, emotionally, and physically with her passion for truth, her commitment to change, and her belief in the power of beauty, endurance, and grace as the foundation of our humanity," Lydenberg and Anderson note.
 
"Weems both deconstructs and recontextualizes a familiar history of violence and injustice, presenting us with new readings, new discomforts, and ultimately new illuminations, all driven by her desire to understand how things came to be as they are. For Weems, the way things are encompasses the present seen through a range of lenses: political, social, spiritual, theoretical, emotional, and aesthetic. In a similarly diverse array of materials, including photographic prints on paper, canvas, and muslin, as well as combinations of video, sound, etched glass, and mixed-media installation, she confronts, among other concerns, the shared history and problematic legacy of anti-black racism in the United States. In keeping with her generous spirit and commitment to dialogue, she gives us a new set of interpretive tools to help us collaborate in the history we construct going forward," they add.

Strategies of Engagement interrogates artwork growing out of Weems's critical explorations of history; a focus that is powerfully relevant in the context of current activism around racial equality and social justice. In addition to several of Weems's most acclaimed series, including From Here I Saw What Happened and I Cried, the exhibition features the extraordinary Lincoln, Lonnie, and Me: A Story in 5 Parts, a theatrical video installation that incorporates the nineteenth-century "Pepper's Ghost" illusion technique, and the recently created All the Boys, Usual Suspects, and People of a Darker Hue dealing with police violence against unarmed black men and women.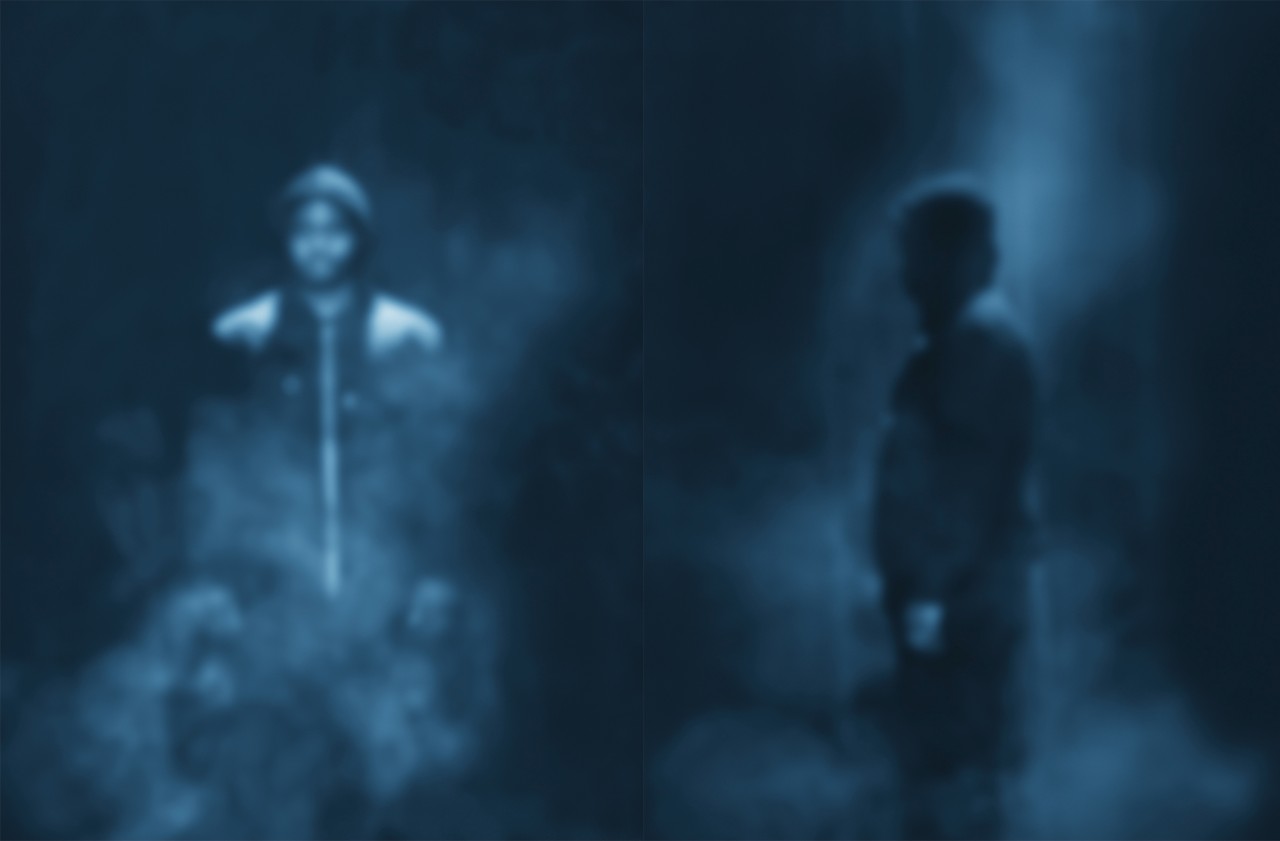 Particularly in her engagement with African American history, the artist—who has spent more than three decades honing her craft—has developed a complex series of strategies, moving beyond a witnessing of the past to more active interventions: appropriating and transforming verbal and visual archives; negotiating with the persistent effects of stereotyping; and animating history in the present as a constructed performance. Weems's relationship to her viewers is at once pedagogical, confrontational, and collaborative as she engages them in ongoing debates about power and resistance, history and identity, and racial, gender, and class discrimination, organizers note.

In Strategies of Engagement, Weems invites visitors to participate in numerous ways: through physical, emotional, and intellectual engagement with the works, through education and activism, and, perhaps most uniquely, through bodily engagement with history and the bodies of others, a practice she models in photographs and video.

In conjunction with the exhibition opening, Weems will speak as part of the University's Lowell Humanities Series. Her lecture, "Don't Let Me Be Lonely," will be held at 7 p.m. in Devlin Hall, Room 110, located on BC's Chestnut Hill campus. Her appearance is free and open to the public.

Strategies of Engagement is accompanied by a catalogue with scholarly essays from the diverse perspectives of art history, literature, race and gender studies, education, sociology, and history. Following its McMullen Museum debut, the exhibition will travel to Allentown Art Museum in spring 2019 and subsequent venues through art2art Circulating Exhibitions.
---

The concurrent exhibition, Not There, Not Here, presents 22 abstract paintings by Hartmut Austen that often evoke either interior spaces or landscapes in distress. Created over the past decade, the paintings aim to visualize the transient nature of place.
"The McMullen is pleased to introduce the work of German-born and trained artist Hartmut Austen in his first solo exhibition in New England," Netzer said. "His site-specific installation of twenty-two paintings that straddle boundaries between abstraction and landscape, as implied by the exhibition's title, prompts dialogue among his imagery, viewers' recollections of sites and events represented, and nature as perceived through the windows of the Museum's Atrium."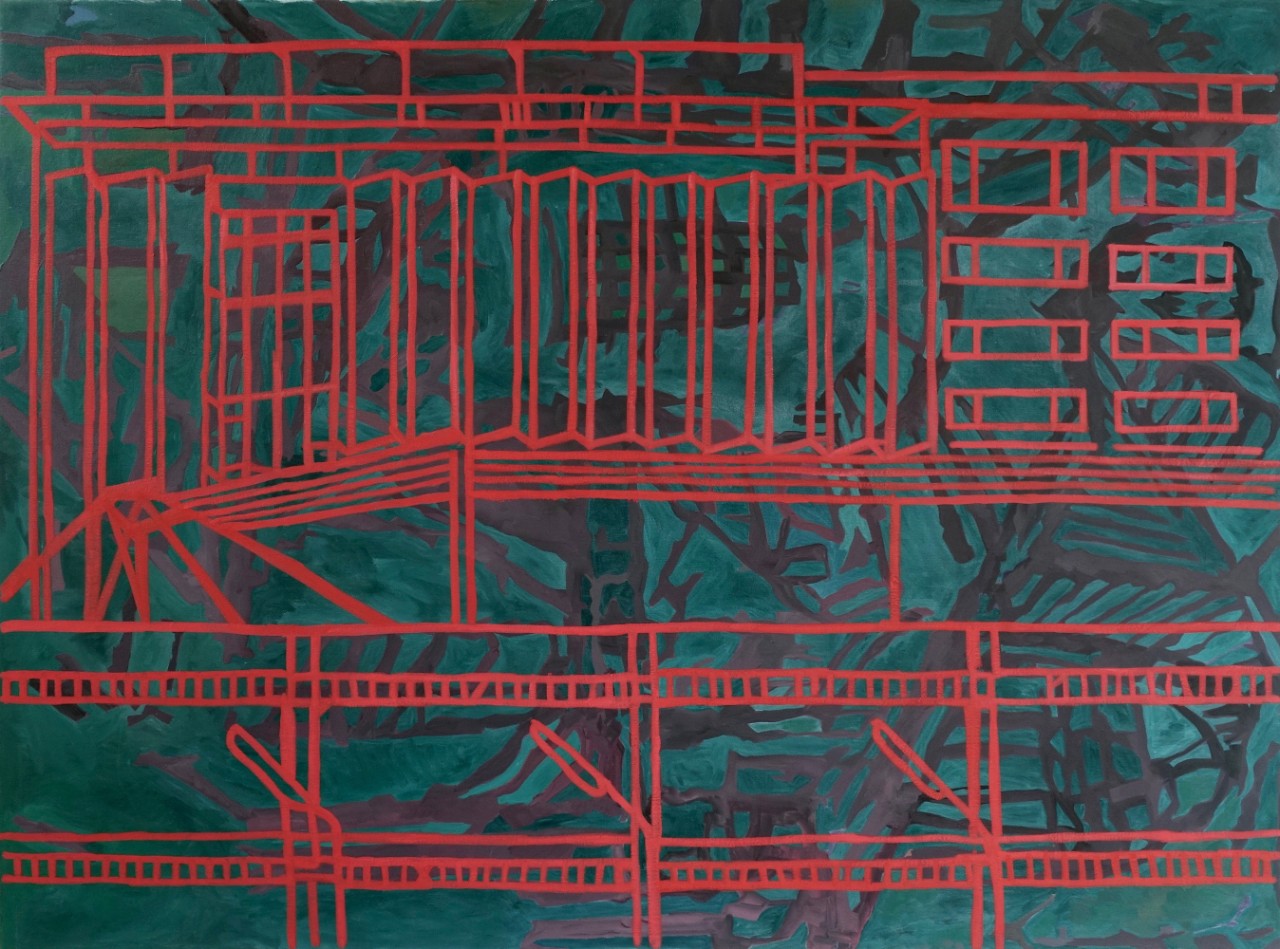 In Stage, Aleppo, Two Prisons, and Harbor, Austen appropriates and responds visually to photographic imagery of current events and places that have shaped public discourse, prompting viewers to reflect on the nature of their subjective connection to these events.
The finished images often emerge from the artist's prolonged process of painting and overpainting that eventually results in an abstract composition of form and color. Austen attempts to strike a balance between personal reflection while simultaneously commenting on the practice and history of painting itself.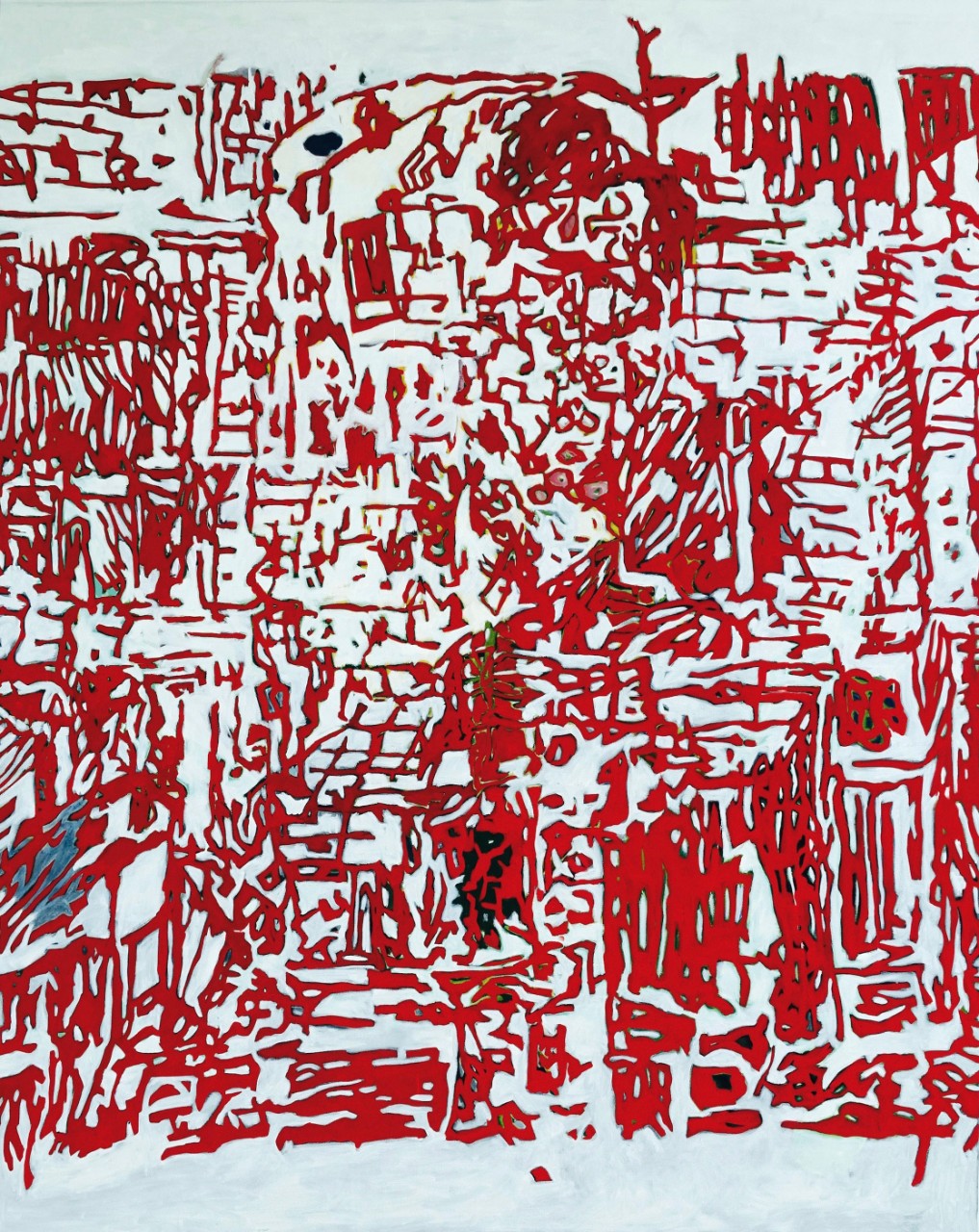 The installation on three levels in the McMullen Atrium is site-specific, evolving throughout the day as a result of changing daylight streaming through the windows. Shadows interact with the paintings, surrounding walls, and floors and produce variations in color, which viewers experience from different vantage points as they ascend or descend the staircase. At the same time, through the windows visitors glimpse shifting views of the panorama outside, inviting them to ponder connections among the painted images, the natural world, and themselves.
Hartmut Austen studied painting and drawing with H. J. Diehl at Hochschule der Künste in Berlin. Since his arrival in the United States in 1998, he has exhibited widely in this country as well as Germany and is one of seven artists in the Telegraph Art Collective. Produced in various U.S. cities, the paintings in Not There, Not Here comprise Austen's first solo exhibition in New England. A booklet with a contribution by Professor Jordan Kantor of the California College of the Arts accompanies the exhibition.

Accompanying Free, Public Events
Public programming is planned for families and the general public. For more information, and to sign up for those events that require advance registration, please visit the events calendar at the McMullen Museum website. More events will be added leading up to this exhibition; a McMullen mailing list for programming updates is available for subscription through the website.

All events are free and open to the public. For hours and other information, visit the McMullen Museum website.

Rosanne Pellegrini | University Communications