Our History. Your Story.
gaa oral history project
Welcome to the GAA Oral History Project!
**Please note, the GAA Oral History Project has now finished collecting submissions**

This is a project about the Gaelic Athletic Association: our games, our people, our history, our place in Irish life.
To find out more about the Project and to view samples of what we've collected select from the links on the sidebars.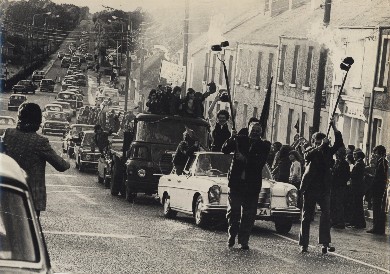 1974 Longford Champions, Mostrim GAA, are paraded through Edgeworthstown, led by sods of blazing turf.
© GAA Oral History Project
'Clane GAA pitch was my favourite as a kid. There was a stream flowing around the grounds which was overhung with trees. It had a kind of magical quality, and I can distinctly remember swinging over and back across the stream on a rope. Ah, good times.'
—Enda Gorman, Kildare and London
© GAA Oral History Project
County Responses League Table
Click on image above for larger version of the League Table.
ONLINE EXHIBITION
AREA
Feature on:


Previous Features: