Teen girls had an introduction to the field of cybersecurity when Boston College joined IBM Security in hosting a CyberDay4Girls event at the IBM offices in Cambridge. Twenty-five 9th grade girls from St. Mary's High School in Lynn and Mt. Alvernia High School in Newton attended the May 5 workshop, learning tips for protecting their personal data and digital reputations, engaging in hands-on cybersecurity games and activities, and hearing from local experts about securing the Internet of Things and about career options in a fast-growing field.

Cybersecurity as an industry faces a huge workforce shortage, program organizers say. The number of open positions is projected to reach 1.8 million by 2022, and women currently represent only 11 percent of the global security workforce. IBM CyberDay4Girls is designed to reach girls at a younger age, to build their interest in cybersecurity careers and help address the gender gap.

The event drew high praise from attendees.
It was an "amazing experience," said Mt. Alvernia student Yelena C. "Very educational! I learned a lot about the scientific technology fields and Internet safety."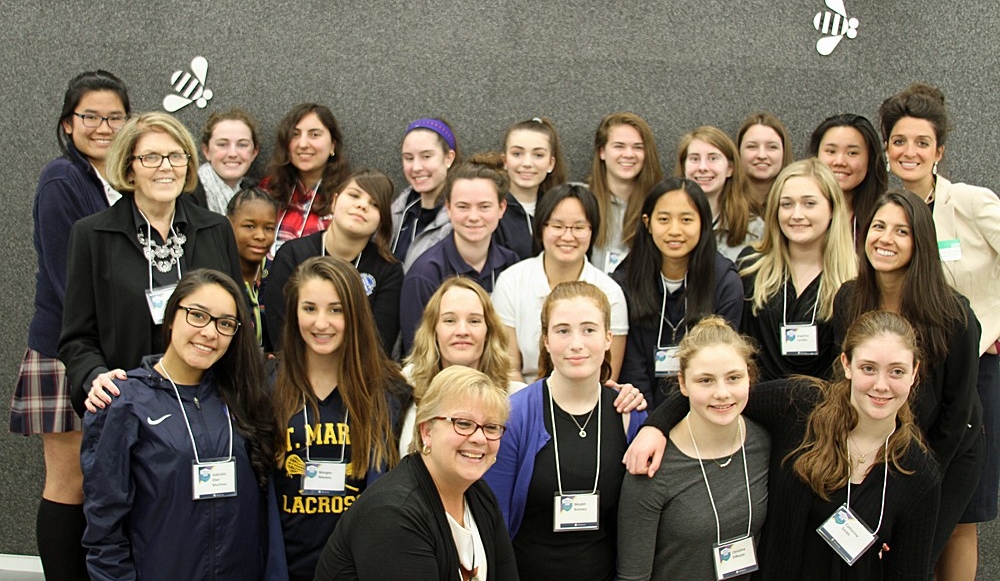 "I had a lot of fun while I was there!" concurred Mt. Alvernia schoolmate Angela C. "It was very educational and interesting. The speakers were inspirational and nice and they just seem like great people."

BC's participation was organized by the Cybersecurity Policy and Governance master's degree program, one of the nation's first programs of its kind, at the Woods College of Advancing Studies.
Kevin R. Powers, director of the BC graduate program, spoke at the event, along with program faculty members Katherine Fick, brand counsel for IBM Security & Watson CE; Julie Fitton, senior director of cybersecurity at Blue Cross/Blue Shield; and Boston College Law School faculty member Sayoko Blodgett-Ford, member and chief privacy officer of GTC Law Group PC & Affiliates.
IBM Security executives Susan F. McGeever, Gary J. Evee, and Jeanne Troy also addressed the students; as did State Street Information Systems Security Manager and Vice President for Corporate Information Ans D. Claiborn.
IBM CyberDay4Girls has reached more than 200 girls since the program's launch last October, through activities across  the U.S. and Canada. The May 5 collaboration with BC's Woods College was the second CyberDay4Girls event in the Boston metro area; IBM intends to host dozens of similar events across the globe this year, with the goal of reaching an additional 1,000 students with this program by the end of 2017.

–University Communications