Associate Professor of Psychology Liane Young, an expert in the emerging field of moral psychology, has been named a SAGE Young Scholar by the Foundation for Social and Personality Psychology in collaboration with SAGE Publications. 
Young and the six other Young Scholar award winners were recognized for exceptional individual achievements in social and/or personality psychology, and conducting research that demonstrates innovation, creativity, and potential to make a significant impact on the field. Each will receive $5,000 to be used for research, study or conference travel-related purposes.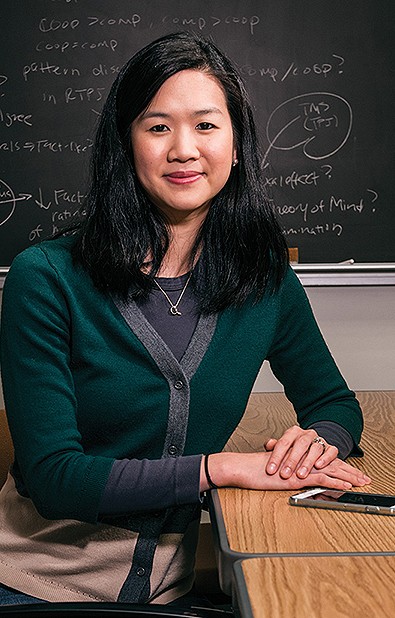 A Boston College faculty member since 2011 and principal investigator of the University's Morality Lab, Young focuses on the psychology and neuroscience of moral judgment and behavior, using behavioral measures and technology such as transcranial magnetic stimulation and neuroimaging. This interdisciplinary approach delves into the emotional as well as cognitive underpinnings of moral judgments, the brain areas involved in such reasoning, and the results when such brain areas are disrupted.
"I had considered myself as a cognitive psychologist when I first came to BC, but as I grew more intrigued with social psychology it became the central part of my research and teaching," she said. "To be recognized by the Foundation for Social and Personality Psychology, which is considered as the leading professional organization for social psychology, means a lot to me.
"Moral psychology – the intertwining of social psychology and cognitive neuroscience – has been a growing field over the past decade, and this award shows that it has definitely become mainstream."
Beyond such acknowledgement in professional and academic circles, Young said she is gratified by the alacrity her students display toward the questions and concepts that moral psychology raises. She noted, for example, that in recent weeks class discussions have centered on the psychology behind Election 2016, and how moral judgments may have influenced voters' decision-making. 
Recently, Young has been collaborating with Assistant Professor of Political Science Peter Krause, through the support of a University grant, on how education can affect moral thinking and attitudes toward terrorism. 
"What's exciting is the idea that we can take something which seems so esoteric – human emotions and attitudes – and locate it in the context of neuroscience, so as to learn more about how and why we behave as we do. This has relevance not only for psychology, but a whole range of disciplines: political science, philosophy, education, law. I'm fortunate enough to work at a place like Boston College where these kinds of explorations can take place."
Young's work has received widespread acclaim and support. Among her other honors are the Stanton and William James prizes from the Society for Philosophy and Psychology; a Sloan Research Fellowship; a Dana Neuroscience Scholar award; an Innovation Award from Society of Personality and Social Psychology; and an Early Career Award for Distinguished Scientific Contributions to Social Neuroscience from the Society for Social Neuroscience.
–Sean Smith / University Communications