A study conducted by Connell School of Nursing researcher Yaguang Zheng and colleagues at the University of Pittsburgh shows that people who routinely and frequently weigh themselves become more confident about managing their eating in various situations or under different conditions.
The researchers studied a group of 148 individuals over a 12-month period. Those who consistently self-weighed 6 days or more per week showed higher self-confidence in their ability to handle certain situations that could trigger them to overeat, such as social pressure, negative emotions (feeling sad, tired, etc.) or availability of food.
The study was funded by the National Institutes of Health and results were presented at the American Heart Association's Epidemiology/Lifestyle 2016 Scientific Sessions. The researchers plan to submit the study for publication in a journal.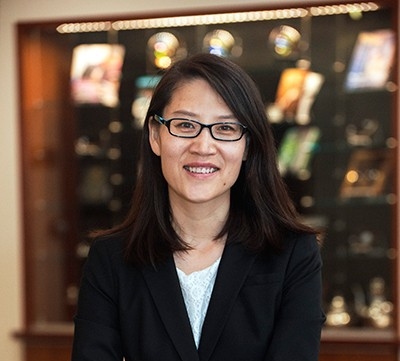 Yaguang Zheng (Lee Pellegrini)
Participants in the study were given a Wi-Fi-enabled scale to transmit data to a research server. Researchers grouped subjects by self-weighing behavior: high/consistent, meaning they weighed themselves at least six days a week consistently throughout the period; moderate/declined, which means they decreased their weigh-ins from 4-5 days a week to two days per week; minimal/declined, decreased their weigh-ins from 5-6 days per week to 0 days per week. The subjects self-reported their confidence in their ability to avoid eating under varied conditions at the three points during the study (beginning, 6 months and 12 months).
"The study shows that establishing the habit of daily weighing supports individuals' attempts to lose weight," said Zheng, the paper's lead author. "It appears to help individuals pay more attention to their eating habits."
The other members of the research team are: Susan M. Sereika, Linda J. Ewing, Cynthia A. Danford, Martha A. Terry, Christopher C. Imes, Rachel W. Goode, Dara D. Mendez, Meghan Mattos, Lu Hu, Ran Sun, and Lora E. Burke, all of the University of Pittsburgh.
Zheng joined the Connell School of Nursing in 2015. Her expertise includes behavioral treatment for weight loss and health interventions. She is a member of the Society of Behavioral Medicine, American Heart Association and the Obesity Society.
--Kathleen Sullivan | News & Public Affairs