The Collegiate Warrior Athlete Initiative, a research project directed by the Connell School of Nursing to improve the fitness levels of post-9/11 veterans, has successfully completed its pilot phase and will expand this month to include more veterans.

Led by Connell School Professor Ann Wolbert Burgess, the CWAI is a collaborative program that brings post-9/11 veterans into contact with the health, athletic and educational resources of a college campus in order to improve their fitness and wellness. Veterans are enrolled in a 12-week program that involves twice-a-week workouts followed by a class led by graduate student volunteers.

The CWAI is funded by a $250,000 grant from the Wounded Warrior Project, one of three initiaves awarded nationally in 2015.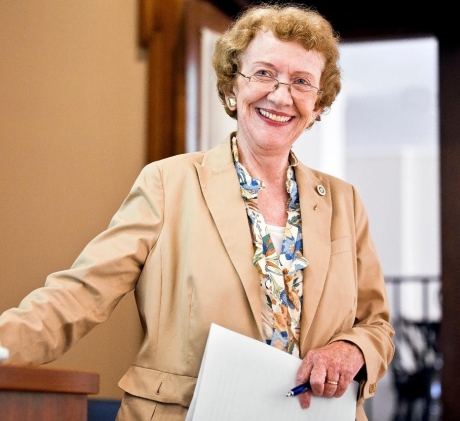 Connell School of Nursing Professor Ann Burgess (Josh Levine)
This past semester, four veterans participated in the program. Each was paired with a Boston College student-athlete who served as a workout buddy. The 75-minute workouts were designed and led by a certified athletic trainer and incorporated cardiac and strength and conditioning components. The veterans were also given Fitbits to track their activity levels and nightly sleep.

"Physical fitness is a real issue facing post-9/11 veterans," said Connell School Visiting Scholar Susan Sheehy, the CWAI project manager who has served as a nurse in the Army and Air Force. "More than 60 percent of these veterans gain significant amounts of weight. About 43 percent of them are in the obese category, which creates all sorts of health problems and also results in social isolation and depression."

According to the Wounded Warrior Project, since Sept. 11, 2001, more than 52,000 service members have been severely wounded, some 300,000 have incurred traumatic brain injuries and more than 400,000 have some level of post-traumatic stress disorder. 

"The CWAI was designed as a workout buddy system because when serving in the military, everyone has a 'battle buddy' and platoon mates who they can trust and depend on," said Sheehy. "Our goal was to create a similar connection — someone to depend on, someone who will 'have your back.'"

Sheehy collected bi-weekly measures of the veterans' weight; percentages of body fat, lean body mass and visceral fat (amount of fat surrounding a major organ); and body mass index (BMI) using a body composition analyzer. 

"You can get into a slump when you get back [from active duty]," said veteran Robert [Boston College is prohibited from using the participating veterans' real names], who admitted he was apprehensive about trying the program. "But the fitness program can pull you out of a depression. I also found I had a lot to share with my buddy. I felt like a big brother."

BC football player Tim Joy '16 said he did not hesitate to volunteer for the CWAI, given that he is joining the U.S. Army's Special Forces in the fall and has a number of family members in the military. He and his veteran partner "bonded right away. Being an athlete means working hard physically and having that team mentality. It is the same for veterans. We were going through this program together. I feel like real friendships have been made."

Having a workout buddy made a big difference, according to Robert. "It helped with my motivation. It was great having another person there to help you push yourself. It became a friendly competition."

"The athletes and the veterans were similar," said veteran James. "We both work really hard. I found the athletes have a lot to offer us, and the veterans had a lot of real-world perspective to offer the students."

The other student-athlete volunteers were: Kelsey Golden '18 (swimming and diving), Megan Cooley '16 (softball) and Leah Settipane '16 (field hockey).

Following the workouts, the veterans attended class led by graduate students from the Connell School, as well as from BC's School of Social Work and Morrissey College of Arts and Sciences, under the supervision of Burgess. The Tuesday classes covered topics such as nutrition, spirituality, stress, social networks and mental health, among other issues. Thursday classes introduced the veterans to BC faculty members who presented topics in their areas of expertise.

"There were so many faculty members, from across the University, who were eager to assist with this project because it was about helping veterans," said Burgess. 

Those who volunteered their time to speak at the classes were: Susan Kelly-Weeder, Richard Ross, S.J., Yaguang Zheng (Connell School); Stacy Schwartz, Darren Kisgen, Michael Pratt, Thomas Wesner (Carroll School of Management); Ashley Duggan (Communication); Caroline Bicks (English); Daniel Bowles (German Studies); Robert Savage (History); John Dacey (Lynch School of Education); Joseph Tecce (Psychology); Rory Browne of the Academic Advising Center and graduate student Kelly Bennion. 

"I think the class was my favorite part," said James. "The caliber of the professors was astonishing. They were all incredibly talented and I learned about things I never would have otherwise."

Burgess and Sheehy reported that the results from the pilot class, which used a holistic wellness model to assist with Warrior reintegration transition while promoting health, were very encouraging. "All participants had reductions in body fat and visceral fat percentages, increases in lean muscle mass, and decreases in BMI," said Sheehy, who noted weight loss ranged from 15 to 25 pounds.

"Morale and energy levels among the Warriors improved, too," added Burgess. 

"You have to commit to the program, but the payoff is so much bigger," said James. "They guide you well and set you up for success. In the end, you're better off for it."

Burgess and Sheehy expressed gratitude to the Athletics Department, particularly Jamie DiLoreto, Alison Quandt, Jaime Seguin and Caitriona Taylor, for their support of the CWAI. 

A new cohort of 12 Warriors will come to campus May 24 to begin a second session of the program. In addition, the Connell School has expanded the program to a satellite location at Norwich University, and is exploring other satellite locations.

Burgess also teaches a new course, Warriors in Transition, open to students from all majors, that focuses on ways to help veterans' transition after active duty. 

"I had 44 students and a wait list of 20 students," said Burgess. "BC students, both undergraduates and grad students, are interested in learning more about the issues facing veterans and how they can use their education and talents to help them."
—Kathleen Sullivan | News & Public Affairs