A team of nurse researchers from the Connell School of Nursing, in partnership with Stand Up To Cancer (SU2C), have developed a series of Certification for Nursing Education (CNE) training modules that will equip nurses with the skills and knowledge needed to care for cancer patients undergoing immunotherapy.
A promising and rapidly growing area in cancer research, immunotherapy harnesses the body's own immune system to attack cancers. The SU2C-Boston College Immunotherapy CNE program is an innovative tool kit that provides nurses with the best training possible to help care for patients as they undergo these new and innovative cancer treatment therapies.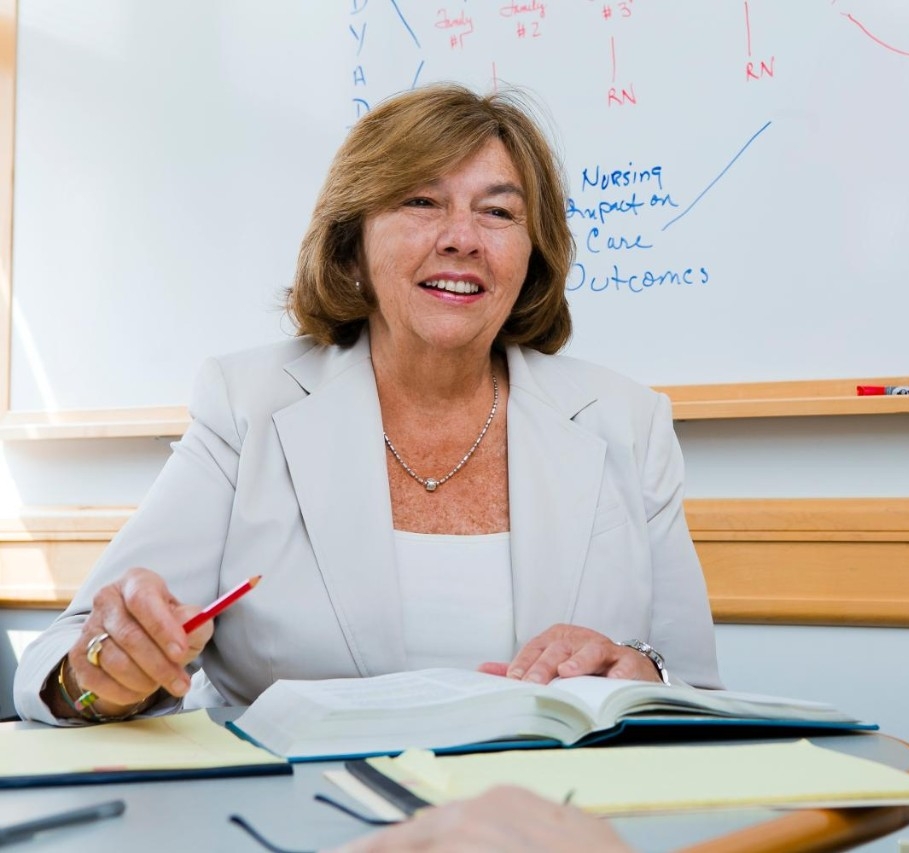 CSON Professor Dorothy Jones (Photo by Josh Levine).
The SU2C-Boston College Immunotherapy CNE program consists of three distinct modules to address the specific challenges of providing care for cancer patients receiving immunotherapy, including education on immunology and related pathophysiology, symptom management, and nursing interventions to reduce symptom distress and promote wellness. The first module, available in July 2016, will be followed by a second module later in the summer and a third one in the fall 2016. The program seeks to train 25 nurses working in immunotherapy in the pilot class.

"One of the benefits of this program is that nurses anywhere/everywhere will have the ability to learn cutting edge information about specialized cancer treatment modalities," said CSON Dean and Professor Susan Gennaro. "Nurses will also gain information to promote patient health and improve the management of patient's symptoms and responses to cancer treatment. Nurses, even if they are not affiliated with major cancer centers, will find these timely modules extremely useful. We are very proud to collaborate with Stand Up To Cancer on this much needed initiative."
"Nurses are essential collaborators in translational cancer research, bringing new and effective treatments from the research laboratory to the patient," said SU2C President and CEO Sung Poblete. "SU2C is at the forefront of immunoncology research and we recognize that an essential part of bringing these cutting-edge therapies to patients is the effective dissemination of information about the treatments. Nurses play an integral role in patient management and these modules will provide a new toolkit for patient care."
CSON Professor of Adult Health Dorothy Jones is the principal investigator on the project, with Associate Professors Jane Ashley and Jane Flanagan as co-investigators. Associate Dean of Continuing Education Jean Weyman  will  facilitate the evaluation and awarding  of CE credits at the completion of each module.
Project consultants are BC alumna Patricia Arcari from Dana-Farber Cancer Center and Lauren Winters from the Massachusetts General Hospital Cancer Center.
In one cancer immunotherapy approach, drugs called checkpoint inhibitors are used to foil the "tricks" that cancers rely on to escape natural immune cell attack. In the other approach, known as adoptive cell transfer, patients' own immune cells are taken to the lab, made into efficient cancer killing "armies" and returned to the patient. By optimizing these two approaches, as well as combining them together and with other treatments, SU2C researchers from Dream Teams across its portfolio expect to achieve long-lasting responses in a large percentage of patients suffering from a variety of types of cancer. As these therapies continue to develop, support from well-trained nurses is necessary to continue to push the research forward.
SU2C's investment in patient and professional education is made possible by donations from individual and corporate collaborators, including CVS Health, whose specialty pharmacy provides services for patients requiring treatment for rare and complex conditions, including cancer.
"Emerging immunotherapy drugs are showing great promise in treating a broad range of hard-to-treat cancers and are quickly becoming a critical component of care for many oncology patients," said Alan Lotvin, MD, executive vice president of CVS Specialty, the specialty pharmacy of CVS Health. "As these therapies gain traction in practice, we are also seeing the role of the oncology nurse expand, and we're proud to support the SU2C-Boston College CNE curriculum as it is designed to provide oncology nurses with practical, evidence-based tools to help them better support and care for their cancer patients undergoing immunotherapy."
-- News & Public Affairs with information provided by Stand Up to Cancer