Connell School of Nursing Professor Dorothy A. Jones has been named a Living Legend in Massachusetts Nursing by the American Nurses Association Massachusetts.
The ANA Massachusetts Living Legend Award recognizes a nurse who has made significant lifetime contributions to the profession of nursing on a state, national or international level. Recipients are nurses who serve as an inspiration to other nurses and have exhibited creativity and innovation in his or her practice and blazed trails for other nurses to follow.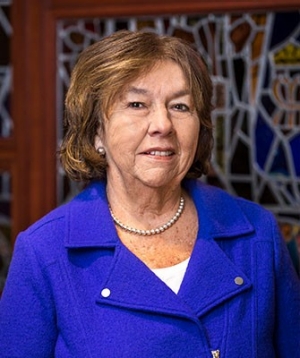 "Dottie's body of work has contributed to changes in the perioperative setting, nursing assessment and professional practice environment," wrote CSON Associate Professor Jane Flanagan in her letter of support for Jones' nomination. "Her enthusiasm for developing staff, post-doctoral nurses, and faculty is a model for bridging the practice/academic gap. She has influenced countless nurses to continue their education, to ask the tough questions, and to create their own teams to do research. She mentors each person along the process individually as if they were the only concern she had.
"Dottie can be sure she has made an impact on countless lives, but she has done so much more — she has personally influenced so many individual nurses to find their passion and pursue their research questions. In doing that, Dottie has profoundly affected not only those nurses, but also everyone impacted by their work."
"Nursing is a career that I have been engaged in as a clinician, researcher, and educator for more than 50 years," said Jones. "It is an honor to be recognized by ANA Massachusetts with a Living Legend award. The award reflects opportunities that I have had over a lifetime to work with dedicated nurses to improve the lives of others, promote healing, and impact the human condition, globally."
A faculty member in the Connell School for nearly 40 years, Jones is also a senior nurse scientist at the Massachusetts General Hospital and a Fellow of the American Academy of Nursing. Her research includes a National Institutes of Health-funded study focusing on patients' recovery at home following ambulatory surgery with local and general anesthesia and a nurse-coached intervention. She is also involved in the development and testing of a practice grounded in Margaret Newmans' Theory of Health as Expanding Consciousness and is a member of a research team at Massachusetts General Hospital focusing the on the development, implementation and evaluation of a Professional Practice Model and clinician satisfaction with the work environment.
She has published more than 150 articles and book chapters and 15 textbooks (edited or co-edited). Several of the texts have received Book of the Year awards from Sigma Theta Tau International and the American Nurses Association. Jones has served as a curriculum consultant and advisor to hospitals seeking magnet status, internationally.
Jones has previously been honored with a 2005 Boston College Teaching Excellence Award, Partners Award for Excellence in Practice (1998 and 2003), Indiana University School of Nursing Outstanding Alumni Award, and 2000 Sigma Theta Tau International Founders Award, among other distinctions.
She is past president of both the North American Nursing Diagnosis Association and the Eastern Nursing Research Society.
A constituent member of the American Nurses Association, ANA Massachusetts is committed to the advancement of the profession of nursing and of quality patient care across the Commonwealth through advocacy, education, leadership and practice. Jones will receive her award at the organization's spring conference in April.
—Kathleen Sullivan | University Communications