Boston College researcher Klemens Engelberg, who studies the parasite Toxoplasma gondii, has been awarded a $65,000 grant by the Knights Templar Eye Foundation. Photos by Peter Julian.
Klemens Engelberg, a post-doctoral researcher in the lab of Boston College Professor of Biology Marc-Jan Gubbels, has received a $65,000 grant from the Knights Templar Eye Foundation to study Toxoplasma gondii, a parasite that infects nearly a third of the world's population and can complicate pregnancies and lead to eye disease and blindness.
The funding will support Engelberg's research into how the parasite, which inhabits human cells, divides to proliferate throughout its host, a process that damages and destroys cells and tissue, particularly in individuals with compromised immune systems. Current treatments offer limited results in preventing mother to fetus transmission and can have unwanted side effects.
"We have identified a parasite-specific kinase, a protein switch that can either turn on or off certain processes in the parasite," said Engelberg. "Our work shows that this kinase is critically involved in cell division, a key aspect of Toxoplasma gondii virulence. Under this proposal we will dissect the processes that are controlled by this switch using CRISPR/Cas9 technology."
Engelberg said the goal is to pinpoint the role of the kinase in parasite division and to further identify the components the molecule regulates.
"This will not only lead to a better understanding of the unique cell division of Toxoplasma, but will also facilitate the characterization of potential new drug targets that will allow the development of better therapeutics to treat toxoplasmosis," Engelberg said.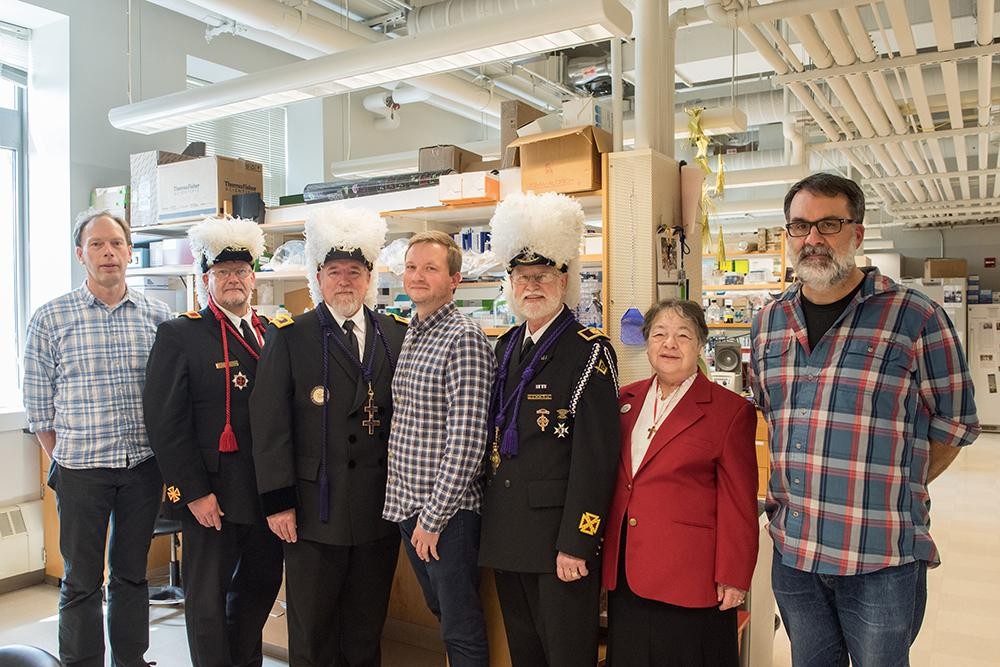 Sponsored by the Grand Encampment of the Knights Templar, the Knights Templar Eye Foundation "works to improve vision through research, education, and supporting access to care."
During a ceremony in May, Engelberg was presented with a check by Northeast Department Commander of the Knights Templar Stuart Drost, Grand Commander for Massachusetts/Rhode Island Mark Kay, and past Grand Commander Richard Van Doren, as well as his wife Nancy Van Doren, of the Knights' auxiliary organization, the Social Order of the Beauceant.
"During the year we raise funds throughout our organization to support research, so coming to BC offers us a chance to meet the people who are doing this work we support," said Drost. "This is a great opportunity for us, personally, and we're proud to represent the Knights Templar and the Knights Templar Eye Foundation."
Gubbels said the funding award not only supports research, but is an important step for a young researcher like Engelberg, who received his PhD from the University of Hamburg in his native Germany.
"This funding from the Knights Templar Eye Foundation gives a researcher like Klemens at this stage in his career a track record of obtaining independent funding. That is important for him. It also helps us do our research, which is the most important thing," Gubbels said.
—Ed Hayward | University Communications