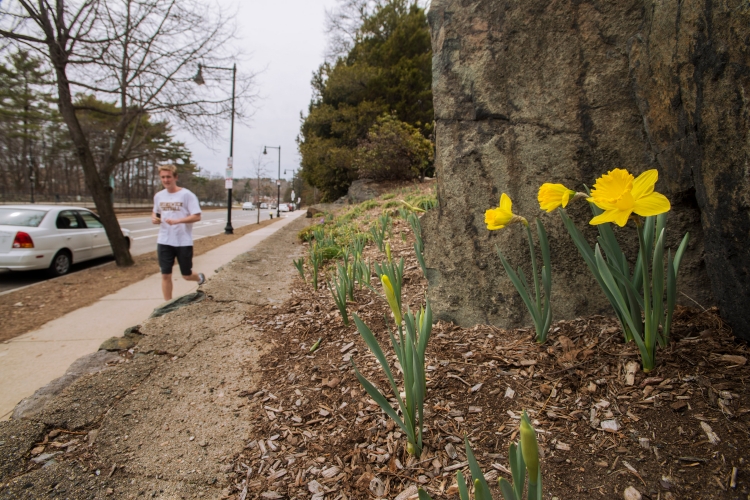 Boston College will be front and center along Mile 21, which passes campus as the runners crest Heartbreak Hill and begin their descent toward the finish line in Copley Square.

Some of the activities along this stretch of the course are still in the planning stages, while others took root many months ago – all intended to remember those killed and injured in the attacks a year ago, honor the first responders, and celebrate this year's runners.

Last November, the Connell School of Nursing and Boston College Facilities Management teamed up to plant 3,500 daffodil bulbs along Commonwealth Avenue, near the Lake Street intersection. The plantings were part of the Marathon Daffodils project, which sought to line the race route with 100,000 daffodils in memory of the marathon bombing victims.

The Boston chapter of the Boston College Alumni Association and the community group Catching Joy will organize at Mile 21 to cheer on runners in this year's race. On Saturday, the Alumni Association and Catching Joy, founded by BC alumna Joy Olaes Suprenant, have teamed up for BC's National Day of Service to make cards and posters dedicated to bombing survivors and first responders.

Posters will be on display at the Alumni Association tent at Mile 21. The cards, created by alumni, their children and friends, were delivered to Spaulding Rehabilitation Center, the Newton Police and Newton Fire Department as part of Catching Joy's "Marathon" of 26 family-friendly events leading up to the marathon.

The Undergraduate Government of Boston College will host a Marathon Monday Memorial Walk to pay tribute to the Boston Marathon bombing victims this Tuesday, April 15 – the one-year anniversary of the attack.

The Memorial Walk, organized by juniors Alex Heiman and Amanuel Teshome of UGBC's Student Initiatives Department, will begin at 1 p.m. Walkers will gather at Conte Forum and proceed to walk three laps around the reservoir. T-shirts will be sold for $5 for participants as well as supporters.  All proceeds from the t-shirt sale will go to aiding the marathon bombing victims.

Though a student initiative, the Marathon Memorial Walk is open to all members of the BC community. No registration is required.

Information will be available through the UGBC web site at ugbc.org.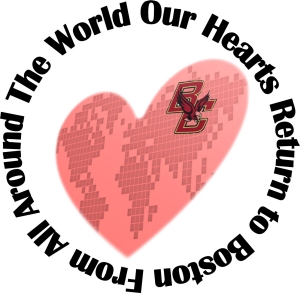 "What can we do to show support for Boston?"

A simple question from a student studying abroad prompted a movement across campus that is quickly growing around the world. The Boston College Office of International Programs (OIP) is sponsoring a student initiative to show support and solidarity for the City of Boston and runners of this year's Boston Marathon.

#BCHeartsForBoston and #ToBostonWithLove are two hashtags that will be used on social media over the next two weeks. Those who are interested in being a part of the movement are asked to take a photo or short video expressing support for the runners and Boston. Participants are asked to wear Boston College, "Boston Strong" or any type of Boston-related apparel and identify a location. Send out the message through social media using the hashtags and the responses will be curated.

"As Marathon Monday 2014 rapidly approaches and we all find ourselves in various countries around the world, our hearts return to Boston," said Connell School of Nursing student Rebecca Howell '15, who is studying at Venice International University this semester. "We have an opportunity to show our love and support for Boston and the marathon runners from wherever we are in the world."

Assistant Director for International Development Christina Hatzipetros said OIP will use their social media channels to do just that.

"We wanted a way to connect our students who are around the world and missing Boston during this time," said Hatzipetros. "It started as just a Boston College effort, but we're hoping that anyone, and other schools around the world, would participate. This is an event that connects us all, even if we are at different places around the world."

For those not on social media, photos and videos can be emailed to dimitroc@bc.edu and will be posted on the OIP sites.

Return to the beginning of the series