BC Associate Professor of Sociology C. Shawn McGuffey has received the 2016 Kimberle Crenshaw Outstanding Article Award from the Society for the Study of Social Problems. The award, which recognizes the author of the best research article in the study of race and ethnicity published in the past three years, will be presented in August at the society's annual meeting in Seattle.
McGuffey's article "Rape and Racial Appraisals: Culture, Intersectionality and Black Women's Accounts of Sexual Assault," which appeared in the Du Bois Review, is based on more than 100 interviews with Black women survivors of sexual assault across four cities. McGuffey analyzes how race, gender, and class intersect and contour interpretations of sexual assault.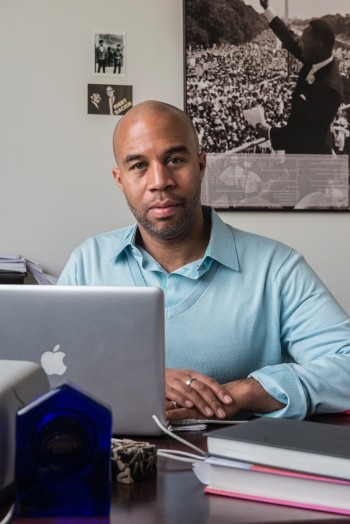 C. Shawn McGuffey (Photo by Gary Wayne Gilbert)
"It's an honor to be the recipient of the Kimberle Crenshaw Outstanding Article Award from one of sociology's most esteemed professional organizations," said McGuffey, who also has a joint appointment in the University's African and African Diaspora Studies program. "I consider myself both a scholar and an activist. Therefore, to be acknowledged by an organization that recognizes the importance of both these identities, and to receive a prize named after a scholar who has truly influenced my research, is especially rewarding.
"I hope this award continues to bring attention to the importance of doing empirically driven, theoretical work at the intersections of various inequities that can lead to the eradication of racism, classism, sexism and heterosexism, and violence against women."
McGuffey also was recognized as the 2016 co-recipient of the Distinguished Article Award from the Race, Gender, and Class section of the American Sociological Association for the same article.
McGuffey's research examines the experience of interpersonal trauma. He has studied trauma survivors in South Africa, Ghana, and U.S. to highlight how race, gender, and social class both constrain and create the choices survivors pursue in the aftermath of trauma. The leader of a research project that created an instrument to measure trauma in Darfurian refugees, McGuffey was invited to a 2014 conference in Tanzania charged with making recommendations to the International Criminal Court regarding its work in Africa.
— Kathleen Sullivan | News & Public Affairs