Twelve Boston-area law school students have been awarded prestigious summer internships in public service by the Rappaport Center for Law and Public Policy at Boston College Law School.
Now in its 16th year, the Rappaport Fellows Program provides opportunities for the students to work in public policy and public service at the highest levels of state and local government in Massachusetts.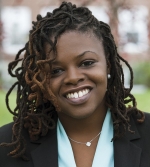 Rodline Louijeune
Among this year's group of fellows are three Boston College Law School students: Rodline Louijeune, who will intern with the Massachusetts State Treasurer's Office; Stephanie Johnson, who will intern with the Boston Redevelopment Authority; and Amar Patel, who will intern at the City of Boston's Office of Innovation and Technology.
They are joined by students from Boston University School of Law, Harvard Law School, Northeastern University School of Law, Suffolk University Law School, New England School of Law and the University of Massachusetts School of Law.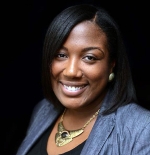 Stephanie Johnson
"This year's 2016 Rappaport Fellows are an extraordinary group of law students who exude passion and commitment to bettering communities, the environment, education, access to justice, women's rights, veterans, individuals with disabilities, and the world," said Rappaport Center Executive Director Elisabeth J. Medvedow. "The Rappaport Fellowship affords them opportunities to gain hands-on experience in government, benefit from mentors, and learn how law and public policy are used to effect change for the social good."
The competitive fellowship program's summer internships place students in positions with leading policy makers and provides mentors from the center's Advisory Board and staff, past fellows, civic leaders and respected attorneys in the field.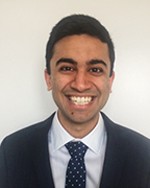 Amar Patel
This year's class brings to 192 the number of Rappaport Fellows selected since the program's inception. Alumni include Boston City Council President Michelle Wu, Massachusetts Assistant Attorney General Julie Kobick, US Department of Justice Attorney Alistair Reader, and Boston Public Health Commission Director of Intergovernmental Relations and Public Health Advocacy Lisa Conley.
The acclaimed public policy law center, which began its work in 2000, provides educational programs, career mentoring and stipends to law students interested in government and public policy. The Rappaport Center was established at Boston College Law School in 2015 with a gift from the Phyllis & Jerome Lyle Rappaport Foundation.
Read more about the 2016 Rappaport Fellows here. For more information about the center, visit the Rappaport Center for Law and Public Policy.
By Ed Hayward | News & Public Affairs.