Former Maryland Governor and 2016 presidential candidate Martin O'Malley closed out his stint as a visiting professor at Boston College with a flourish, showcasing his troubadour talents as well as oratory skills.
O'Malley, who this semester served as Jerome Lyle Rappaport Visiting Professor at BC Law School, gave the keynote address at the Political Science Department's annual honors banquet. The event is held to fete the department's graduating seniors and promote "a deeper appreciation of the rewards and challenges of careers in public service," according to Associate Professor Timothy Crawford, director of undergraduate studies for the department.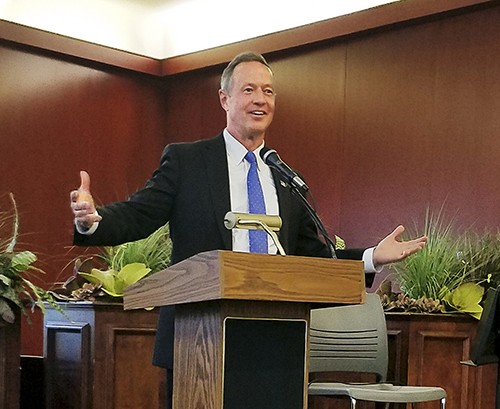 For the occasion, O'Malley presented "Seven American Truths," in which he discussed statements that spoke to America's special qualities – such as Frederick Douglass' "We are one, our cause is one; and we must help each other if we are to succeed" – and gave recitations that included "The New Colossus," the poem by Emma Lazarus at the Statue of Liberty ("Give me your tired, your poor, your huddled masses..."); writings by Dorothy Day and Thomas Merton; and the words "One Country, One Destiny" that were stitched into the lining of Abraham Lincoln's coat the night he was assassinated.
Interspersed with these, O'Malley – known as a performer of Irish and American folk songs – strummed his guitar and sang one verse at a time of Woody Guthrie's "This Land Is Your Land." At the finish, he reprised the song in its entirety and invited the audience to join him. 
"I'd never done this presentation before. I put it together just for that night," said O'Malley by e-mail last week, as he explained the premise of "Seven American Truths." "Woody Guthrie wrote seven verses for 'This Land Is Your Land,' so that seemed like a good template to use."
O'Malley, who following his address took questions from the audience, said he was pleased with the students' response: "Some of us older progressives take affront when politicians, even ex-politicians, use emotion or music to communicate."
Crawford, who described O'Malley's presentation as "lively and thought-provoking," said, "We look for a speaker who has made a significant contribution to public service and politics, and can encourage our students to think seriously about these as professional pathways after graduation.
"We also hope that the speaker can convey to students and faculty the lessons learned from work in politics that help us to better grasp the nature of citizenship and public life."
O'Malley said his time at BC had been enjoyable, and left him feeling upbeat. "America is headed in the right direction, eventually, if you guys stay true to your values of generosity, compassion, and the equal dignity of every person."
–Sean Smith / University Communications