A group of Boston College seniors that visited Kuwait earlier this year had a short but eventful itinerary: meetings with high-level diplomats; tours of major cultural, economic and educational sites; a treasure hunt in Kuwait City's iconic marketplace; gatherings with Kuwaiti peers – and even the country's first officially sanctioned hip-hop concert, a milestone for a nation seeking to balance modernity and tradition.

The Kuwait trip – the centerpiece of a one-credit course, Intercultural Dialogue and Diplomacy – was sponsored through the Omar A. Aggad Travel and Research Fellowship program, recently established through a gift by a BC family for the purpose of inspiring BC undergraduate and graduate students to expand their understandings of the Arab world, and the relationships between Arab and Western societies.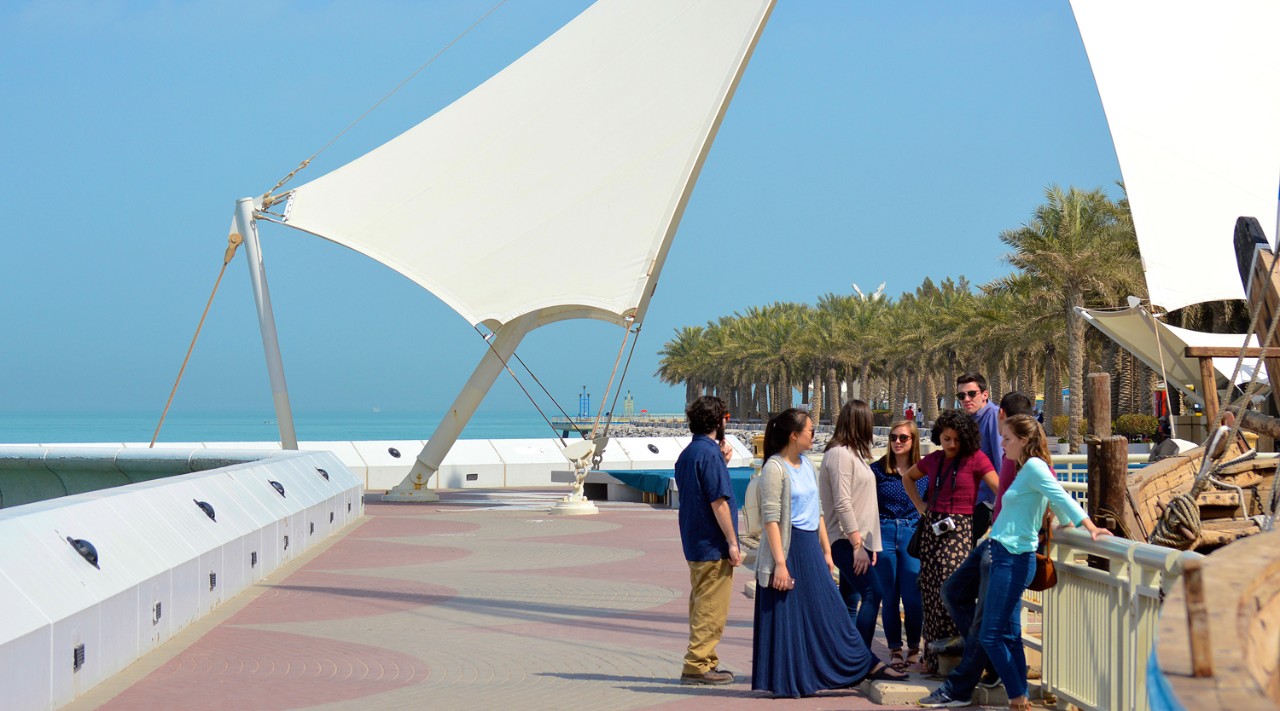 Recently, Aggad Fellowships were awarded to three undergraduates and one doctoral student that will support studies in Qatar, Lebanon, Morocco and United Arab Emirates.
Associate Professor of the Practice of Political Science Kathleen Bailey, who organized the Kuwait visit and accompanied the 10 students along with a graduate assistant, said the experience was aimed at helping the seniors broaden their perspectives on citizenship, religion in public life, pluralism, national security and other issues.
"A major objective of the Aggad program is to encourage face-to-face diplomacy among young people, so they can better understand the differences and similarities among us all," said Bailey, who has led a BC summer program in Kuwait for a decade. "That's an idea which resonates in so much of what we do here at BC: to bring our students closer to the world at large."

"College, to me, has been a time to push my comfort zone as well as a way to learn at every chance I get," said Jessica Ilaria '17, a student of Bailey as a sophomore who had been disappointed at not being able to attend the summer program. "Knowing Professor Bailey well at this point, I knew that it would be an invaluable experience that would help shape and perhaps solidify more of my interests moving forward. This is something I know that I will carry with me beyond my time at Boston College."

Ilaria's comment reflects the aims of the Aggad program, according to a member of the family whose gift helped create it. 

"Travel is an integral part of education," said Tarek Aggad, father of a current BC undergraduate. "There are significant misconceptions in the US about Arabs and Muslims, so encouraging students to travel to countries in the region will hopefully change this, one small step at a time – especially at a time when there are increasing voices of division in the US."

If students benefit from visiting other countries, Aggad added, then so do their hosts. "Nothing is more valuable than highlighting the commonalities between the people of this world, and their hopes and aspirations."

During their weeklong stay in Kuwait, the BC contingent met with the deputy prime minister, minister of interior and under-minister of information (who earned her doctorate at BC), the American, Bhutanese and Saudi ambassadors to Kuwait, and two Kuwaiti executives. They also visited with students from the American University of Kuwait, and members of the Protégés program, an initiative to help Kuwaitis aged 16-24 become community leaders (BC's Global Leadership Institute is a partner of the program). 

"Much like themselves, the young people our students met represented a range of views, beliefs and interests, so this was a very enlightening experience," noted Bailey.

The students also got to take part in a traditional staple of Kuwaiti life, the diwaniya: a gathering for dinner and conversation about politics, society and current events. 

"The diwaniya spark ideas that are then shared in the political and government sector," explained Bailey. "So these get-togethers are seen as very important in Kuwait, because they are the means through which its civil society was built."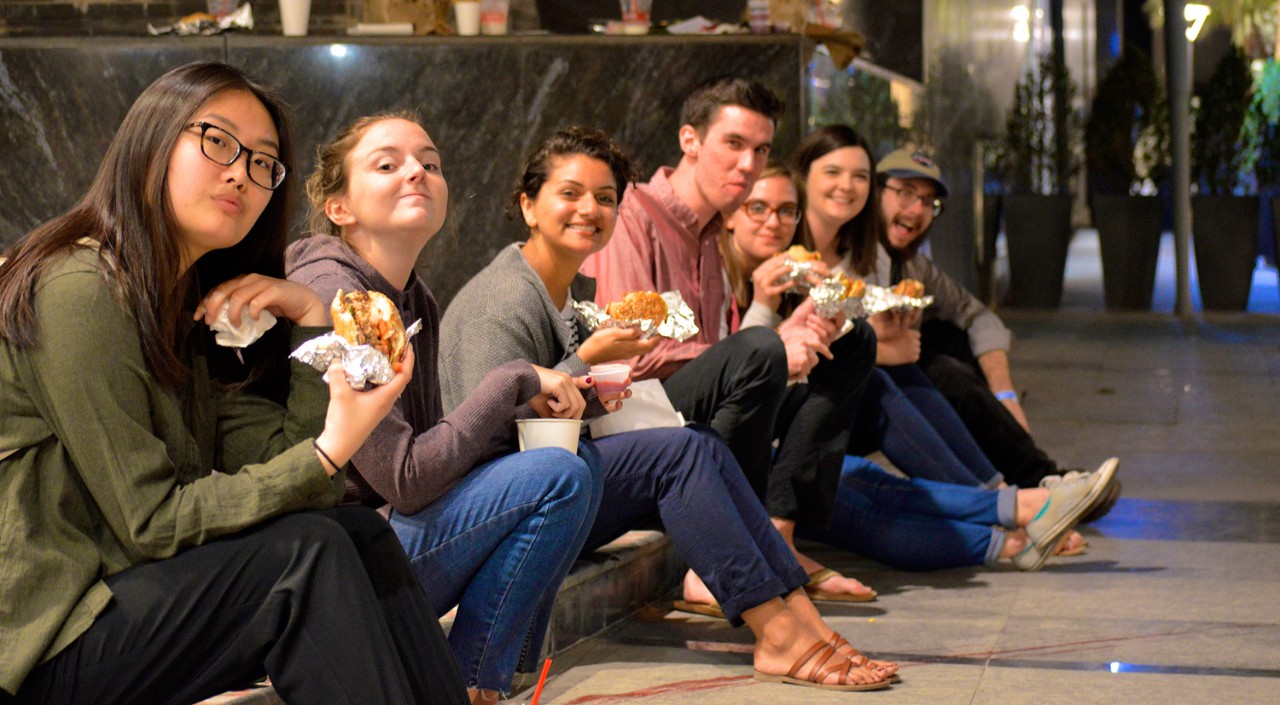 Another part of the itinerary included an equally insightful, if unconventional activity: a treasure hunt in the souk, or marketplace. Students were given a series of clues to help them find items – such as a food-related product – and then bargain with the sellers on the price. 

"They had to really fend for themselves: If they got stuck on something, they had to find someone who spoke English and could help them," said Bailey. "As it turned out, half the people they met came back with them to the meeting place at the end.

"That's intercultural diplomacy at work."

The group also was a witness to cultural history, attending a hip-hop concert that had been approved by the government, noted Bailey. "It was the first time hip-hop had been performed in a public place, and the first time males and females were allowed to dance together on stage. So this was significant for Kuwait, which is quite conservative socially, and meant a lot to its young people."

For students like Ilaria and Isra Hussain '17, who expressed appreciation for the kindness and generosity they received in Kuwait, the visit pointed the way to possible career paths. 

"I learned a lot about foreign service and diplomacy during this trip, and realized that it's something I might be interested in later on in life," said Hussain, who found herself drawn to the US Embassy's public affairs department and its direct work with Kuwaiti citizens. "Community engagement is such an important way to cross bridges and learn about other cultures. I've always been interested in international affairs and I would highly consider diplomacy in the future."
-Sean Smith / University Communications