Former U.S. Senate Majority Leader George Mitchell, a key architect of the 1998 Good Friday Agreement in Northern Ireland and a past envoy to the Middle East, will speak at the opening event for Boston College's celebration of International Education Week (IEW) from Nov. 7-18.
Mitchell's talk – sponsored by the Global Leadership Institute – will take place Nov. 7 at 4:15 p.m. in McGuinn Auditorium.
IEW, created in 2000 by the U.S. departments of State and Education, emphasizes the importance of increasing knowledge and awareness of the world's cultures, peoples and languages, and affirms the critical role international education plays at Boston College and elsewhere.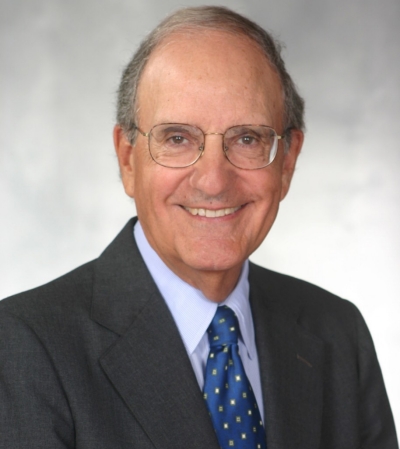 Former U.S. Senator George Mitchell
The theme for BC's IEW is "Beyond Borders: Identities and Perceptions in Today's World."
Since retiring from the U.S. Senate in 1995, Mitchell has been active on numerous fronts in politics and business. He was the main investigator in two so-called "Mitchell reports," one on the Arab-Israeli conflict and another on the use of performance-enhancing drugs in baseball.
Among his many activities, Mitchell is honorary co-chair for the World Justice Project. He was awarded the Presidential Medal of Freedom and the Liberty Medal, and nominated for the Nobel Peace Prize, for his efforts in the Northern Irish peace process.
Other highlights of BC's IEW include:
Open house with Boston Police Commissioner William Evans, Nov. 9, 4-6 p.m., Gasson 100.
Panel discussion with non-traditional international students, Nov. 9, 6-7 p.m., Fulton 250.
A "Career Chat" on searching for internships and jobs internationally, Nov. 10, 4-5 p.m., Stokes S201.
International Jesuits talk about their lives and experiences, Nov. 11, noon-1 p.m., O'Neill 253.
Summer Study Abroad Fair, Nov. 11, 4-6 p.m., Corcoran Commons (second floor).
Panel discussion on research and study in the Islamic World, Nov. 15, 6:30 p.m., Hovey House Library.
Harvard sociologist Mary Waters presents "The War on Crime and the War on Immigrants," Nov. 17, noon-1:30 p.m., Barat House, Newton Campus.
Professor of Political Science Robert Ross lectures on China, Nov. 17, 4:30 p.m., Stokes S295.
For more events and other information visit BC's International Education Week website.
–University Communications