Pedro Matta, who was held and tortured at the Villa Grimaldi detention center in the 1970s, leads a tour through a memorial rose garden at the center site in Santiago, Chile. Photographs by Ed Hayward
With a thick head of graying hair and dressed in a comfortable suede jacket, Pedro Matta resembles a distinguished, if casual, grandfather. But he tells those who want to listen—who ask to meet him behind the concrete walls and steel doors that now conceal a somber memorial site on the outskirts of Santiago, Chile—about his time as a detainee during the regime of Augusto Pinochet.
"Yesterday, 42 years ago to the day, I was half dead," says Matta, recalling the first day of his detention in 1975 by Chilean intelligence officials during the dictatorship of Pinochet, who seized power in a U.S.-backed coup in 1973 and ruled until 1990.

Leading Boston College faculty on a tour of the restored grounds of Villa Grimaldi, Matta recounts the atrocities committed against him and nearly 4,500 others detained at one of the capital city's most notorious clandestine jails, a facility that was part of a country-wide network of sites that supported the system of state violence blamed for more than 3,000 executions and the torture of approximately 40,000 people.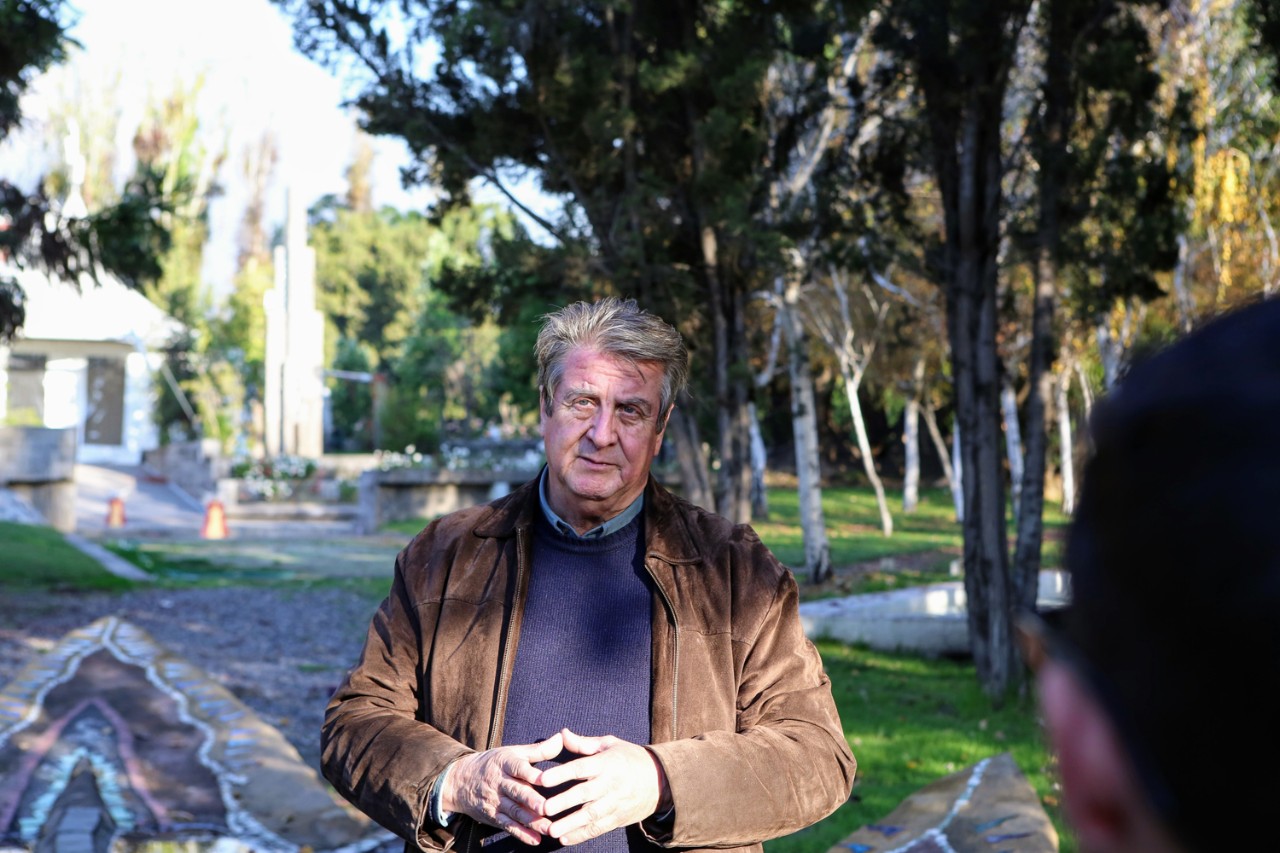 The visit to Villa Grimaldi was part of the Office of International Program's Faculty Seminar, which took a group of seven faculty members to Chile and Argentina to focus on the subject of human rights and reconciliation, as well as BC's academic partnerships in the southern cone of South America.

"The Faculty Seminar is part of a larger series of initiatives offered through the Office of International programs designed to help internationalize our campus," says Office of International Programs Director Nick Gozik. "With this seminar, we started in Santiago, Chile, where we spent four days. We moved on to Buenos Aires, Argentina, and wrapped up the trip. The seminar was designed to help our faculty get to know Latin America."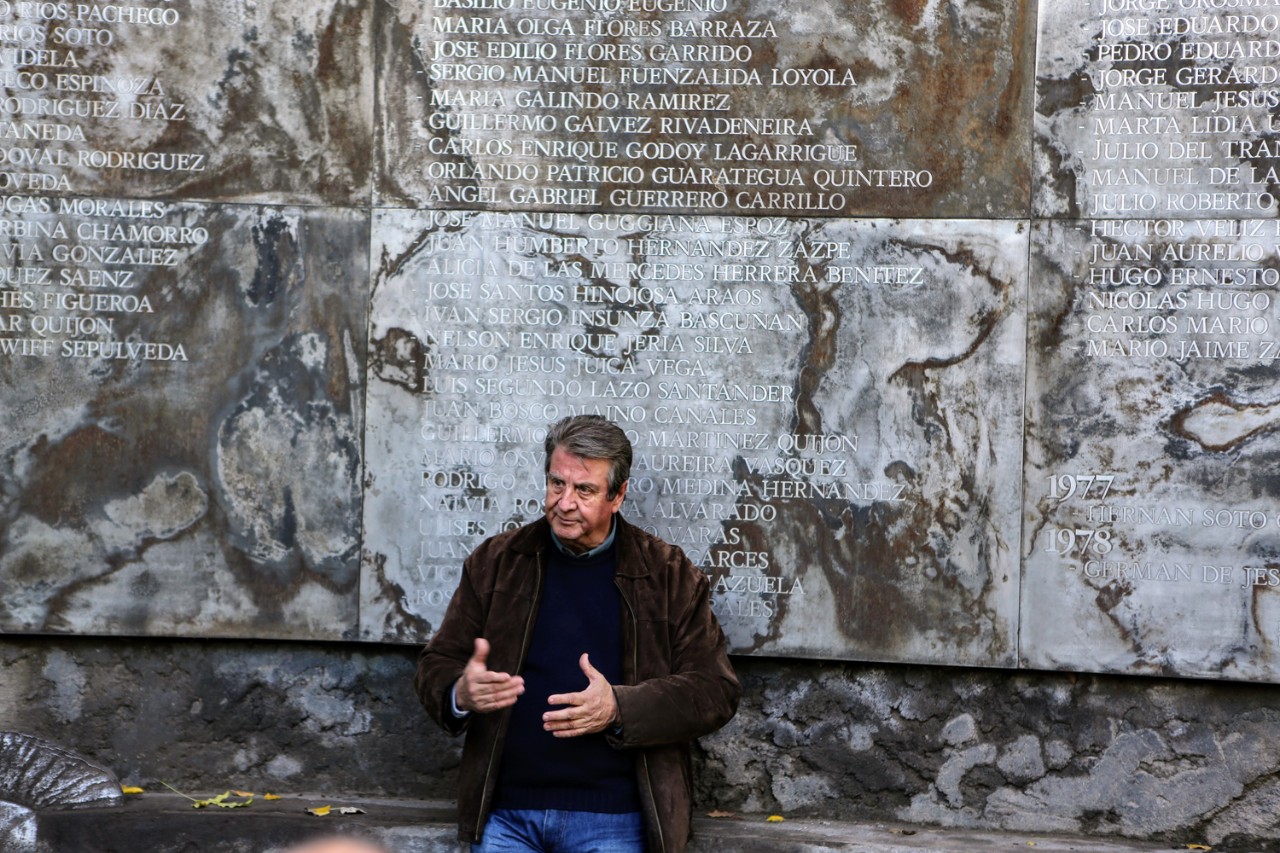 As part of its current 10-year strategic plan, the University has committed to engaging with students, faculty, and institutions around the world. The Faculty Seminar offers early- to mid-career faculty participants from a range of disciplines the chance to study historical and contemporary topics in the host countries and meet with faculty at peer institutions to share research and best practices. The inaugural seminar traveled to Turkey in 2015.

The seminars offer an immersive professional development experience, Gozik says, but also an invaluable face-to-face connection with their colleagues in different schools. Participants in the most recent seminar, in summer 2017, came from the departments of English, philosophy, history, sociology, communication and physics.

"By bringing faculty together with different disciplinary lenses, we are able to discuss these topics with our colleagues on the ground in ways that would be unimaginable if we had tried to do so on Boston College's campus," says Gozik.
---
WATCH: Participants in the Boston College seminar to Chile and Argentina discuss their experience. (Video by University Communications)

---
Associate Professor of History and director of the African and African Diaspora Studies Program Martin Summers had little direct professional experience with Chile and Argentina prior to the seminar. Still, he found new connections to the subjects he studies.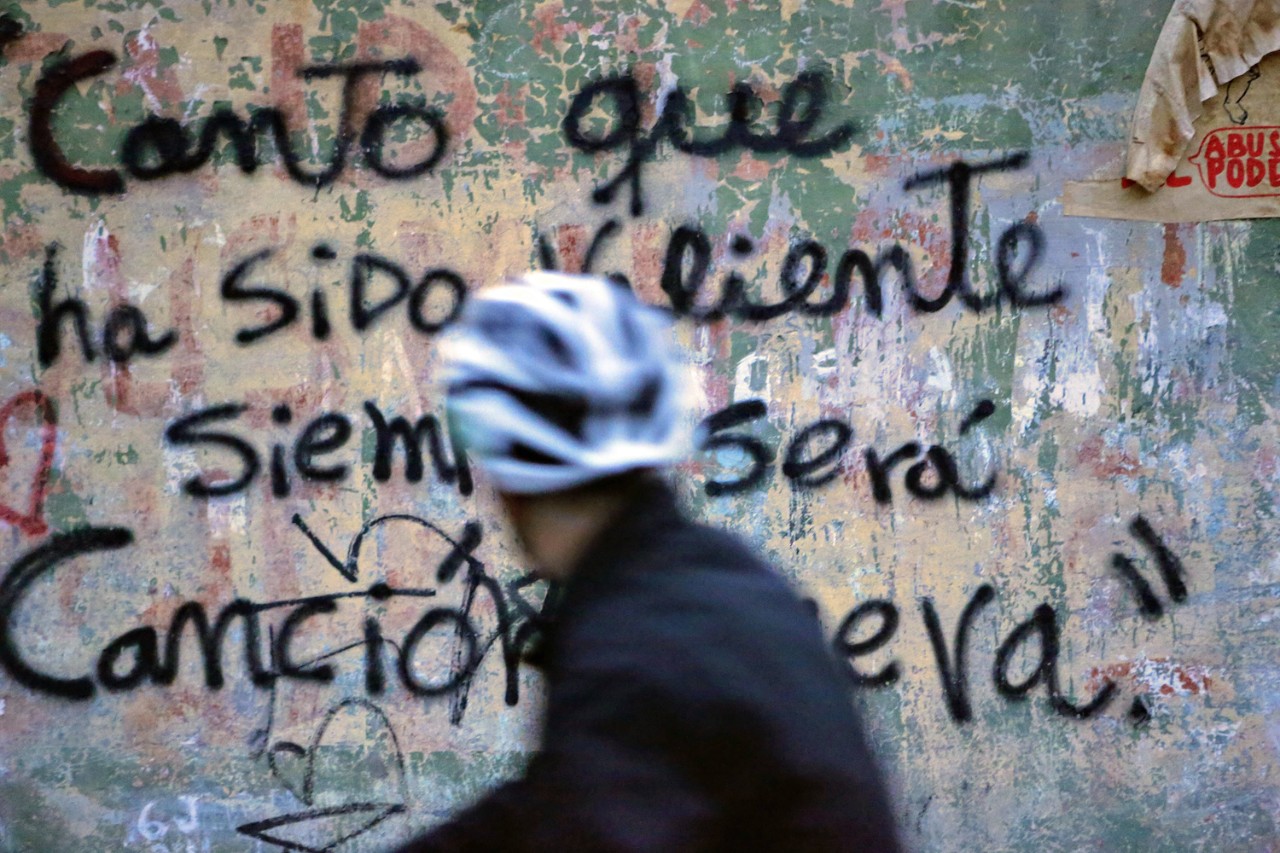 "One of the things that moved me, and that I became particularly emotional about, was hearing all of the various types of torture that detainees had to endure there, conveyed by someone who experienced that torture," Summers says of Matta's presentation. "What really stuck out to me was his explanation of a stress position that detainees were put in. It really sounded a great deal like the kinds of positions that slaveholders would put slaves in when they beat them."

Matta, a politically active law student when he was detained, was freed after nearly two years of confinement and torture. He fled to the U.S., where he lived for many years before returning to Chile after Pinochet was forced from office.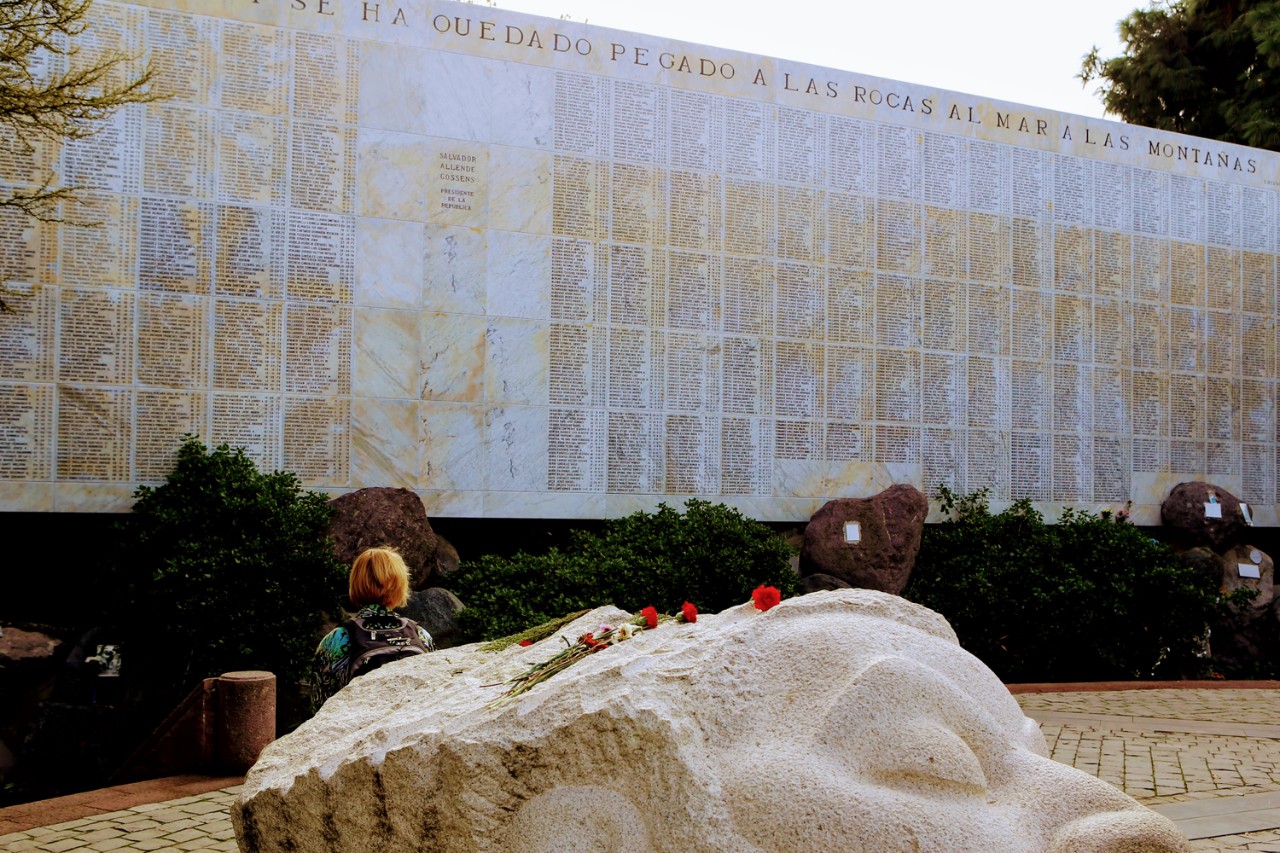 Matta's account of his experiences was amplified by a trip to the Museo de la Memoria y Derechos Humans (Museum of Memory and Human Rights), which is dedicated to documenting the brutalities of the Pinochet regime. Its sleekly curated exhibits included a three-story-tall wall tiled by the photographs of approximately 1,500 men and women killed or "disappeared" during Pinochet's rule.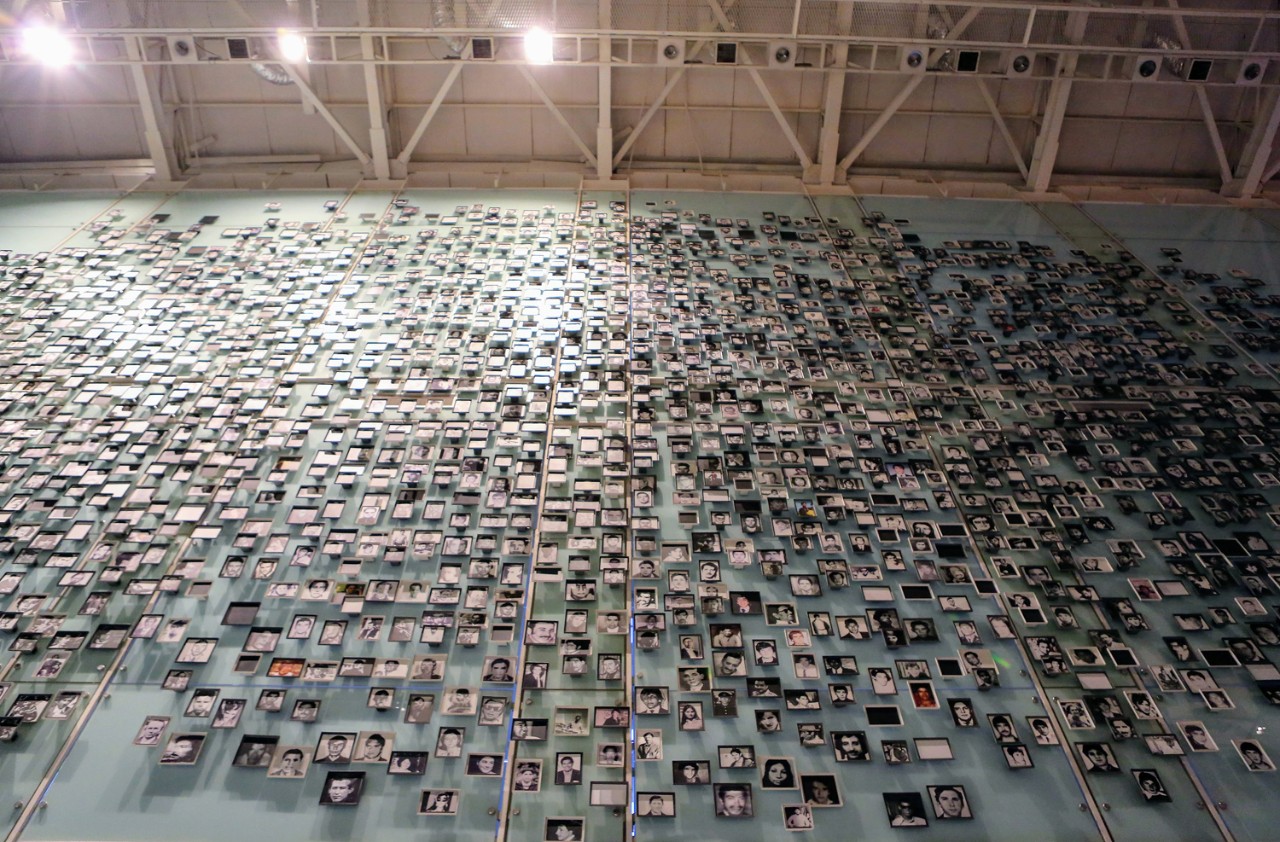 The participants also visited historic and cultural sites including Santiago's central cemetery, the landmark San Cristobal Hill, the home of the late Chilean poet and Nobel laureate Pablo Neruda, and the port city of Valparaiso.

In Argentina, the group toured a range of Buenos Aires neighborhoods, visited a traditional country estate, and explored a memorial museum at a former detention center, now known as "Ex-ESMA," located on the campus of the country's since-decommissioned naval academy near the center of Buenos Aires.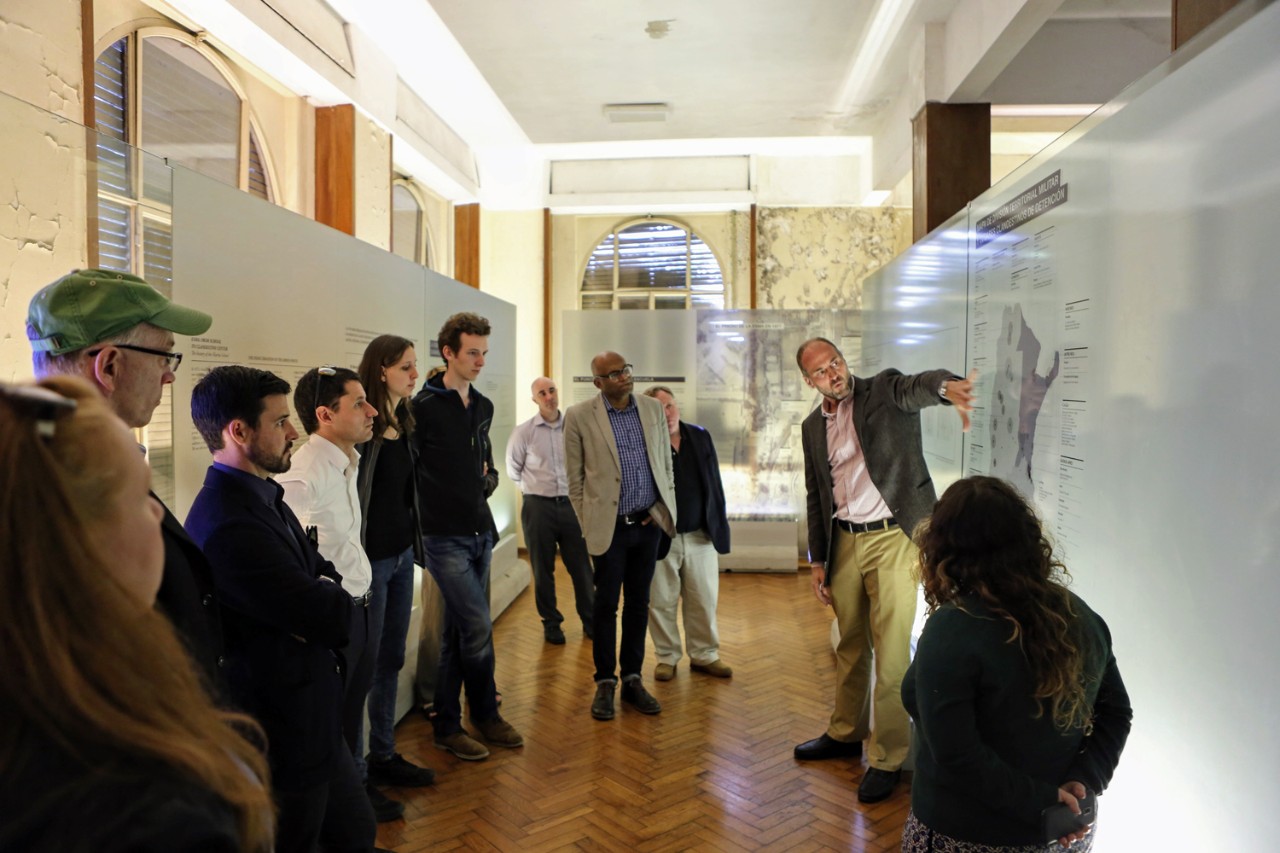 Ex-ESMA was established by the military government that ruled Argentina between 1976 and 1983, when an estimated 30,000 people were killed or disappeared in an effort to crush political dissent. The naval academy buildings where detainees were held and tortured have been preserved – including the drawings and markings made on the walls – as those once held there return to help document their internment and assist in the prosecutions of the torturers. The museum, on a leafy campus near the banks of the Rio de la Plata, remains a crime scene.

The group also visited BC students studying abroad and some of the universities that host them, including Universidad Alberto Hurtado in Santiago, as well as the Catholic University of Argentina and DiTella University in Buenos Aires.

Associate Professor of Sociology Gustavo Morello, S.J., a native of Argentina, assisted Gozik in planning the seminar itinerary and was part of the group.

"To some extent, this was (a chance) to see the diversity, the variety of ways in which people remember, or keep present what has happened," says Morello, author of The Catholic Church and Argentina's Dirty War (Oxford University Press, 2015). "But the Office of International Programs also wanted to try to help faculty understand what's going on now with that fight for human rights. That's not something in the past. There are new iterations of the same problems, and the same struggles, which is helping people live with dignity and respect regardless of their condition."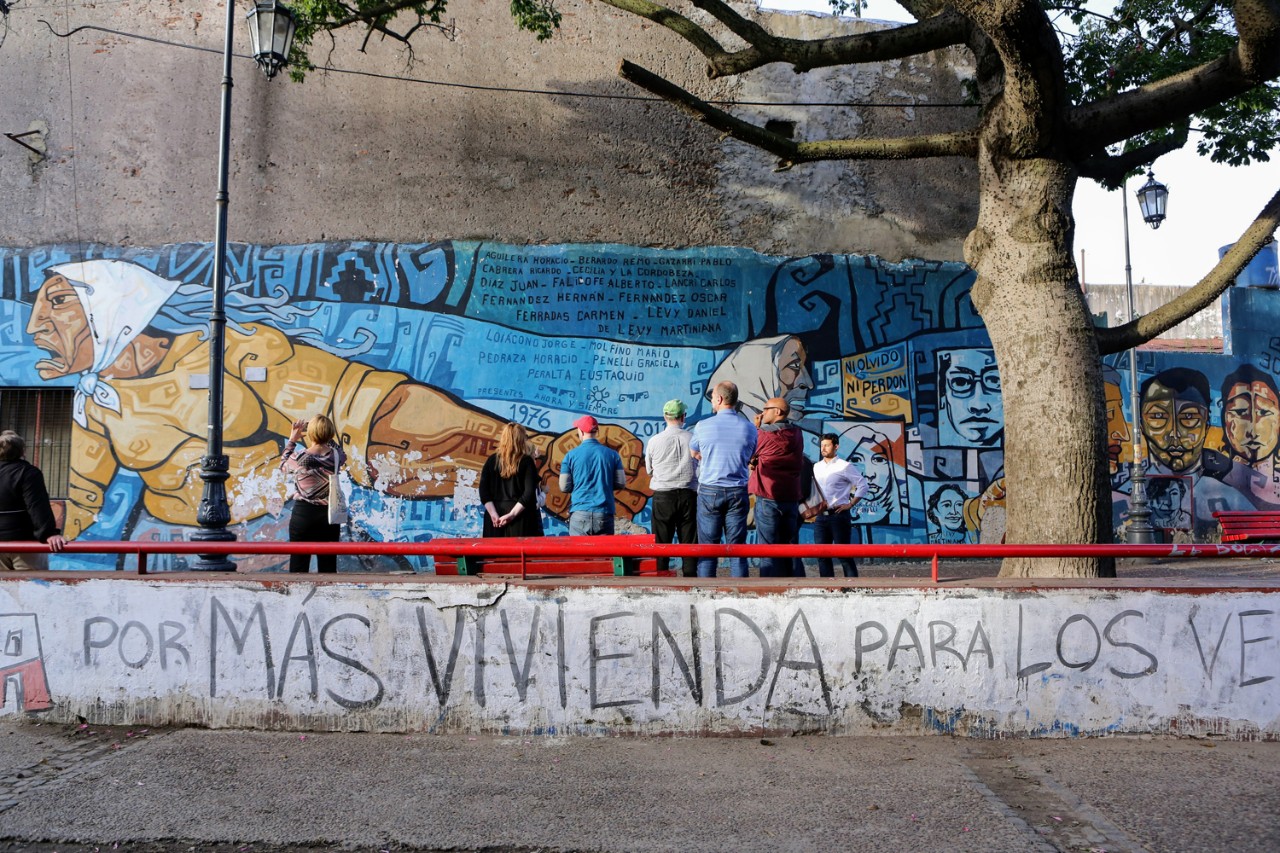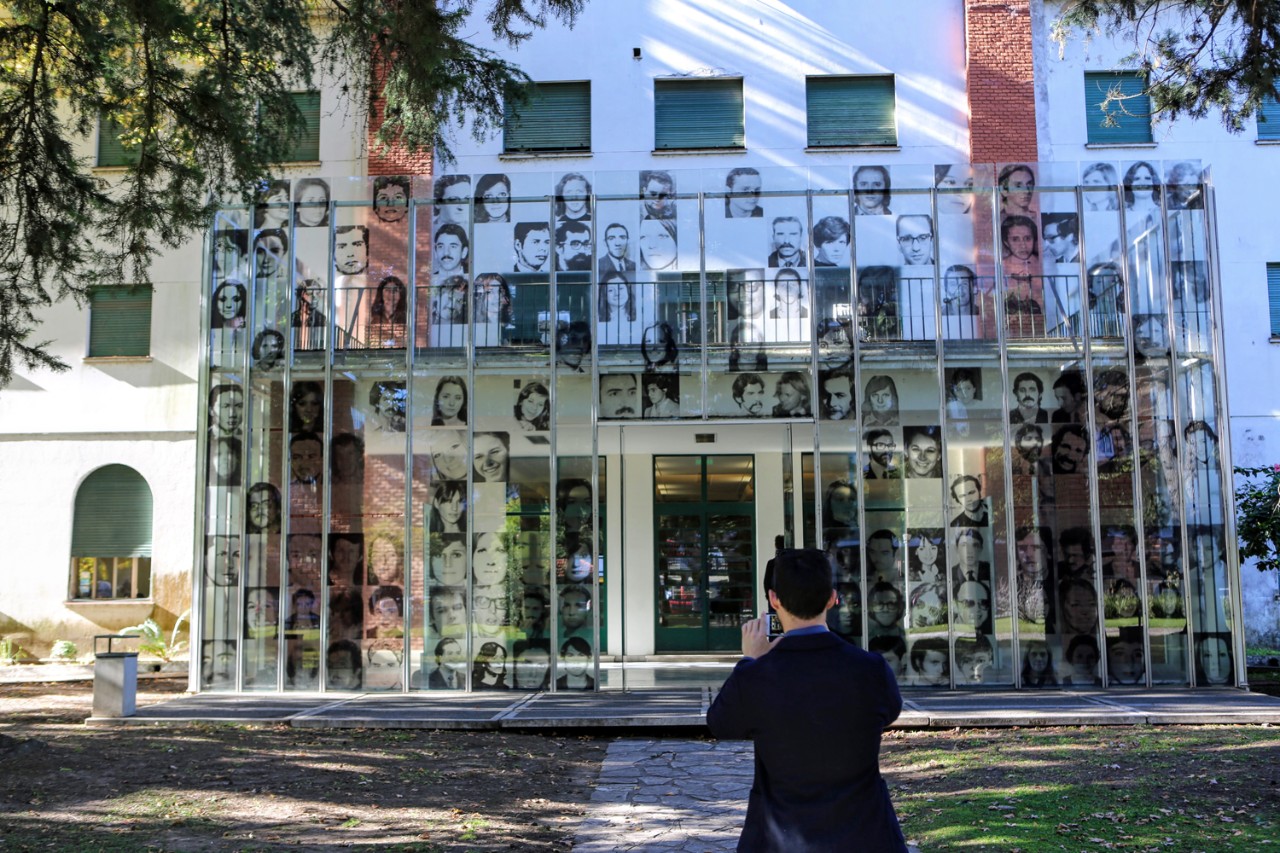 The seminar is also meant to strengthen ties between faculty at BC and partner institutions in Chile and Santiago.

"I think it's very important for Boston College and for busy faculty to build relationships with other Latin American universities and to visit places in Latin America and other parts of the world, too," says Morello. "We tend to think that the terms and the ways in which we do academia in the United States are all over the world. That is not the case. It's an exceptional, very privileged situation that we enjoy very much. But there are many others ways of doing academic work, many other ways of dealing with students engaging with societies. I think that we have to learn from that. One excellent way of learning is visiting these places."

Summers says the seminar has had an impact on his teaching, leading him to explore further the African diaspora in South America.

"I currently teach a course on African Diaspora in the World and I spend some time talking about the experiences of African diaspora peoples in Latin America," says Summers. "But really being immersed in those countries and learning more about their history will allow me to incorporate even more about the history of African descended peoples into the lectures I give going forward."

Among the seminar's benefits were opportunities for chance encounters. In Santiago's Ulises bookstore, Associate Professor of the Practice of English Allison Adair met local poet, Jorge Rosemary. "We agreed to exchange poems, his in Spanish, mine in English, which we did," Adair says. "It has led to an email correspondence and some discussion of the possibility of our translating each other's work."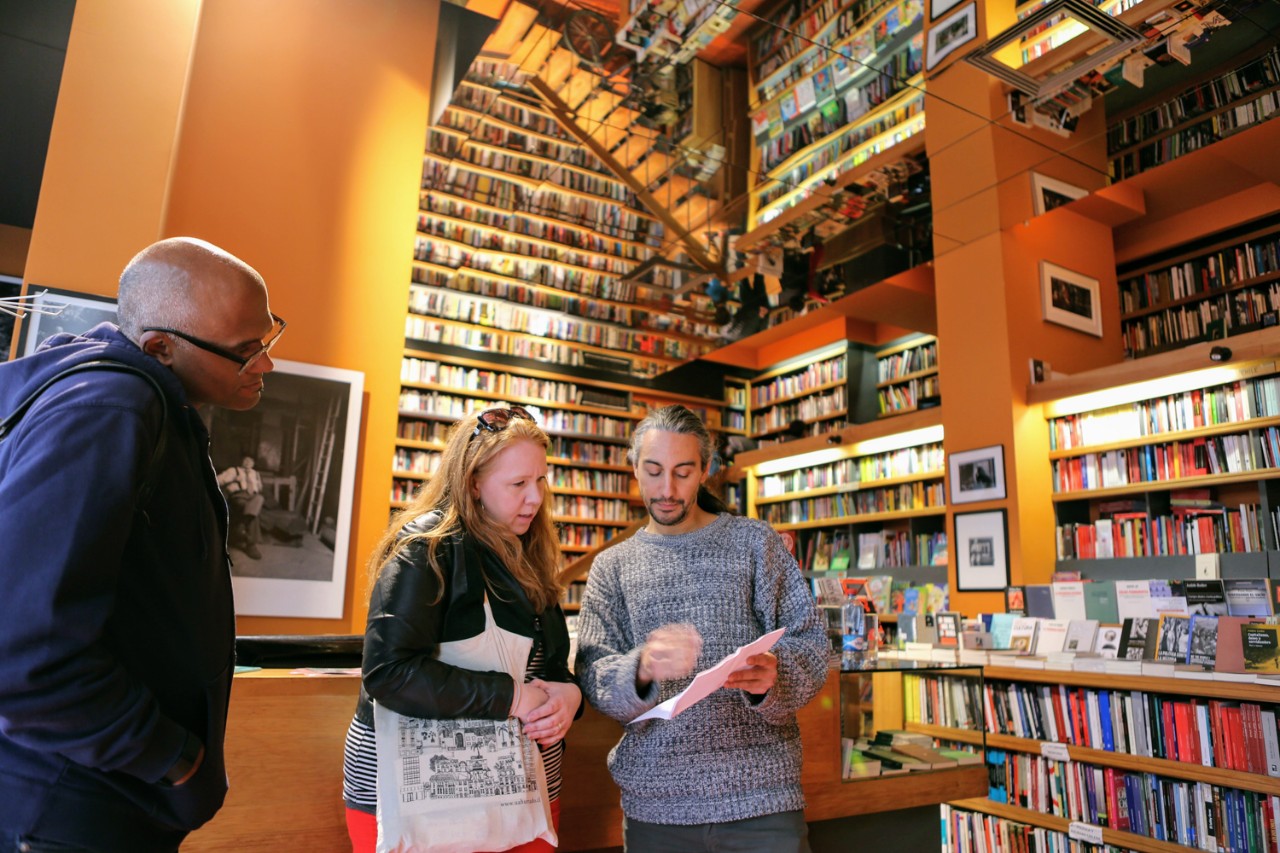 Adair adds that the experience has also influenced a core pilot course she co-teaches with Sylvia Sellers Garcia. "It's a truth telling class and there's no closer connection to what we were talking about (in Chile and Buenos Aires) than that truth telling," says Adair.

Assistant Professor of the Practice of Communications Marcus Breen also says the seminar planted the seed for future collaborations with scholars in the region.

"I certainly would love to be involved in projects that bring scholarship, and scholars, and colleagues from the global south, into closer alignment with us; what we perhaps can learn from them would be massively important," says Breen. "We heard people talk about their research, both in Chile and Argentina. There's no doubt that the quality of their work is at a high international standard. Unfortunately, we don't know more about it. We don't see a lot of it. I certainly was excited for the opportunity to be in the meetings with those folk, and hear about the work they've done."

Additional faculty participants in the most recent seminar included Associate Professor of History Franziska Seraphim, Associate Professor of Physics Cyril Opeil, S.J., and Assistant Professor of the Practice of Philosophy David Storey.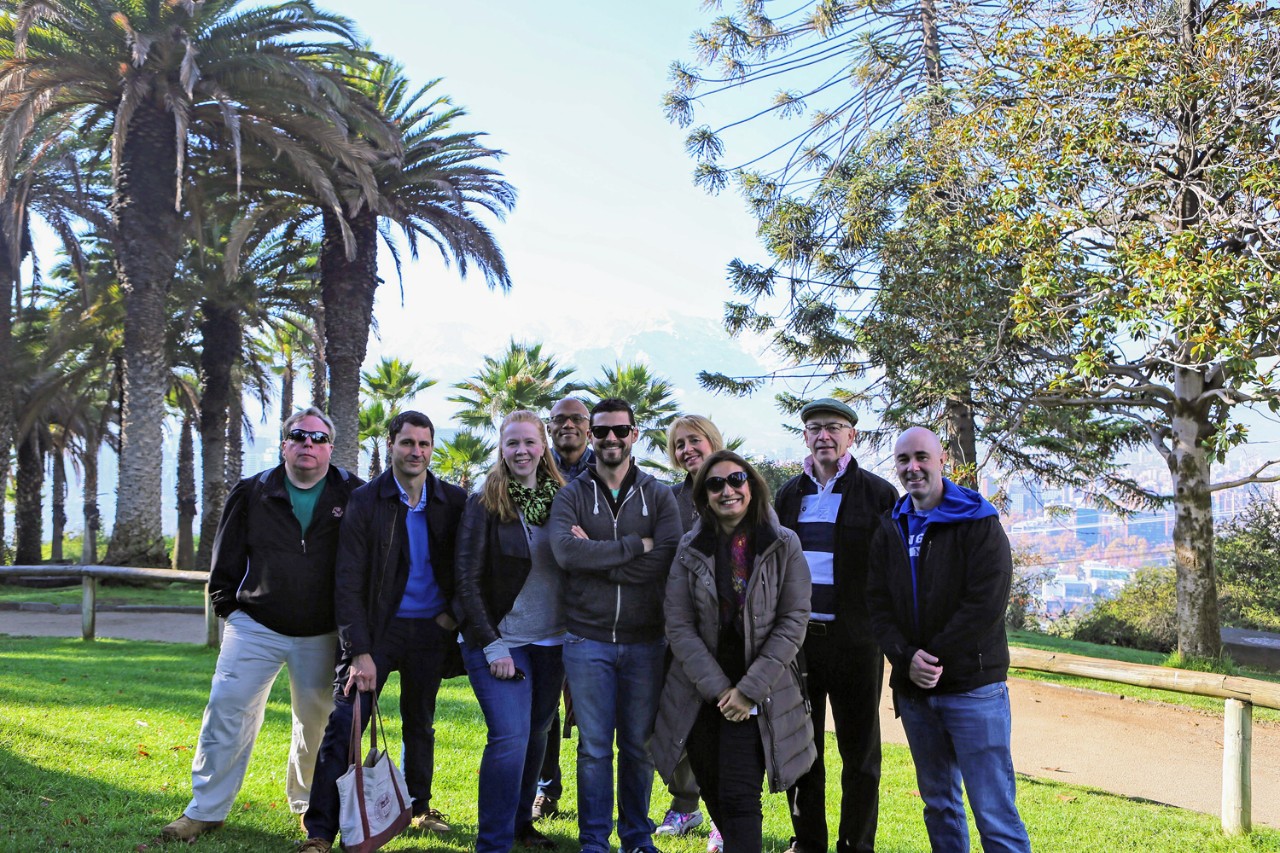 Building international connections for faculty is crucial to the university's global strategy, as well as to expanding opportunities for students, says Gozik. Each year, approximately 1,200 BC students study abroad and the University hosts more than 200 visiting international students, says Gozik, who also directs the McGillycuddy-Logue Center for Global Undergraduate Studies.

"I hope that this seminar allows our faculty to think about their teaching and their research, and as they go into the classroom and work with students from different backgrounds – international students or exchange students," says Gozik. "All of this allows our faculty to be better in tune to a wider variety of students in the classroom and ultimately do their best when serving Boston College students."
For more information on Boston College's commitment to global engagement, visit the BC Global website.


—Ed Hayward | University Communications