Buddha standing on a mountain Wat Phra That Khao Noi, Nan Province, Thailand (CCO Public Domain)
The first comprehensive reference collection of Buddhist art—an invaluable resource for students and scholars alike—is now housed at Bapst Library. The 22-volume English language Encyclopedia of Buddhist Art was donated earlier this year to the Boston College Libraries by the Fo Guang Shan Buddhist Temple in Cambridge.
"These beautifully designed volumes cover such subjects as architecture, caves and rock carving, sculpture, painting, decorative art, calligraphy, and more, and include more than ten thousand color illustrations," according to Nina Bogdanovsky, senior research librarian/bibliographer at O'Neill Library.
"The featured works of art come from more than 30 countries. This is the first resource on Buddhist art on this scale and as more and more people become interested in Asian art, we hope this resource will be helpful to our students and encourage them to delve deeper into Buddhist art."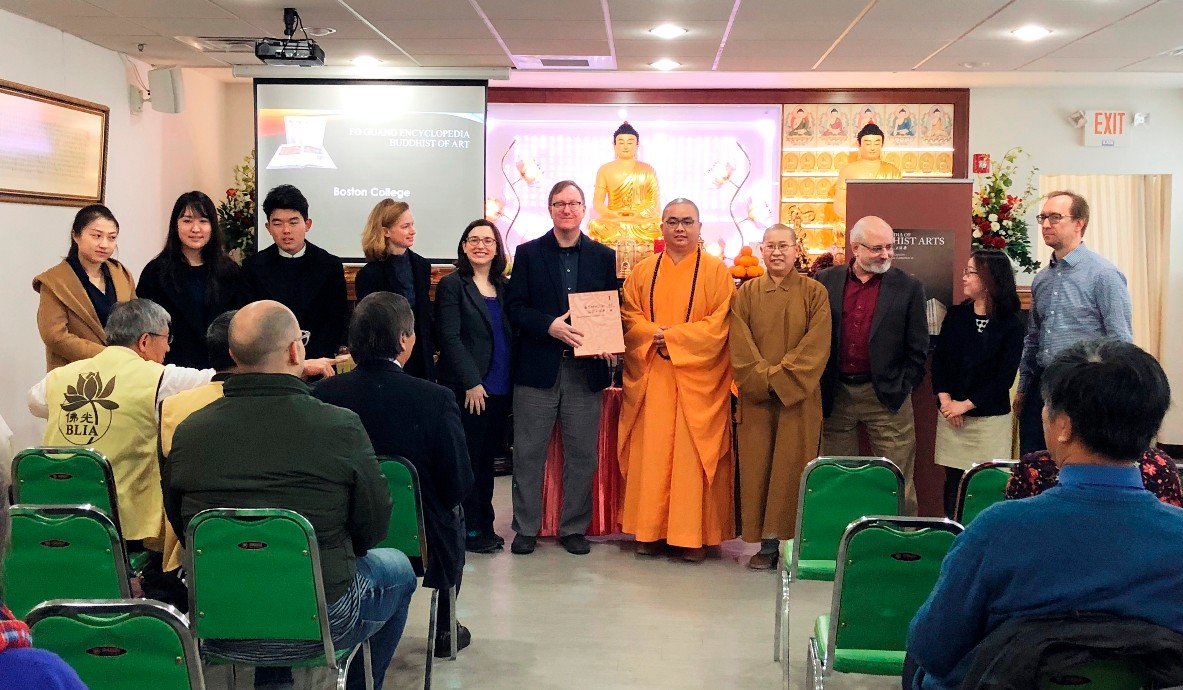 According to Bogdanovsky—who noted that a digital version of the encyclopedia will be available in the future—the gift was enthusiastically welcomed by faculty members in the departments of Fine Arts, Theology, and Asian Studies as a valuable and much-needed addition to the libraries' collection on Buddhism.
"The Encyclopedia of Buddhist Art is an invaluable asset to the Boston College library collections," said Aurelia Campbell, an assistant professor of art history whose current research focuses on imperial art and architecture from the Yuan, Ming, and Qing periods (1279-1911) in China.
"It will be a go-to resource for students and scholars of Buddhism, Buddhist arts, and East Asian culture alike. The encyclopedia is not only a good starting point for research on a particular subject; students will also learn a great deal simply by flipping through the pages of this expansive and richly illustrated 22-volume set, she said.
The Fo Guang Shan Temple congregation has 250 temples around the world, and the encyclopedia represents the collective 12-year long effort of many monks and scholars.
Campbell, along with O'Neill Librarians Julia Hughes and Chris Strauber, accepted the gift at the Fo Guang Shan Temple earlier this year.
University Communications | August 2018