Boston College's yearlong observance of the centenary of the 1916 Easter Rising – a milestone in Irish history – will feature two major events in March: an international conference, "Easter 1916: A Terrible Beauty Is Born," and an Easter Rising Commemorative Concert.
These events will serve as a remembrance of the April 24, 1916, uprising by Irish nationalists to battle against British rule and establish an Irish republic. Although the insurrection was suppressed, the Easter Rising helped spur wider, and ultimately successful, efforts to gain Irish independence.
"To understand modern Ireland, it's important to appreciate the impact of the Easter Rising," said Oliver Rafferty, S.J., director of the University's Center for Irish Programs, which is playing a key role in organizing the BC commemorations.

(Listen to Fr. Rafferty discuss the Easter Rising and its role in Ireland's history on WNYC Radio's "The Takeaway.")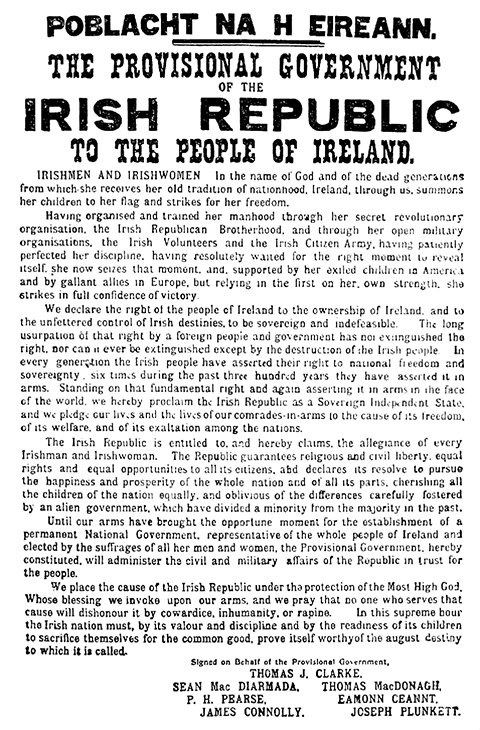 Easter Proclamation of 1916
"The Rising was a seminal event in Irish history not because it was a victory, but because of how the British mishandled the aftermath: executing the rebel leaders, and imposing martial law and internment," Fr. Rafferty said. "This swung Irish public opinion in favor of what the rebels were trying to accomplish, and touched off nearly seven years of struggle that brought about Ireland's independence."
Novelist Colm Tóibín, author of Brooklyn (now a critically acclaimed film), will be among a group of distinguished speakers at the "Easter 1916" conference during the weekend of March 18-20. Also on hand will be historians Alvin Jackson of Edinburgh University and Diarmaid Ferriter of University College Dublin, who are both former Burns Visiting Scholars of Irish Studies at BC; Emily Bloom of Georgia State University; Roisín Higgins of Teeside University; and Fearghal McGarry of Queen's University Belfast.
The conference opens at 6 p.m. on March 18 in Devlin 101, and includes daytime presentations on Saturday and Sunday and evening receptions Friday and Saturday. "Easter 1916" is free and open to the public, but registration is requested at this link.  
On March 28, Easter Monday – the day the 1916 Rising occurred – the commemorative concert will take place in Gasson 100 at 6:30 p.m., offering a program of Irish music, song and dance with BC performers like former Sullivan Artist-in-Residence Seamus Connolly (who retired in December as director of Irish music programs at BC), Jimmy Noonan, Sheila Falls, Kieran Jordan, and the BC Irish Dance student club, as well as the University Chorale and the BC Chamber Music Society.
Joining the BC contingent will be a bevy of special guests, including Charlie Lennon, a traditional musician who also is a prolific composer; New England Irish harpist Regina Delaney; and The Murphy Beds, a New York City-based duo of Irish native Eamon O'Leary and American Jefferson Hamer, noted for intricate instrumental arrangements and vocal harmonies. 
The concert is free and open to the public; registration is requested at this link.
Fr. Rafferty – whose newly published book Violence, Politics and Catholicism in Ireland touches on the Easter Rising – said Boston College is an appropriate venue for marking the 1916 centenary. 
"The University has had a longstanding commitment to teaching and propagating Irish history and culture – in fact, some of our most popular history classes here are about Irish history," he explained. "BC also has strong ties to Boston, the most Irish city in the US. As part of our service to Boston, we stage events and offer resources on Irish history and culture. 
"These two events, and others being held at BC, uphold that tradition by offering different perspectives on the Easter Rising. The conference will provide an intellectual engagement through the exploration of various issues in regard to the Rising: What was it? What was its impact? How did different communities and observers see it?
"The Easter Monday concert represents a cultural, artistic engagement, one that not only involves musicians in the Irish Studies Program but also the Music Department. We're very happy to collaborate with our colleagues in Music for this fascinating, and fun, event."
Fr. Rafferty praised the Irish Consulate for its support of the 1916 Easter Rising commemorative events.
–Sean Smith | News and Public Affairs