About the Center for Irish Programs
The Center for Irish Programs encompasses all Irish initiatives at Boston College including the University's Irish Studies program, the Irish Institute, the Burns Library Irish Collections, Boston College-Ireland in Dublin, and the Gaelic Roots Program.
Boston College was founded, in part, to educate the sons of Irish emigrants who had settled in Boston. Today, the Center for Irish Programs continues this important mission. Through links within the academic, business, non-profit, and government communities of Ireland and America, the Center seeks to support and connect the many Boston College students, alumni, and friends with an interest in Ireland and all things Irish.
Our Boston College-Ireland facility in Dublin has hosted numerous academic, civic, and political leaders of prominence from Ireland, Northern Ireland, the United States, and Great Britain.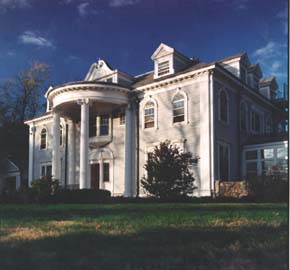 Connolly House, headquarters of the Center for Irish Programs at 300 Hammond Street on BC's Chestnut Hill campus.