Lynch School of Education Professor Mike Barnett has always sought out new platforms for the teaching of science – be it a classroom, a laboratory, a farmers market or a greenhouse. Now the science education expert has turned his focus to the stage.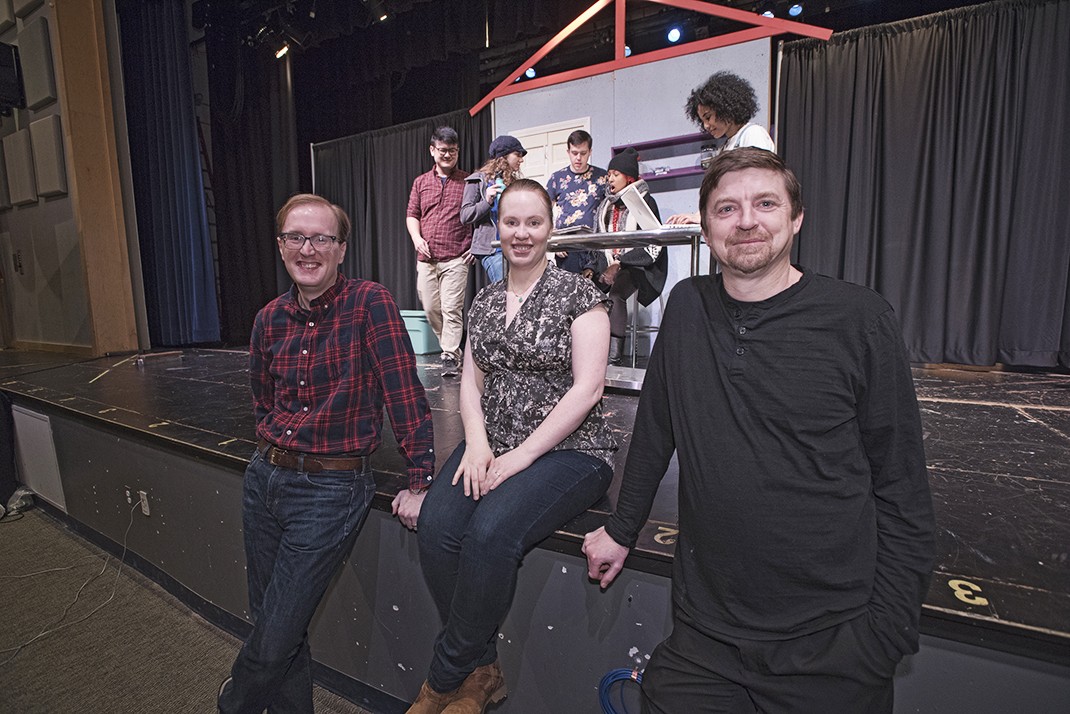 Working with fellow Boston College faculty, a local playwright, and the Watertown Children's Theatre of The Dorothy and Charles Mosesian Center for the Arts, Barnett has overseen the creation and production of the one-act play "The Important Thing About Earthquakes," which he believes is the first genuine dramatic production that tells a scientific story.
The story of Tamara, her sister Gaby, and friends Nico, Hector and Maya centers around how they work to understand seismic shifts, be they geological or personal. The play has been performed at middle schools in Boston and Waltham and will be presented again this fall at The Dorothy and Charles Mosesian Center for the Arts and middle schools in Boston.
"The whole goal of this project is to engage kids to see science in a much more human way and open them up to studying science in a way they might not expect," said Barnett. "This is a different approach to opening the door to science for kids who might not see themselves as scientists."
The play is the first production of The Converge Theatre Project, which Barnett established to bring together faculty from the Lynch School and the Morrissey College of Arts and Sciences, as well as Watertown Children's Theater, whose Producing Artistic Director Meghan Hill has cast and directed the production.
The development of the play was supported in part by a grant from the Office of the Provost through the Research Across Disciplines and Schools (RADS) program.
Barnett has been working with Associate Professor of Earth and Environmental Sciences and Weston Observatory Director Alan Kafka, a seismologist; Helen Zhang, a visiting research faculty member in Biology and Lynch School of Education; and a team of graduate students led by LSOE doctoral candidate Ariella Suchow. 
Most science-themed productions are little more than science lessons that play out on stage, said Barnett. The performers are usually adults and the productions resemble typical classroom lessons about scientific subjects.
Barnett wanted something different. He wanted a genuine story and he wanted to tell it on the stage.
"There is something different about watching live theater rather than watching a production on TV – the residuals from processing a live event are more engaging, more easily remembered as they are fundamentally different because they are happening live and in the moment," Barnett said.
The team hired local playwright Walt McGough, whose prior dramas have touched on grown-up topics such as drone warfare, gender politics, or the financial collapse. Creating child characters to tell a story laced with the principles of the scientific method was a welcome challenge.
"I've always been drawn to the ways science and theater have been paired," said McGough. "Both are about communicating big ideas in very different ways. You take something big and indescribable and through a conversation with the audience you make it describable. So these two areas have always seemed paired up to me and very similar."
Kafka said presenting earthquake science to youth audiences is a challenge.
"It has been a remarkable experience for me to see how well Walt McGough and Mike's team has produced a play about earthquake science that grabs the attention of the audience so well, and in a short one-act play conveys the science in a very engaging way, while presenting the science clearly and accurately," said Kafka.
For Barnett, the live production is a bit of an experiment itself.
Converge is trying to measure the residual impact on students in order to show the play's effectiveness as a teaching tool, said Barnett, who along with Kafka has applied for funding from the National Science Foundation for a broader science theater initiative.
"If we can show that one live theater experience has a residual impact, then imagine what you can do with a multiple of these?" Barnett said.
For more information, visit The Converge Theater Project website.
-Ed Hayward / University Communications