The Lynch School of Education's Roche Center for Catholic Education hosts the first-ever "National Summit on Catholic Schools and Hispanic Families" next week, where Catholic school leaders, clergy, researchers, advocates and philanthropists will engage in strategic conversations to examine opportunities for Catholic schools to adopt alternative practices in service to Hispanic families.
The three-day summit, which starts September 19, will bring together approximately 200 thought leaders to examine the issues highlighted in a report released in March, Catholic Schools in an Increasingly Hispanic Church, co-authored by School of Theology of Ministry Assistant Professor of Theology and Religious Education Hosffman Ospino and Roche Center Executive Director Patricia Weitzel-O'Neill.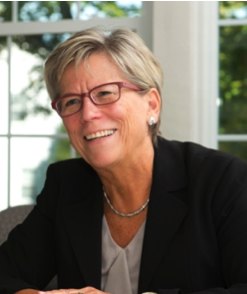 Patricia Weitzel-O'Neill
"The report inspired the call to invite Catholic thought leaders to address the challenges and recommendations highlighted in the report," says Weitzel-O'Neill. "Prior to the release of the report, the reality that 60 percent of school-age Catholics in the U.S. identify as Hispanic and nationally only 2.3 percent are enrolled in our Catholic schools was not well-known or understood.
"Recognizing the need to create a robust response to this demographic wave and understanding that Catholic schools and the Church are at a crossroads regarding the future of Catholic schools, it was apparent that now is the time for the summit."
The summit is about bringing together Catholic education stakeholders who share the same objective, but tend to work separately, said Ospino.
"The challenge is that we don't work with each other to achieve this common goal," says Ospino, who in 2014 conducted a groundbreaking study of Catholic parishes serving Hispanic Catholics. "A pervasive silo mentality reigns in our Catholic ecclesial and educational structures that must be broken to better advance our mission. The goal of this summit in many ways is to denounce that reality and its consequences while modeling a way forward that builds on dialogue, mutual listening, and a commitment to collaboration."
While there are eight million school-age Hispanic Catholics in the U.S., just 307,654 of them attend Catholic schools, which enroll 1.9 million students overall.
While cost is often cited as a barrier to enrollment, Ospino and Weitzel-O'Neill's first-of-its-kind survey of 656 Hispanic-serving Catholic schools identified factors that stifle school vitality and the ability of many schools to engage with Hispanic families.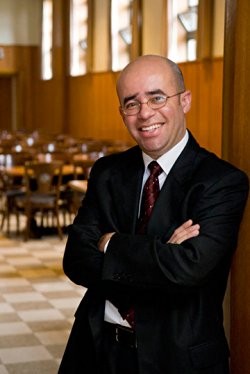 Hosffman Ospino
The study, the broadest research-based analysis of the subject to date, found many schools struggle to meet the needs of Hispanic families, which seek schools that offer educational excellence, affirm the language that most speak at home and honor their culture.
The summit will convene a diverse group of participants, including representatives from diocesan offices, the National Catholic Educational Association and the U.S. Council of Catholic Bishops. School leaders, teachers, parents and students, as well as representatives from philanthropic and advocacy organizations will attend.
In addition to Ospino and Weitzel-O'Neill, experts from Loyola Marymount University and the University of San Francisco are among the scheduled speakers. The summit will break into working groups to consider critical questions regarding topics of school environment and culture, systemic changes in Catholic education, and leadership for Hispanic-serving Catholic schools.
Meeting the needs of Hispanic families – whose children make up more than half of all Catholics under the age of 18 in the U.S. – is a crucial step for schools and parishes in order to enhance the vitality of Catholic education and engage with a young generation expected to define and ensure the future of Catholicism in the U.S.
"My sincerest desire is that all summit participants renew our commitment to Catholic education in the United States aware of today's socio-cultural realities and mindful that the future of this important task depends significantly on how much we invest in Hispanic families and their children now," says Ospino. "This requires that we work together with a renewed sense of mission.
"There is much at stake. Not one person, office, or organization will secure the future of Catholic educational institutions. It is imperative that as many voices as possible come to the table to imagine a fruitful tomorrow."
The summit represents the Roche Center's leadership in scholarship and research on Catholic education, as well as its commitment to strengthening educational practice through its work with schools, principals, diocesan offices, and Church officials.
"It is my hope that after returning to their dioceses and places of work, participants will refocus their engagement to be more collaborative across all sectors of Catholic education and create alternative models for effective and robust Catholic schools, which intentionally welcome and serve more Hispanic families," says Weitzel-O'Neill. "More importantly those who study and serve Catholic schools with financial support, products, press, training, and counsel will find new ways to collaborate and work in solidarity with the schools."
To view the summit's full agenda, visit the National Summit on Catholic Schools & Hispanic Families website.
—Ed Hayward | News & Public Affairs