Boston's Mission Hill School is one of 87 across five states served by BC's City Connects student support initiative. (Photo by Gary Wayne Gilbert)

The venture philanthropy organization New Profit, Inc. has made a significant operating investment in City Connects, a research-based student support initiative of the Lynch School of Education that works to narrow the achievement gap in 87 urban public, charter, and Catholic schools serving nearly 29,000 students in five states.

A $300,000 grant will support City Connects' efforts to expand the impact of its best-in- class model of "whole child" support services and increase access to the pioneering research and best practices developed by the initiative since it was launched at Boston College in 2001.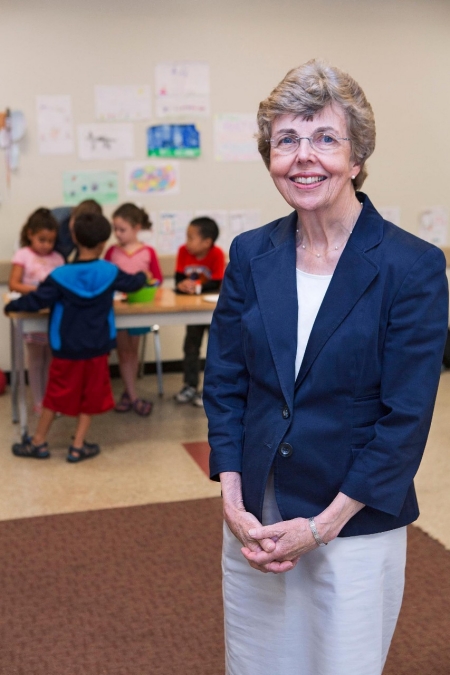 City Connects Director Mary Walsh (Caitlin Cunningham)
"This partnership with New Profit is another exciting milestone in the growth of City Connects and gives us the opportunity to expand our reach and magnify our impact," said City Connects Director Mary E. Walsh, the Kearns Professor of Urban Education and Innovative Leadership at Boston College.

"Over the course of our 15 years, City Connects has demonstrated that urban schools can reduce the achievement gap when students receive the personalized supports and programs they need to develop, learn, and thrive. And this can be done in a cost effective manner."

With a single trained counselor, City Connects coordinates a combination of school- and community-based services that address each student's unique in- and out-of- school needs. Long-term studies have shown that City Connects schools produce dramatic improvement in their students' grades, standardized test scores, and long-term academic success. A Columbia University study found a return on investment of $3 for every dollar spent on services and supports, and a ROI of $11 for every dollar spent on a specific intervention.

Boston-based New Profit, Inc. is a national non-profit venture philanthropy fund that supports programs working to reduce and remove systemic barriers to opportunity in the U.S. It will support City Connects through its Reimagine Learning Fund, which focuses on innovative student-centered learning initiatives that help all students receive the support needed to succeed. Financial support for the Reimagine Learning Fund comes from some of America's premier philanthropies, including the Bill & Melinda Gates Foundation, Peter and Elizabeth C. Tower Foundation, Poses Family Foundation, and Oak Foundation.

"We are thrilled to invest in City Connects, said Jody Cornish, a partner with the Reimagine Learning Fund. "We see them as one of the best-kept secrets in the social sector and aspire to ensure that their insights and approach can have broader influence on national practice. City Connects will make a powerful contribution to the Reimagine Learning portfolio of organizations focused on working with schools to put in place those capabilities needed to support the success of all students. They also will be an exemplar for the field given the combination of rigor, care, and thoughtfulness they bring to their work."

Policymakers and schools have used a number of initiatives to try to shrink the achievement gap that separates black and Hispanic students from their white and Asian peers. Results have been mixed because few programs focus on the negative educational effects of poverty – factors researchers have tied to two-thirds of the gap.

More than any other whole-child support program, City Connects has backed up its work with peer-reviewed research. Its 10-year longitudinal study of nearly 8,000 Boston Public Schools K-5 students found children served by City Connects earned higher grades and performed better on statewide tests in elementary school, continued to make math and literacy gains in middle school, and were less likely to drop out of high school than peers in non-City Connects schools.

Most recently, City Connects researchers reported in the journal Child Development that first-generation immigrant children in City Connects schools scored higher on math and reading tests than their first-generation immigrant peers at schools without the program. The intervention also indicated a narrowing of the achievement gap between English language learners and children proficient in English.

"Research on the impacts of City Connects is garnering national attention because it shows what is possible for all students when they get the supports and opportunities they need to succeed," said Walsh, who has spent more than 40 years studying how to improve education for at-risk children. "We're excited for the work ahead."

About City Connects

An initiative of Boston College's Lynch School of Education, City Connects takes a systematic, high-impact and cost-effective approach to addressing the out-of- school factors that limit learning. Active this fall in 87 schools and sites in Massachusetts, Connecticut, New York, Ohio, and Minnesota, City Connects offers a defined practice for a counselor or school social worker to collaborate with every teacher to support every student. Unique tools permit schools to track this work, understand student progress and demonstrate effectiveness. Research shows the City Connects' model makes a significant positive impact on students — now, and years from now. To learn more, visit the City Connects website.

About New Profit, Inc.

New Profit is a national nonprofit venture philanthropy fund. Its mission is to break down the barriers that stand between people and opportunity in America. The organization works to fulfill this mission with two approaches:

1) providing multi-year financial and strategic support to help a portfolio of innovative social entrepreneurs and their organizations realize their full potential for social impact; and 2) helping to build an environment in which all innovative social entrepreneurs and their organizations may realize their full potential for social impact. New Profit believes that just as entrepreneurship and invention have driven the nation's progress, so too can they harness America's spirit of innovation, vision and optimism to help solve the most pressing social problems.

With the support of individual investors and its signature partner, Deloitte, New Profit works with social entrepreneur-led organizations tackling persistent social problems in education, workforce development, public health and other areas. In addition, New Profit brings together social innovators from across sectors at the annual Gathering of Leaders, and also drives other initiatives to release the potential of social entrepreneurship.

Included among these is America Forward, a nonpartisan initiative that connects social sector innovators and their partners with policymakers, legislators, and thought leaders to advance an infrastructure for innovators and government to act together to scale the impact of proven and promising solutions. For additional information, please visit the New Profit, Inc. website.

—Ed Hayward | News & Public Affairs