The Winston Center for Leadership and Ethics Clough Colloquium will present an address by former United States Attorney General Eric Holder on Thursday, October 27, at Robsham Theater.

Holder, the first African-American to hold the position of U.S. Attorney General, will speak on voting rights.

(Note: Doors for the 4 p.m. event will open at 3:30 p.m. Seating will be first-come, first-served; a government-issed photo ID must be presented upon arrival. Large baggage—including backpacks, briefcases, large umbrellas, and other oversized items—are prohibited and will not be allowed in the Robsham Theater.)

The Clough Colloquium is a signature speaker series of the Winston Center for Leadership and Ethics, housed at Boston College's Carroll School of Management.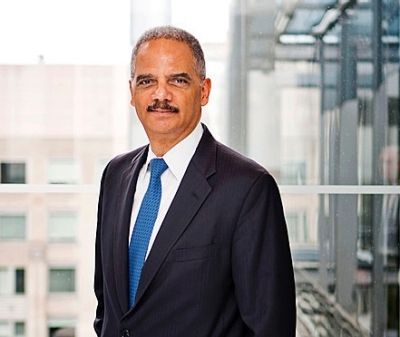 Eric H. Holder, Jr.
Eric H. Holder, Jr. was born in New York City and attended public schools there before earning a bachelor of arts degree in American history from Columbia College in 1973 and a juris doctor degree from Columbia Law School in 1976.
Holder joined the Department of Justice through the Attorney General's Honors Program and was assigned to the newly formed Public Integrity Section, where he investigated and prosecuted corruption involving officials in local, state, and federal government. In 1988, President Ronald Reagan appointed Holder to serve as an associate judge of the Superior Court of the District of Columbia, where he presided over hundreds of criminal and civil trials during his five years on the bench.
President Bill Clinton appointed Holder to serve as U.S. attorney for the District of Columbia, and subsequently as Deputy U.S. Attorney General, a position that he held until the end of the Clinton Administration.
At the request of President George W. Bush, Holder served as Acting Attorney General in 2001 pending the confirmation of Attorney General John Ashcroft. Holder then joined the Washington, D.C., law firm of Covington & Burling as a partner in the firm's litigation practice group, where he represented clients in complex civil and criminal cases as well as internal corporate investigations.
President Barack Obama nominated Holder to be the 82nd U.S. Attorney General and the U.S. Senate confirmed his nomination on February 2, 2009. He remained in office until April 27, 2015, becoming the third-longest-serving Attorney General in the nation's history.
During his tenure, Holder oversaw the government's efforts to address many critically important issues arising at the intersection of law and public policy, including national security investigations and prosecutions; landmark antitrust, environmental, fraud and tax cases; the defense of voting rights and marriage equality; and reform of the federal criminal justice system. In 2014, TIME magazine named Holder to its list of "100 Most Influential People," noting that he "worked tirelessly to ensure equal justice."
After his departure from the Department of Justice, Holder returned to Covington & Burling and is resident in the firm's Washington office.

Holder's many civic commitments have included service on the boards of Columbia University, the National Center for Victims of Crime, the Meyer Foundation. and the Save the Children Foundation, among many others. He also served on the U.S. Sentencing Commission Ad Hoc Advisory Group. He recently was appointed by President Obama to lead the newly formed National Democratic Redistricting Committee.
Holder has received numerous awards and honorary degrees in recognition of his professional and civic contributions, including the NAACP Chairman's Award, the Department of Justice's John F. Keeney Award, the District of Columbia Bar Association's Beatrice Rosenberg Award, George Washington University's Martin Luther King, Jr. Medal for Outstanding Service in Human Rights, and the Lawyers' Committee for Civil Rights' Robert F. Kennedy Justice Prize.
The District of Columbia Bar Association has recognized Holder as its "Lawyer of the Year," and in 2008, the Legal Times named him as one of the "Greatest Washington Lawyers of the Past 30 Years."
—News & Public Affairs