Louis de Paor, the Burns Visiting Scholar in Irish Studies for the fall semester, is chair of Irish Studies at National University of Ireland at Galway. He has published numerous works on poetry and prose, including an anthology of 20th-century Irish poetry he co-edited with Sean Ó Tuama, and is an accomplished poet himself. At Boston College, de Paor will be continuing his research on novelist Flann O'Brien [Brian O'Nolan], whose post-modern, bizarrely humorous writing made him a major figure in 20th-century Irish literature. He's also teaching a course on O'Brien and the Irish comic tradition.

De Paor – who will present the Burns Visiting Scholar Lecture on Nov. 9 in Burns Library – spoke with Boston College Chronicle editor Sean Smith of University Communications.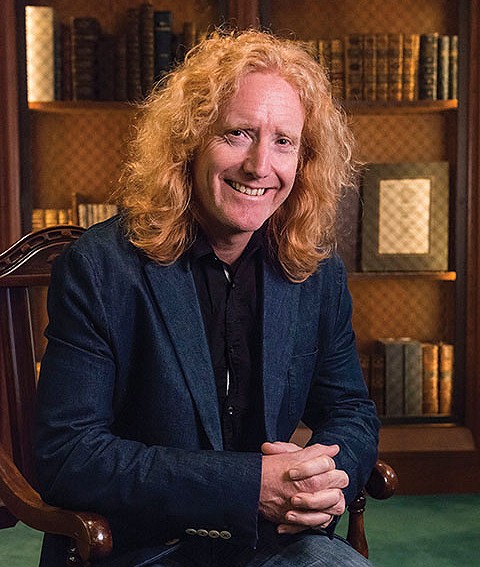 This isn't your first visit to BC, correct? What interested you in taking the Burns Scholar appointment?
I came to BC a few times during the 1990s and was fortunate enough to meet [Irish Studies Program co-founder] Adele Dalsimer one of the great champions of Irish Studies worldwide. On one visit, I encountered the Flann O'Brien archive in the Burns and I realized as I read the catalogue that I would need to visit the archive again – there were all kinds of wonderful things related to his work on and in the Irish language that would require further investigation.

Anyone who works in the field of Irish Studies knows BC's contribution to its development has been huge: in particular, the interdisciplinary approach of history, literature and the arts pioneered by BC. Being able to spend a semester here is a unique and wonderful opportunity.

Some place Flann O'Brien with Joyce and Beckett as among the best Irish writers of all time. What does your research project on O'Brien entail?
O'Brien's original appeal was as a comic writer – his At Swim-Two-Birds is probably my favorite book of all time – and that may have compromised his reputation as a "serious" writer. Then again, the comic element is also central to the works of Joyce and Beckett. But perhaps the main criticism of O'Brien is for an alleged "lack of focus and unity." [Author] Patrick Kavanaugh once said of him that he had failed to find a myth to support the diversity of his work.

My project is to discern whether underneath the anarchy, the diversity, the ventriloquism in his writing there is in fact an underlying pattern. O'Brien was interested in chaos, but also in paradox – which, for a satirist fond of making scathing parodies, is the best of all possible worlds. His writing also perhaps offers clues to an unresolved ambivalence in himself.

It's easy to forget that "Flann O'Brien" was only one of the pen names for Brian O'Nolan [1911-66]. Although his two most well-known books were in English, he's important as an Irish language writer, too, is he not?
He's the model of a bilingual Irishman without confidence in either language. Irish was his first language, the language of his home, but he experienced it in a very idiosyncratic way because he didn't live in a strong Irish language community. So he developed a skewed relationship with Irish and, indeed, with English.
This is key to understanding his writing, because it conveys the idea that all language is absurd in its pretensions to the truth. And this would be particularly true during the height of his creativity, which would be from about 1938 to 1945. After two world wars, Auschwitz and other horrors, there was a strong sense that language was inadequate to the more brutal realities of modern life. Flann O'Brien's novels and his journalism are a comic response to that predicament, a kind of hilarity undercut by horror.

That's one reason why there's such a huge interest among younger scholars nowadays in O'Brien, and not just from a literary point of view, but also from disciplines like science and law. He's even been a recent pop culture reference: In an episode of the TV series "Lost," a character is reading O'Brien's The Third Policeman.

Give us a preview of your upcoming Burns Lecture, "Lethal in Two Languages." You'll be talking not only about O'Brien, but also another writer of note, Máirtín Ó Cadhain?

Máirtín Ó Cadhain [1906-70] is one of Ireland's most brilliant, but neglected writers and contrarians ­– he bragged that he was "lethal" in Irish and English, the two official languages of the Irish State, hence the title for my lecture. The recent Yale University Press translation of his works has provoked a great deal of interest in his works, and he's arguably more famous now then he ever was.

He and O'Brien are in many respects a study in contrasts: Ó Cadhain was a radical republican socialist, a member of the IRA Army Council, who came from an economically impoverished background. O'Brien was far more conservative, especially in his religious values, and from a comfortably well-off family. They were contemporaries, and they almost certainly would've passed each other in the street, but there's no indication the two had any kind of friendship.

As different as they were, I'm interested in their points of intersection and how they influenced not only Irish literature but world literature.

You've done a lot of critical and academic writing, but you've also published several collections of your own poetry and won a few prizes for it. How did you become interested in writing poetry?
Up until my teens, I hadn't really aspired to be a writer of any kind. But then everyone in school seemed to be starting rock bands, and I was envious of their ability to play instruments, so I thought I'd focus on writing poems. At university, I was fortunate to encounter Sean Ó Tuama, poet, playwright, and inspirational teacher, who influenced three generations of Irish language poets. Working with him nudged me toward writing and studying poetry in Irish.

Poetry was always an attempt to articulate and clarify some kind of confusion. It was not until later that I could see patterns amid the confusion, a preoccupation, for instance, with family, with history, politics and memory.

Later, my perspective changed, especially when my wife and I moved to Australia. She worked full time, and I became the "primary care-giver" or "stay-at-home Dad" for our mysteriously increasing brood of children. So I wrote a lot about relationships between adults and children, the intensity of those connections, for better and for worse. Poetry emerges out of whatever life you're living.

You've taken poetry into the musical performance domain, such as in your collaboration with popular folk/traditional Irish singer John Spillane as the Gaelic Hit Factory.  
I actually started experimenting with poetry and performance when I was in Australia during the late 1980s and 1990s, and collaborated with Greek, Aboriginal, and Australian musicians and dancers there. I've been constantly exploring how to find a new dialogue between music and poetry – can poetry be itself in a musical context, even more than on the printed page? I've been with working with a Brooklyn musician, Dana Lyn, on a couple of projects: one about a day in the life of an Irish village, the other an adaptation of the story of Diarmuid and Grainne, an Irish version of the Tristan and Isolde story.

The problem is, we're used to poetry being locked away in books, libraries, places that people may not always want to go to. My feeling is, take poetry out to wherever people are comfortable. Why not read poems at the grocery checkout – after all, people are going to be just waiting there anyway, and if you get even two percent to listen, that's a lot more than you're likely to persuade to attend a traditional poetry reading in a church or a library or a university lecture theatre.

There's a lingering belief that poetry has limited appeal. And yet people have no problem listening to a Bob Dylan record or reading complex novels by, say, Kevin Barry or Mike McCormack, two of my favorite contemporary writers of fiction. I don't think poetry is beyond anyone.

The Nov. 9 Burns Scholar Lecture is free and open to the public, but an RSVP is requested. For more about de Paor and the Burns Scholar program, visit the Burns Visiting Scholar website.
—University Communications