With the opioid epidemic showing no signs of slowing, the Massachusetts' Middlesex District Attorney's Office has turned to a Boston College communications professor for help in creating a video message that will raise awareness of the risks of opioid use —and resonate with a young audience.
Titled "Said No Drug Dealer Ever," the new public service video is designed to make a prospective opiate user consider the issues that might follow that first pill, from side effects to costs to addiction.
"We did not want it to be a scare tactic piece," says Assistant Communication professor Matt Sienkiewicz, who co-produced the PSA with lead producer and director Joe Sousa. "Joe and I both grew up with PSAs that were meant to horrify you out of using drugs often by overstating things; those have not proven to be terribly effective over time. We wanted to do something that could draw attention but not seem cute, or to be exaggerating of the problems of drugs. We wanted to give people a reason to take a moment and think about their decisions."
 'Said No Drug Dealer Ever' — watch the PSA.
The PSA, released in May, begins with a scene from a party. A teen sits next to a man—a dealer—who has a bowl full of pills.
"Just reach in, grab a couple," says the dealer. "Vicodin, percs, Oxy. You're bound to grab something good."
"Thanks, bro," the teen says as he nods approvingly.
"Before I forget, I have some paperwork to go over.  Don't worry," says the dealer, reassuringly. "It's just a formality."
"What did you say?" asks the confused teen, as he is handed pamphlets by the dealer.
"This one outlines the general side effects," says the dealer.
The scene then switches to an office where the dealer is dressed up in a suit, and continues his presentation while handing the teen more pamphlets.
"This one talks specifically about how opioids impact the brain. Here's a list of emergency numbers. The poison info hotline is useful. 911, but you probably already know that number."
"Wait, what just happened?" asks the teen. "When did you change into a suit?"
"Right," says the drug dealer. "Absolutely. Eventually you're going to turn to heroin and you'll need a few clean needles for that. It would be a shame if you contracted HIV or hepatitis. Oh, and this chart is pretty neat—it shows how much your addiction will cost over time, both on the drug and eventually rehab. So I'm just going to need your emergency contact, right here."

Sienkiewicz says he and Sousa thought of the scene in terms of a Saturday Night Live sketch, but with an extra edge and serious point behind it. The party scene transitioning to the more serious office backdrop where the risks and drawbacks of drug use were outlined did the trick, he said.

"We wanted the scene to feel real at first and resonate with the life experiences of young people. Then we wanted to give a subtle, entertaining jolt to the viewer."
Getting young people to really think about what the first pill could lead to is critical, especially given the ways in which opioids often appear innocent to a new user, says Sienkiewicz.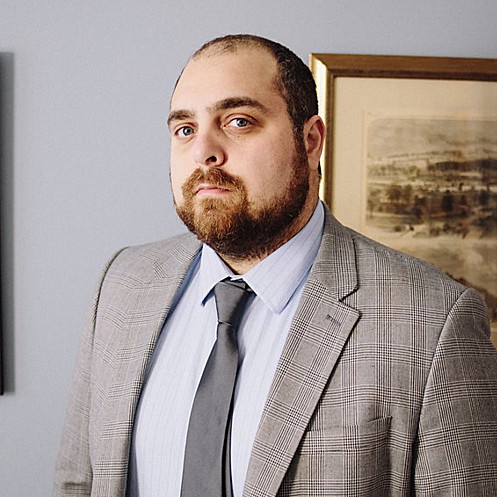 BC Assistant Professor of Communication Matt Sienkiewicz
"These pills are prescription, they don't look like traditional drugs, they don't look like heroin, you don't snort or inject them," says Sienkiewicz.  "It's very easy to take them—and a lot of people do start without giving it much thought. They're at a show or a party, somebody has some pills, somebody offers them a pill, and they don't think about it. All we want people to do is take a moment and think about it. What are the costs of taking this innocuous looking little pill? In reality, it has serious consequences."
Sienkiewicz is an Emmy-nominated documentary filmmaker and screenwriter, as well as an accomplished media scholar. In 2014, he co-produced with Sousa the film documentary "The Ragged Edge," which provided an inside look at the struggles of a family-owned motorcycle production business trying to survive in the competitive world of racing. He also produced the film, "Live from Bethlehem," that was screened worldwide, including at the Rhode Island International Film Festival, Poland's WatchDocs Human Rights Film Festival, the Chicago Palestine Film Festival, and London's Frontline Club.
Near the end of the "Said No Drug Deal Ever" PSA, the dealer, still in his suit, offers to show the teen a power point presentation.
"Don't worry," he reassures the teen. "It will only take a few minutes. Let me just fire up the projector."
The scene switches back to where it all began: the party.
"As your drug dealer, I want to be sure that you're fully informed so you know exactly what it is you're getting into."
This PSA is now on the Middlesex DA's website and social media channels and is scheduled to air on at least one local television station.
"As part of the Middlesex DA's diverse approach to addressing opioid abuse, I think the PSA can play a positive role," says Sienkiewicz.  "It's very difficult to draw cause and effect when it comes to a media campaign. But it can only help if young people take a moment to contemplate the impact of the decisions they make."
 
—Sean Hennessey | News & Public Affairs