Two Boston College professors have been honored for their books by the Catholic Press Association of the U.S. and Canada.
Public Theology and the Global Common Good: The Contribution of David Hollenbach (Orbis Books), co-edited by Professor of Theology Kristin E. Heyer, earned a first place Catholic Press Association Book Award in the category of Faithful Citizenship/Religious Freedom. 
Public Theology and the Global Common Good is a tribute to moral theologian David Hollenbach, S.J., who taught at Boston College for more than 20 years and served as the inaugural director of the University's Center for Human Rights and International Justice. Fr. Hollenbach's former doctoral students contributed essays reflecting his hallmark challenge to exemplify the practice of social ethics under the sign of the cross.  Thirty years after the U.S. Conference of Catholic Bishops' pastoral letter "Economic Justice for All," these ethicists write on the role, impact, and importance of public theology across the globe.
Like Heyer, the book's other co-editors all received their doctorates from Boston College. They are Kevin Ahern (Manhattan College), Meghan J. Clark (St. John's University), and Laurie Johnston (Emmanuel College).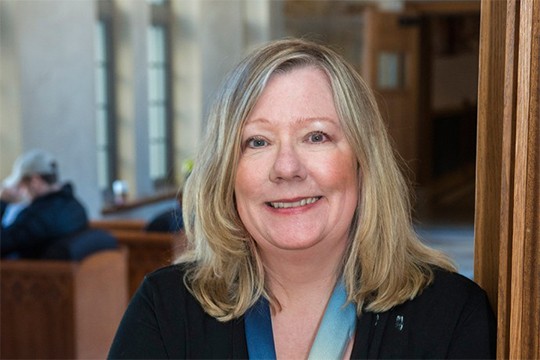 A Culture of Engagement: Law, Religion, and Morality (Georgetown University Press) by Darald and Juliet Libby Professor of Theology and Law Cathleen Kaveny garnered a second place Catholic Press Association Book Award in the Faithful Citizenship/Religious Freedom category.
A Culture of Engagement is a provocative collection of Kaveny's articles from Commonweal magazine, substantially revised and updated, that demonstrates how thoughtful and purposeful engagement can contribute to rich, constructive, and difficult discussions between moral and cultural traditions.
Kaveny suggests that rather than avoid the crisscross of the religious and secular spheres of life, this conflict should be viewed as an opportunity to come together and to encounter, challenge, contribute to, and correct one another.
According to Kaveny, a culture of engagement—that accommodates and respects tradition—is needed for society to remain relevant and to offer critiques of social, political, legal, and economic practices.

--Kathleen Sullivan | University Communications