Three BC Theology Department faculty members have been recognized for their books by the Catholic Press Association of the U.S. and Canada.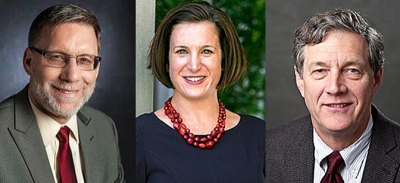 Richard Gaillardetz, Kristin Heyer, Stephen Pope
An Unfinished Council: Vatican II, Pope Francis, and the Renewal of Catholicism (Liturgical Press) by Joseph Professor of Catholic Systematic Theology Richard R. Gaillardetz took second place honors in the 50th Anniversary of Vatican II category. The book explores the incomplete work of the Second Vatican Council and the challenges facing the Church today.
Professor of Theology Stephen Pope won a third place award in the category of Pastoral Ministry for his book A Step Along the Way: Models of Christian Service (Orbis Books). In his book, Pope gives examples of six role models of Christian service, from Sister Dorothy Stang to Bishop Pierre Claverie, O.P.
Conscience and Catholicism: Rights, Responsibilities and Institutional Responses (Orbis Books), co-edited by Professor of Theology Kristin E. Heyer and David E. DeCosse, earned third place honors in the Faithful Citizenship/Religious Freedom category. In this book, the editors have gathered leading ethicists and theologians to write about the conscience, particularly in regard to the tension between the primacy of conscience (codified at Vatican II) and the processes and cultures of Catholic institutions, including schools, hospitals, and medical research facilities.

—News & Public Affairs