The School of Theology and Ministry, which marks the end of its first decade having established itself among the world's leaders in theology, divinity, and religious studies, formally celebrated its 10th anniversary on Sept. 20 with a Mass and an address by best-selling author James Martin, S.J., M.Div. '98, Th.M. '99.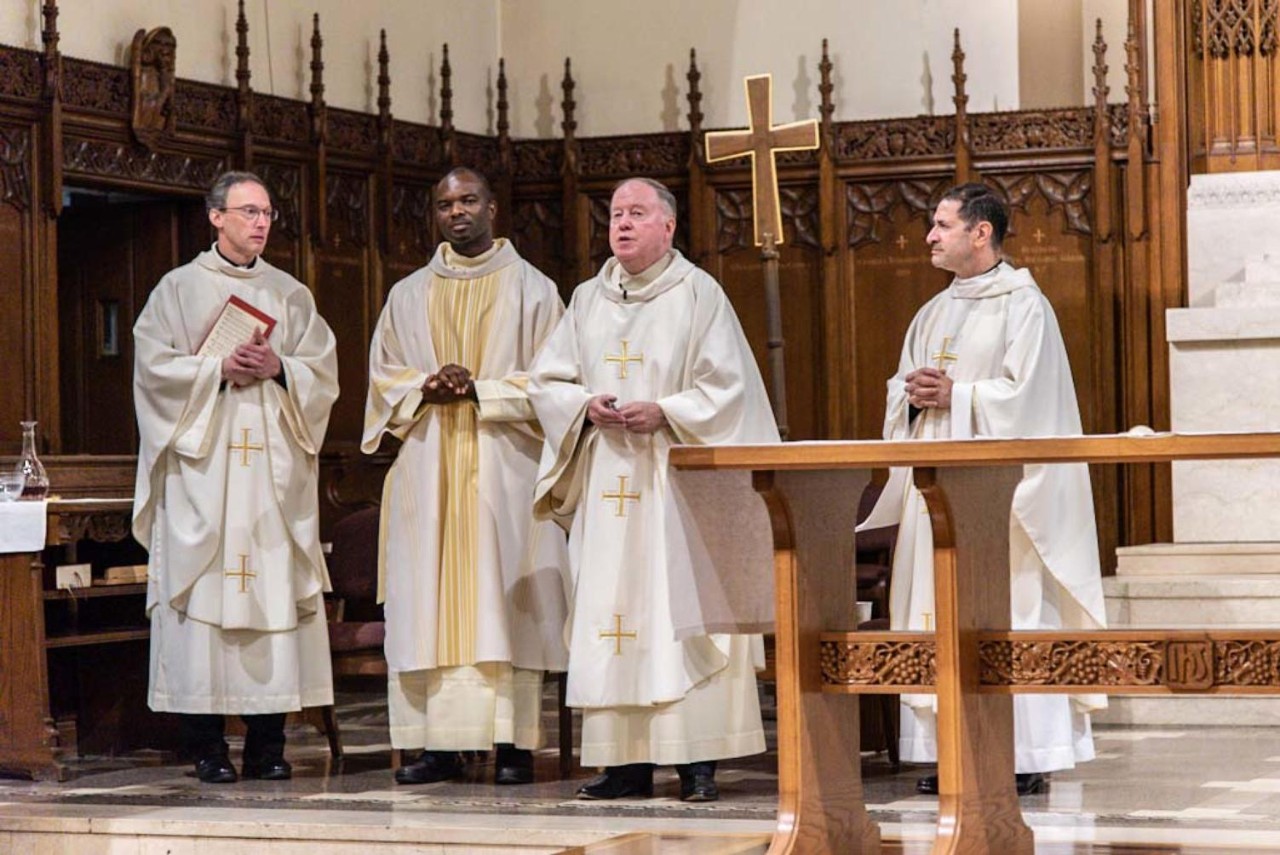 The anniversary celebration began with Mass at St. Ignatius Church, which was filled to capacity with members of the STM and Boston College communities. University President William P. Leahy, S.J., celebrated the Mass with STM Dean Thomas D. Stegman, S.J., Timothy P. Kesicki, S.J., president of the Jesuit Conference of Canada and the U.S., and Lynch School of Education graduate student and STM alumnus Kevin Oodo, S.J., M.Div. '18.
Later that evening in an address at Robsham Theater, Fr. Leahy said that the anniversary was not only a time for celebration, remembrance, and appreciation but also a time to "rededicate ourselves to the mission of the School of Theology and Ministry and to rededicate ourselves to the renewal of the Church."
Fr. Martin then delivered the inaugural Daniel J. Harrington, S.J., Alumni Lecture. The lecture's namesake was the unparalleled New Testament scholar Daniel J. Harrington, S.J., who died in 2014. Fr. Martin fondly recalled his former professor and mentor, citing in particular his kindness, patience, and prayerfulness. Fr. Martin then discussed his own ministry experiences helping refugees in Kenya and counseling first responders at Ground Zero in the days following the World Trade Center attack in 2001. [Watch Fr. Martin's entire address.]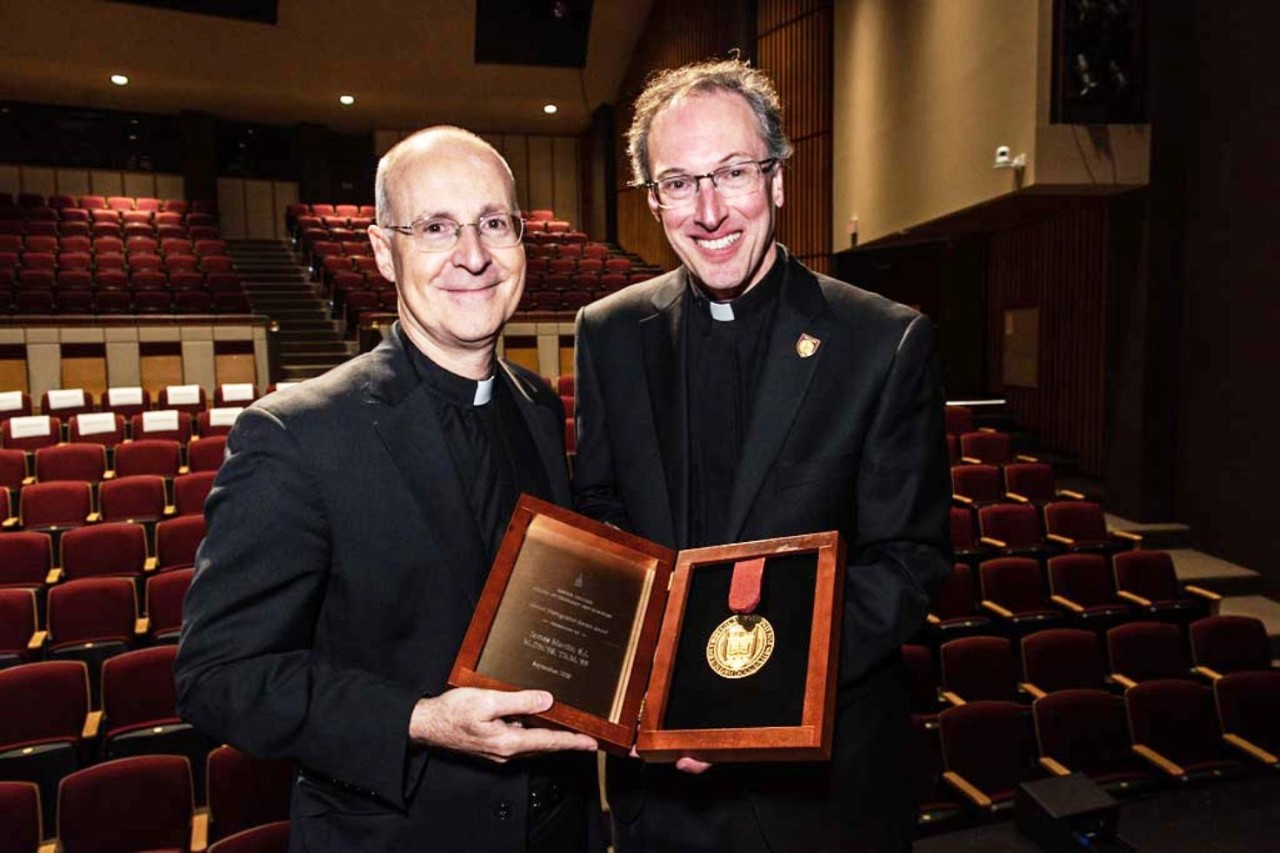 Following the talk, Fr. Stegman presented Fr. Martin with STM's first-ever Alumni Distinguished Service Award.  Fr. Martin, who recently marked 30 years in the Society of Jesus, is the author of several books, including The Jesuit Guide to (Almost) Everything, My Life with the Saints, Jesus: A Pilgrimage, and Building a Bridge: How the Catholic Church and the LGBT Community Can Enter into a Relationship of Respect, Compassion, and Sensitivity. He is editor at large for America magazine and a frequent media commentator. In August, Fr. Martin gave an invited talk at the Vatican's World Meeting of Families in Dublin.
STM is highlighting the work of Fr. Martin all semester, including through a four-week online course via its Crossroads program titled "The Best of James Martin, S.J., in America." The course provides participants with an opportunity to discuss America articles by Fr. Martin and how his reflections and commentary might shape an idea of Christian living in today's world.

Beginning October 10, Crossroads will launch a five-week online book club focused on Fr. Martin's most recent book, Building a Bridge.
Since its founding in 2008, STM has developed into an internationally respected center of Catholic theological and ministerial education. The 2018 QS World University Rankings placed Boston College sixth among the world's top universities in theology, divinity, and religious studies. It is the highest-ranked Catholic institution.

The rapid ascension of STM into the ranks of top-tier theological schools is due in large part to its distinguished faculty, whose quality is evident not only in their individual scholarship in fields such as Biblical studies, Church history, systematics, moral theology, religious education, and pastoral studies but also in the two all-faculty book projects, Hope: Promise, Possibility, and Fulfillment and The Holy Spirit: Setting the World on Fire.

Community is a distinctive characteristic of STM. Students work together to engage theological and pastoral questions in the classroom and beyond. The entire STM community gathers together every Thursday for liturgy and a shared lunch. These opportunities create a welcoming, closely knit community that celebrates its diversity and its shared commitment to faith and service.

STM's dedicated, holistic approach to formation, rooted in the Jesuit ideal of cura personalis (care for the whole person), was recognized as a model program by the Association of Theological Schools during STM's accreditation.

"We want our graduates to be leaders and agents of transformation in the Church and in the world," said Fr. Stegman. "Therefore, we are very intentional about all aspects of our students' formation, including intellectual, pastoral, spiritual, and personal.

"This year will be an exciting one for the School of Theology and Ministry as we celebrate the accomplishments of our first 10 years," added Fr. Stegman. "We also look forward to creating new ways to live out Boston College's strategic directions—especially in the areas of formation and of service to the Church locally, nationally, and globally."
--Kathleen Sullivan | University Communications