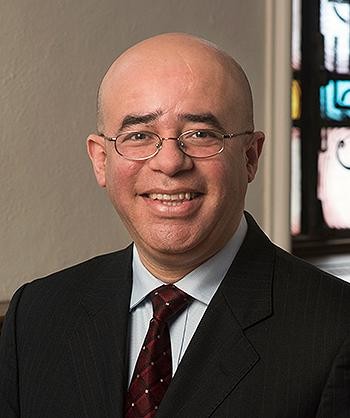 School of Theology and Ministry Associate Professor Hosffman Ospino has been presented with a national award in recognition of the impact of his research on Hispanic Catholics and his distinguished pastoral leadership in the Catholic Church. Ospino is the recipient of the 2018 Lumen Gentium Award from the Conference on Pastoral Planning and Council Development, which promotes and advocates consultative processes that foster effective planning for the pastoral life of the church.
Ospino was presented with the award at the CPPCD's annual convention, held last month in Kansas City, where he was one of the keynote speakers.
CPPCD organizers cited how Ospino's groundbreaking research on US Hispanic Catholics is helping dioceses, parishes, schools, and organizations better serve this population. He was the principal investigator for the "National Study of Catholic Parishes with Hispanic Ministry" and co-investigator (with Roche Center for Catholic Education Executive Director Patricia Weitzel-O'Neill) of the "National Survey of Catholic Schools Serving Hispanic Families."
Organizers also acknowledged Ospino's leadership role in the United States Conference of Catholic Bishops' Fifth National Encuentro of Hispanic/Latino Ministry, which aims to directly involve at least half a million Hispanic Catholics, spark a new wave of Catholic leadership initiatives and advance evangelization in the US in creative ways. Ospino is co-chair of the Process Committee for this initiative.
"It is an honor to receive the 2018 Lumen Gentium Award, which is a true affirmation of the research and advocacy done at the STM in service of church and society," said Ospino, who directs the STM's Hispanic Ministry Program. "Catholics in the United States are living in a very exciting moment of transitions and opportunities that call for creative models of ministerial life as well as partnerships at various levels."
Ospino is actively involved in Hispanic ministry in the Archdiocese of Boston and, along with STM colleagues Rafael Luciani and Felix Palazzi, oversees the STM's Latino/Latin American Initiatives, a multi-tiered project that seeks to make connections among the Latin American Church and Latin American theology, U.S. Latino/as, and Spain.
He is also the author/editor of more than 10 books as well as dozens of academic and pastoral publications, and a 2016 recipient of the Catechetical Award by the National Conference for Catechetical Leadership.
-- Kathleen Sullivan | University Communications | May 2018