School of Theology and Ministry Associate Dean for Student Affairs Jacqueline Regan and nine STM students recently traveled to El Salvador.

As they reconstruct their lives after extraordinary trauma, the people of El Salvador have much to teach students about resiliency, faith, hope, and the power of solidarity in communities.

The opportunity to listen and learn from experiences of the Salvadoran people is particularly meaningful for those preparing to be pastoral ministers and theologians, according to School of Theology and Ministry Associate Dean for Student Affairs Jacqueline Regan, who made her fourth trip to the Central American country that is still dealing with the aftermath of civil war.  
Regan and nine STM students traveled to El Salvador last month, and some of the delegation shared stories about their immersion trip with members of the STM community during a recent luncheon in Simboli Hall.
Regan reported on an encounter with Rosa Rivera of Arcatao, who is a member of the community's Historical Memory Committee. The group stresses the importance of storytelling as a means of healing and addressing trauma. Rivera spoke of witnessing her father's murder during the war, as well as the death of her brother, and of her own time hiding in the hills outside her village.
"She's an amazing, resilient woman," said Regan.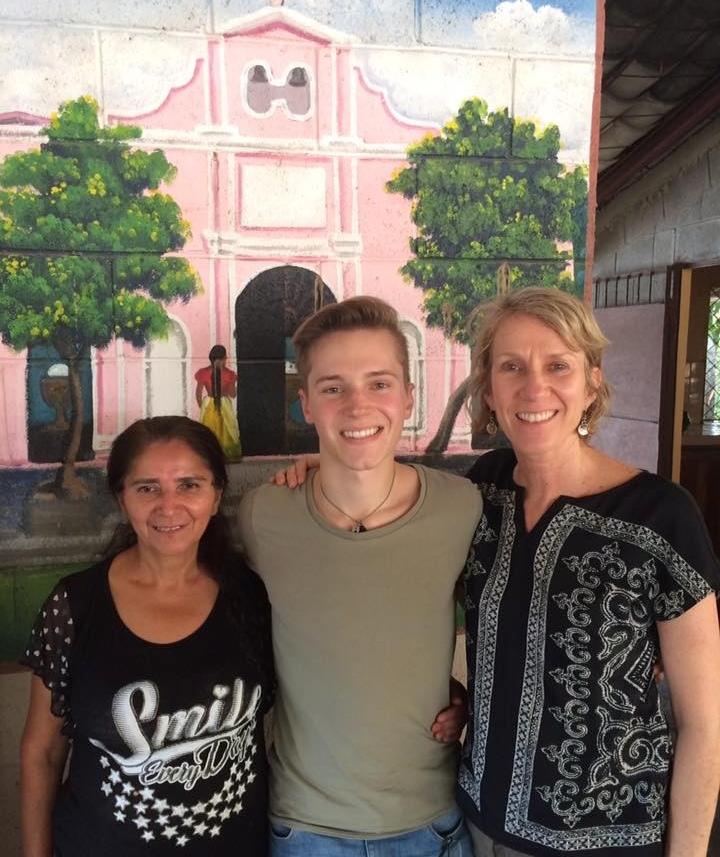 "[Archbishop Oscar] Romero said, 'If I die, I will rise again in the Salvadoran people,'" added Regan. "I saw that, through the stories we heard, that is really true."
Since her last visit to El Salvador in 2012, Romero has been beatified by the Roman Catholic Church, a step in the canonization process. Regan said she noticed that his beatification has had an effect on people. "Romero was and is so well-loved. We met many people who knew Romero and were inspired by him. His beatification really validates their feelings and what they stood for and what so many of their loved ones had died for."
Student trip leader Jessica McCarthy talked about how people in El Salvador are taking ownership of their memory as a way of preserving their history and recognizing the injustices of the war. She described how survivors have reclaimed the bones and remains of those killed and built a chapel and crypt in order to give their loved ones a Christian burial. They have also created a museum of artifacts from the war.
McCarthy said that the STM group had been preparing for the trip to El Salvador since last October. They met very couple of weeks, read articles and watched videos about El Salvador, and listened to guest speakers with direct knowledge of the country.
The STM trip is made in partnership with CRISPAZ, a faith-based organization dedicated to mutual accompaniment with the church of the poor and marginalized communities in El Salvador. The STM group stayed in both a hostel and with host families.
McCarthy said she was eager to make the trip, especially after last year's trip had to be cancelled due to violence and instability in the region.
"El Salvador is what got me into theology," she said.
Christian Santa Maria, the other student trip leader, spoke about his visit to the University of Central America, where six Jesuits, their cook, and her daughter were murdered in 1989. At UCA, there is a remembrance garden, an adoration chapel, and photographs documenting the murders.
Santa Maria noted that the photos were graphic and difficult to look at, but the one of the cook, Elba, and her daughter, Celina, prompted the strongest reaction. In the photo, Elba's body is completely on top of her daughter's.
"Elba was shielding her daughter," he said. "Though she was a cook, her vocation was being a mother. Even at the point of her death, she chose to be a mother."
He said it made him realize he needed to think deeper about vocation. "As I consider my vocation, I hope there is something I can 'yes' to as fully as [Elba] did."
Other members of the STM delegation were Matthew Tusa, Colleen Quigley, Susan Brusky, Dan Corrou, Liliana Condori, Ariell Watson, and Jillian DeFina.
--Kathleen Sullivan | University Communications.