Those looking for spiritual nourishment during Lent have long turned to the Boston College Alumni Association's Lenten Reflections, in which a member of the University community shares thoughts on the season or a Gospel reading. 
The 2016 Lenten Reflections, written by Church in the 21sth Century Center Director Thomas Groome, have the added feature of an audio component. Working with C21 Associate Director Karen Kiefer and other staff, Groome recorded his reflections, launching a new C21 podcast series dubbed "GodPods."
Groome begins his Ash Wednesday reflection questioning whether we need Lent this year and reminiscing about the Lent of his childhood. Then, quoting a line from the Ash Wednesday reading from the prophet Joel, "Return to me with your whole heart," he explores the meaning—and challenge—of "whole heart," leaving the listener with several important questions to ponder.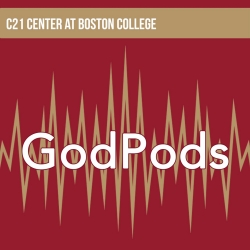 Subsequent reflections will be available each Friday during Lent on the Alumni Association website and GodPods can be found on the C21 website.
The idea behind GodPods, say Groome and Kiefer, is to meet people, especially young people, where they are – which is usually attached to their smart phone.
According to C21 staff, GodPods will live on after Lent. Possible future podcasts could include reflections on Catholic or religious topics of the day or brief snippets from special guest speakers hosted by C21, for example.
Established in 2011, Lenten Reflections have previously been offered by Professor of Theology Fr. Michael Himes; University Mission and Ministry Vice President Jack Butler, SJ; Campus Minister John Glynn, and the School of Theology and Ministry's Jane Regan and Sr. Barbara Quinn.
–Kathleen Sullivan | News & Public Affairs