Joseph Costantino, S.J., halfway through his first year as pastor of St. Ignatius Church, has high praise for the spirit of sharing between Boston College and his parish, which is part of the Archdiocese of Boston. 
The church hosts of a number of University special events and liturgies, including a weekly Mass for students, faculty and staff from the School of Theology and Ministry. Boston College students not only attend Mass at St. Ignatius, but some serve as catechists in the parish's religious education program. The University also provides St. Ignatius' parish office with technical resources, including Wi-Fi and email.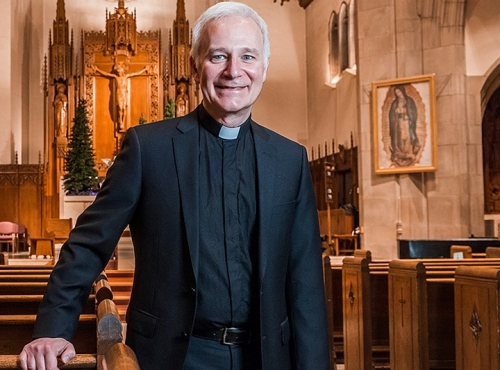 In addition, Fr. Costantino and Associate Vice President of Mission and Ministry Fr. Tony Penna have decided to bring together their respective RCIA (Rite of Christian Initiation of Adults) programs.
"I'm so excited about this," said Fr. Costantino. "We are networking two different apostolates."
Fr. Costantino, who is also a member of the Jesuit community at BC, began his post at St. Ignatius last June 1, succeeding Robert VerEecke, S.J., who served as pastor for 27 years. 
He came to St. Ignatius having earned many accolades for his collaborative leadership style. In a letter to St. Ignatius parishioners, Jesuit USA Northeast Provincial John Cecero, S.J., said, "I believe Fr. Costantino is the right Jesuit to guide St. Ignatius in the years ahead." 
"It's a vibrant parish, with a lot of committed parishioners," said Fr. Costantino of St. Ignatius. "It's an intentional parish. People come from all over, not necessarily from the geographical boundaries. They like the music, the Jesuit preaching. It's a destination parish."
He added that he appreciates the generational diversity in the parish. "We have 'lifers,' but also students who have only just arrived and will only be here for a little bit of time."
Fr. Costantino added that BC alumni who want to be married at St. Ignatius or have their child baptized there are always welcome.
Fr. Costantino arrived at St. Ignatius fresh off his first-ever sabbatical, during which he served as a spiritual advisor on pilgrimages to Cuba and on the Camino and conducted a retreat and gave the Commencement address for The Lewis College in the Philippines.
Previously, he served as both rector of the Jesuit Community and president of Canisius High School in Buffalo. 
From 2006-13, he was pastor of New York City's St. Francis Xavier Church, where he oversaw a $13.5M restoration and renovation of the more than 120-year-old church's interior. The monumental project involved the restoration of more than 40 murals and stained glass, conservation of dozens of statues, and reconfiguration of the altar to accommodate Vatican II guidelines and accessibility issues. The restoration project was honored with the New York Landmarks Conservancy's Lucy G. Moses Preservation Award and the Victorian Society of New York's Interior Restoration Preservation Award.
A Brooklyn native, Fr. Costantino graduated from New York University in 1977. Upon graduation, he entered the Society of Jesus and was ordained in 1987. He has served as a philosophy instructor at Canisius College in Buffalo, and was a retreat and spiritual director, and later the executive director, at St. Ignatius Retreat House in New York City. He also served for seven years as vocation director for the Jesuits.
He holds a master of arts in philosophy degree from Fordham University, and both a master of divinity degree and licentiate in systematic theology from the Weston Jesuit School of Theology (now the School of Theology and Ministry). 
He has served on a number of boards and committees related to the internal governance of the Society of Jesus. He was a member of the first advisory board of the Ignatian Volunteer Corps, which provides service opportunities for retirees to work among those in need. He also served on the boards of trustees for Canisius College and Loyola High School in New York City. He is a member of the board of trustees of St. Peter's University in New Jersey. 
—Kathleen Sullivan / University Communications