The Ignatian Volunteer Corps has become a destination for retired Boston College alumni seeking to reaffirm the connection with Jesuit spirituality they enjoyed at the Heights. 

IVC's New England Region, which opened almost nine years ago, includes many BC alumni among its 43 members who serve diverse neighborhoods in Boston, Brockton, Framingham, Worcester, Providence and other areas for two days a week. 

Among their activities, Ignatian volunteers teach, mentor and advise in a variety of educational programs; provide services to potentially homeless elders; educate and locate resources for adult students and immigrants; coordinate food and furniture outreach to families in need; and organize retreats for homeless and formerly homeless women and men.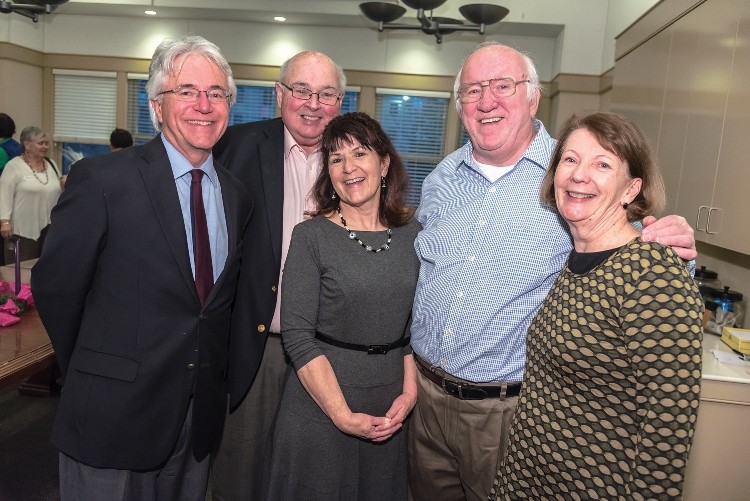 Volunteers gather every month for discussion and reflection at BC, the Diocese of Providence or College of the Holy Cross (the location rotates), and do assigned readings – the current one is Go Into the Streets! The Welcoming Church of Pope Francis, co-edited by Joseph Professor of Catholic Systematic Theology Richard Gaillardetz. The members also hold occasional retreats at the Campion Center in Weston, and are assisted by Jesuits who act as "spiritual reflectors" to help the volunteers contemplate service and its deeper meaning for themselves and those whom they serve. 

At its Dec. 3 core community celebration, which took place on BC's Brighton Campus, IVC New England honored 15 members who have volunteered for at least five years.

For IVC staff member and volunteer Ann Bersani '77, a seven-year participant, the organization provided a meaningful avenue for reorientation when she and her husband – also a 1977 graduate – returned to the Boston area after 30 years. 

"Since we'd been part of BC, and our kids went to Jesuit high schools, service work was something that always appealed to me," she explains. "It's good to stay active when you're retired, and to be connected with others. Getting involved in IVC is a way to be part of a community, and to explore your spirituality with people who have similar interests and concerns."

For more information, visit the Ignatian Volunteer Corps New England Region website.  
–Sean Smith | University Communications