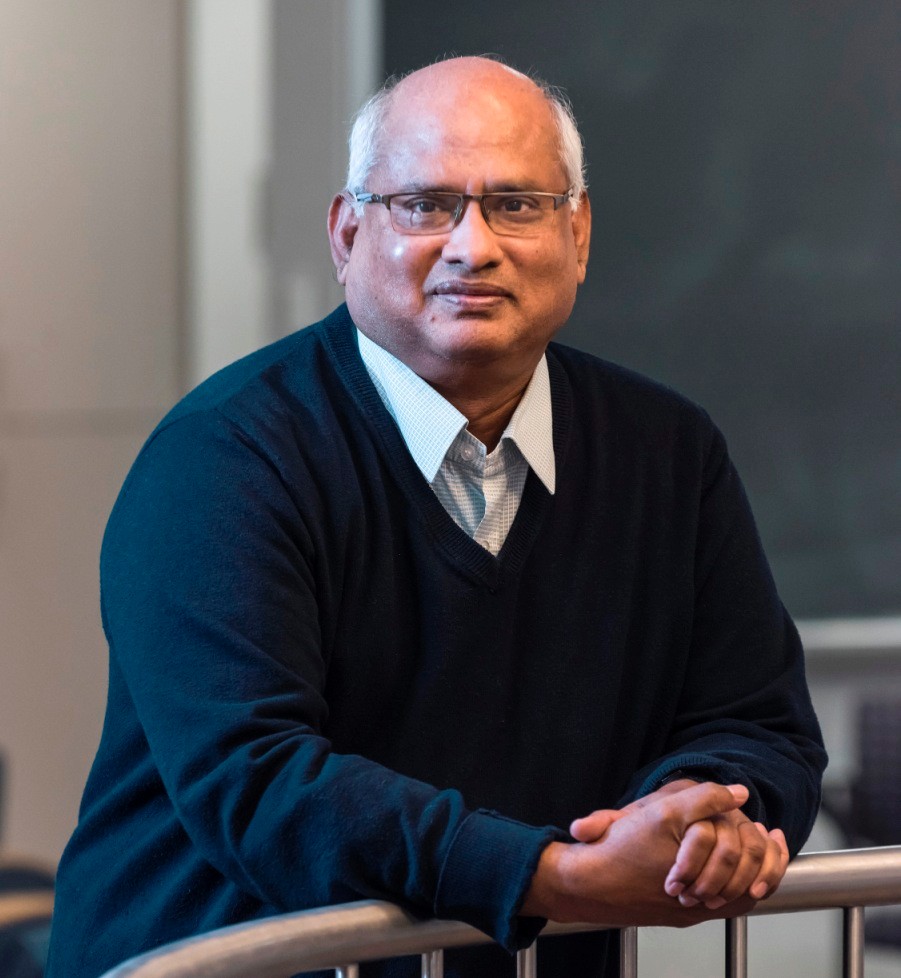 Some might see contradiction in the priestly vocation of Francis P. Xavier, S.J., and his scholarly work as a physicist exploring the origins of the universe. But Fr. Xavier, who is serving as Thomas I. Gasson, S.J., Professor in the Physics Department for 2017-18, sees faith and science as complementary.
He will address the crossroads of religion and science in his upcoming public lecture on April 4 at 4 p.m. in Higgins 310.
"How the universe goes about — that is the realm of science," said Fr. Xavier. "But science cannot say why. Religion is the way I come to the answer. Ultimately, science is to know better and religion is how do you live better?"
Fr. Xavier received a doctorate in physics from Boston College in 1992. He returned to campus in the summers as a visiting scientist, working closely with his doctoral advisor George Goldsmith, a BC physicist who passed away in 2009. Fr. Xavier's book, God of the Atoms, is dedicated to Goldsmith and the BC Jesuit Community.
As Gasson Professor, Fr. Xavier is conducting research and writing a book on time management.
Fr. Xavier is the global vice president for academics and research at Jesuit Worldwide Learning (JWL), a Switzerland-based collaborative dedicated to providing higher education to those on the margins, such as the poor and displaced. Fr. Xavier oversees the global English language, professional certificate and academic diploma programs in collaboration with Jesuit institutions of higher education. JWL offers services in South America, Central America, Africa, the Middle East, Asia and the Caribbean.
His work at JWL ties in directly with his work as chair of the Task Force for Education for Marginalized and Refugees in preparation for the July meeting of the International Association of Jesuit Universities in Spain.
If the Catholic Church is supposed to be a church for the poor, according to Fr. Xavier, "the question is what are we doing for the poor? Whether you are in the academic world, social word, or pastoral world, are the poor the center of your mission? Can we say our universities are the universities for the poor? Are we taking proactive efforts to locate the poor or extend education where they are? We need to be like a shepherd going in search of the lost sheep."
Prior to joining JWL, Fr. Xavier served as the founding director of Loyola-ICAM College of Engineering and Technology (LICET) in his native India from 2010-16. He also was Jesuit provincial of the Madurai Province and founding director of an interdisciplinary research institute, Loyola Institute of Frontier Energy.
Funded by a gift from the Jesuit Community at Boston College, the Gasson Chair is held by a distinguished Jesuit scholar in any discipline and is the oldest endowed professorship at Boston College.
–Kathleen Sullivan | University Communications