A bridge in Sarajevo. Photo by MT Davila.
Some 500 moral theologians from around the globe gathered in Sarajevo in July for a conference which sought to build bridges among people across nations and examine ways ethicists can address issues of climate change and migrants and refugees in a shifting geopolitical environment. The conference was convened by the Catholic Theological Ethics in the World Church, a global network of 2,000 theological ethicists and practitioners, and organized by CTEWC founder and Canisius Professor of Theology James Keenan, S. J., Professor of Theological Ethics Kristin Heyer, and School of Theology and Ministry Associate Professor Andrea Vicini, S.J.
The conference, titled "A Critical Time for Bridge-Building, Catholic Theological Ethics Today," was, according to CTEWC leaders, "a time for action, a time to share visions and strategy, a time to raise up and promote the common good…[and] stand as a sign of effective Christian hope for a world at risk."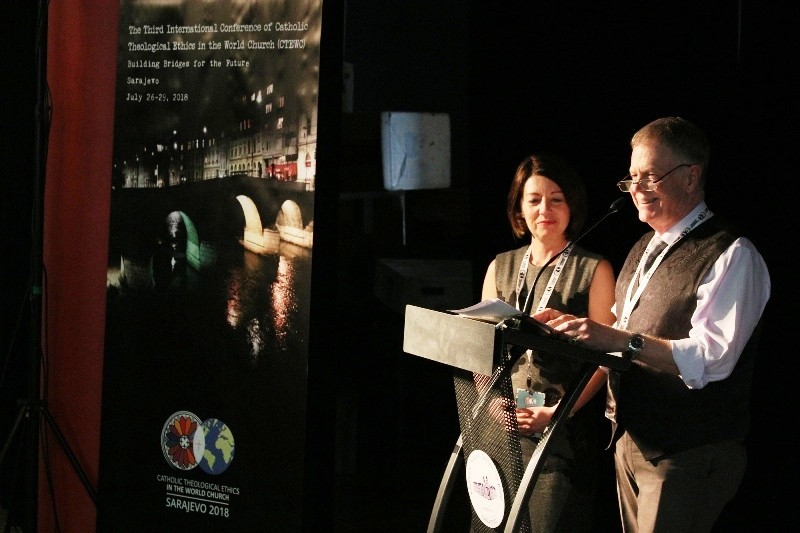 CTEWC Founder James Keenan, S.J., and CTEWC co-chair Linda Hogan address the participants at the Sarajevo conference. (MT Davila)
"In a world where nationalistic populism tears apart any global cooperation, where the abandonment of the Paris Agreement on Climate Change mirrors the abandonment of migrants and refugees, where civility is sacrificed by self-interest and the common good is trampled underfoot, we need to be globally connected and active, abandoning the domination of the Global North and looking beyond local interests," said CTEWC co-chair Fr. Keenan, director the Jesuit Institute at Boston College and co-director of the Gabelli Presidential Scholars Program.
The global meeting drew the attention of Pope Francis, who issued a letter which was read at the opening of the conference. Pope Francis praised the meeting's focus and offered encouragement and prayer, writing:
Letter to CTEWC Sarajevo Conference (excerpt)
"The theme of your meeting is one to which I myself have often called attention: the need to build bridges, not walls. I keep repeating this in the lively hope that people everywhere will pay attention to this need that is increasingly acknowledged, albeit at times resisted by fear and forms of regression. Without renouncing prudence, we are called to recognize every sign and mobilize all our energy in order to remove the walls of division and to build bridges of fraternity everywhere in the world. ... We require a leadership that can help to find and put into practice a more just way for all of us to live in this world as sharers in a common destiny."

In addition to Fr. Keenan, Heyer, and Fr. Vicini, other Boston College conference participants were: Professor of Theology Ken Himes, O.F.M., who gave a plenary talk on political crises; Monan Professor of Theology Lisa Sowle Cahill; Libby Professor of Theology and Law Cathleen Kaveny; Professor of Theology Stephen Pope; Mary Jo Iozzio, a professor in the School of Theology and Ministry, and Toni Ross, associate director of the Jesuit Institute.
BC graduate and undergraduate students and more than a dozen alumni also attended.
Three cardinals, Vinko Puljic of Sarajevo, Blase Cupich of Chicago, and Peter Turkson, head of the Vatican's Dicastery for Promoting Integral Human Development, took part in the conference as well.
According to Fr. Keenan, the choice to hold the conference in Sarajevo was significant. "Sarajevo today offers us three vital contexts: peace-building in the aftermath of ethnic conflict, inter-religious and cross-cultural dialogue in a predominantly Muslim city (85 percent) and economic struggle (40 percent unemployment)," he wrote in a column for Chicago Catholic.
The conference was also noteworthy for the level of involvement from the Global South. For the first time, the Global South represented the majority at a CTEWC conference in terms of individual participants and participating countries, according to Fr. Vicini.
The impact of the CTEWC's outreach was on display when three women who are the first female moral theologians from their respective countries (Bosnia-Herzegovina, India, and Vietnam) gave talks during a panel on the second day of the conference.
Four women representing Youth for Peace, an interfaith group dedicated to peace-building in Bosnia and Herzegovina, gave a presentation, which Heyer cited as one of the conference highlights.
Heyer added that about 30 percent of conference attendees represented the field's rising generation, whether advanced doctoral students, junior scholars, or volunteer translators.
"It was rewarding to meet young scholars—some newly minted PhDs—connecting with peers and senior scholars from around the world and imagining their network in terms of a world church from the start," she said.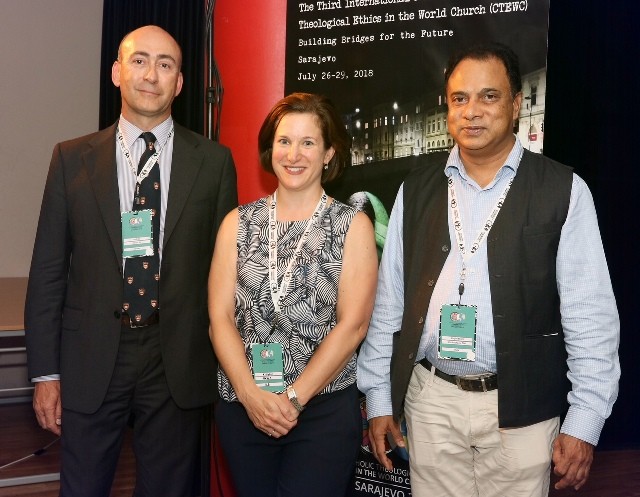 New leadership: (L-R) Andrea Vicini, S.J., Kristin Heyer, and Shaji George Kochuthara, C.M.I., are the chairs of the Catholic Theological Ethics in the World Church. (Jan Jans)
At the conference, it was announced that CTEWC co-chairs Fr. Keenan and Linda Hogan, a theologian at Trinity College Dublin, were stepping down from their leadership positions. Fr. Keenan has lead the group since he founded it 16 years ago. Hogan has served as co-chair since 2004. CTEWC will be directed by a new leadership team: Heyer, who has served as co-chair with Fr. Keenan and Hogan for the last 4 years, Fr. Vicini, a native of Italy, and Carmelite Fr. Shaji George Kochuthara, C.M.I., of India.
"I am very honored by Jim Keenan's trust in us moving forward, given his tremendous legacy with respect to CTEWC," said Heyer. "The inception, growth, and impact of this network are due to his vision, indefatigable spirit, and creativity. I think through its conferences, book series, scholarship programs, and relationship building, CTEWC has transformed the field of Catholic theological ethics such that it is now taken for granted that scholars should engage with the work of those outside of the U.S. and Western Europe, for example.
"Jim's mentorship of the next generation of scholars has extended beyond his students at BC to include [a] global reach via CTEWC's various initiatives," she continued. "I am grateful he has agreed to continue his involvement with CTEWC even as he makes room for a new generation of leadership, as we [will] continue to depend on his strategic guidance and wisdom."
Heyer and her co-chairs are already looking ahead to the future of CTEWC. Heyer would like to devote efforts to improving the CTEWC's website to better facilitate networking across common research and advocacy interests.
"I also foresee the network sponsoring more intra and interregional initiatives," she said. "For instance, the North American region had a promising idea emerge at the conference to convene an event at the US-Mexico border involving our colleagues in the network from Central America, Mexico, and the United States. Facilitating efforts like that and empowering participants to take the lead would be one of my hopes going forward."
"The inception, growth, and impact of [CTEWC] are due to his vision, indefatigable spirit, and creativity."

—Kristin Heyer speaking about James Keenan, S.J.

History of CTEWC
Seeing a need in the Catholic Church for moral theologians from different countries and cultures to connect with one another, Boston College theologian James F. Keenan, S.J., founded the Catholic Theological Ethics in the World Church network 16 years ago. Since then, the growing group of Catholic theological ethicists has meet regularly to listen to and learn from one another, and most recently, join together for a call to action. Their inaugural meeting was held in Padua, Italy in 2006. It was the first-ever international meeting of Catholic theological ethicists, attended by some 400 theologians from more than 60 countries.
In 2010, the CTEWC hosted another international conference, drawing more than 600 participants from 72 countries. There have also been regional conferences in Manila (2008) Nairobi (2012), Berlin (2013), Krakow (2014), Bangalore (2012, 2015) and Bogota (2016).
The CTEWC has produced a monthly newsletter with opinion pieces from theologians representing Africa, Asia, Europe and the Americas. The network has also published a book series, through Orbis Books, on topics from immigration and biblical ethics to feminism and the environment. More than 160 scholars from across the globe have contributed to the series. The sixth book in the series, The Catholic Ethicist in the Local Church, was launched at the Sarajevo conference, which drew 500 participants from about 80 countries.
 — Kathleen Sullivan | University Communications