Photography by Gary Wayne Gilbert


Faith and family first.

That's been the guiding principle of both life and career for actor Chris O'Donnell '92, who spoke to BC students at Robsham Theater on September 29.

O'Donnell is a veteran of film, theater, and television. Currently starring in the CBS crime drama NCIS-Los Angeles, now in its eighth season, his credits include a Golden Globe-nominated role opposite Al Pacino in Scent of a Woman (for which O'Donnell won the Chicago Film Critics Award); parts in Men Don't Leave, Blue Sky, Circle of Friends, Fried Green Tomatoes, and School Ties; plus two turns as Robin in Batman films. O'Donnell has a star on the Hollywood Walk of Fame, but he is also well known as a "family man," and has been honored for his commitment to charitable causes.

His appearance on campus opened the 10th season of BC's student-run Agape Latte series. Launched at Boston College in 2006 by the Church in the 21st Century Center and Office of Campus Ministry, the program provides a platform for prominent BC figures to share stories about transformative or other significant moments of faith in their lives. The popular series has inspired similar programs at Jesuit, Catholic, private, and public colleges across the country.


"Remember your priorities. For me it was always my faith, my family, my friends, and my work. It becomes a pattern of your life, and it serves you better than you know. I had my ups and downs, but I never let the highs get too high, and it protected me from the lows."—Chris O'Donnell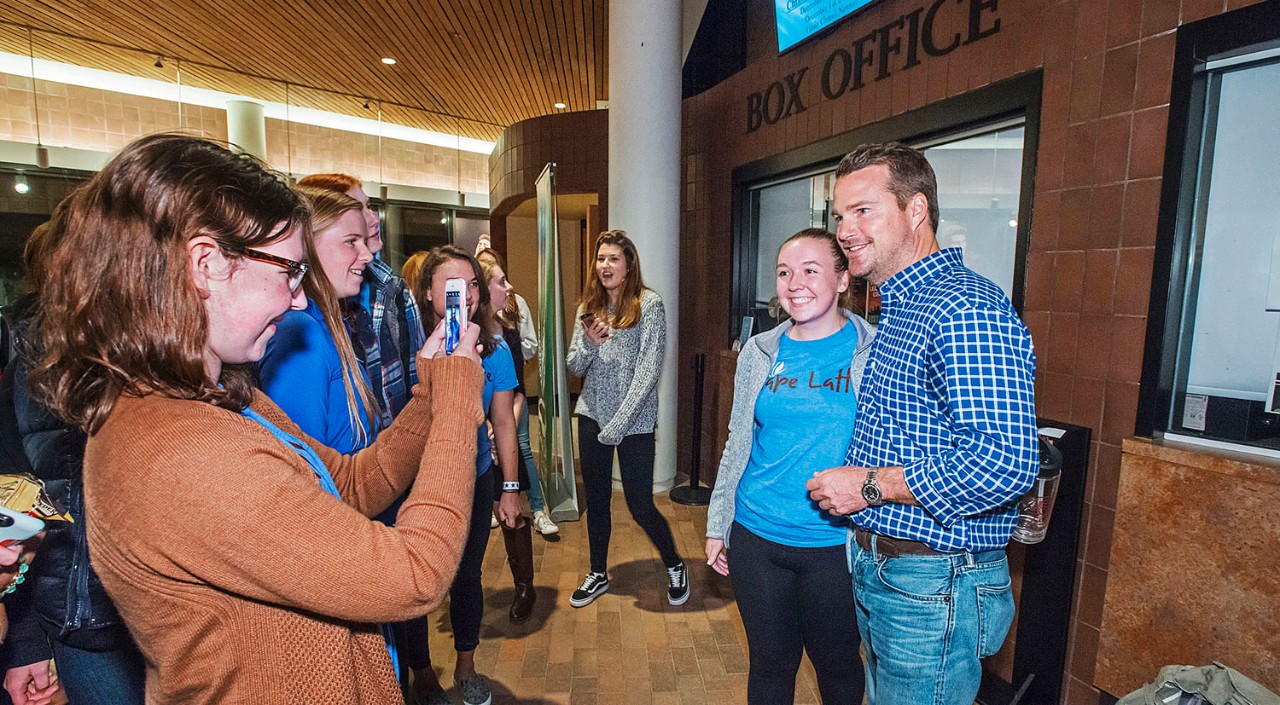 Maggie Mansfield '19 snaps a shot of O'Donnell with classmate and Agape Latte student Emily MacCune.
O'Donnell, who addressed a packed house of BC students ("I feel like I'm here to announce a new iPhone," he said upon seeing the crowd), said he "was more comfortable with a script" and not particularly versed in describing his faith journey. But, as he shared his experiences of home and career, he soon began to illustrate how faith and family have influenced his choices and kept him on course through the highs of fame and the lows of a fast-paced and occasionally "brutal" industry.

The youngest of seven children, for whom weekly Mass and nightly prayers were the norm, O'Donnell characterized his close-knit Catholic family as his support system, sustaining him in times of doubt or difficulty. A positive experience with Jesuit education at Loyola Academy in Chicago, he said, prompted him to apply to BC.
At the time, he already had several years of modeling for print ads and television commercials under his belt, and was in the process of auditioning for Men Don't Leave, a film starring Jessica Lange and directed by Paul Brickman of Risky Business fame.

O'Donnell never believed he'd get the part, he said, and when they offered it to him, he was torn, because he was still focused on college. ("I was the seventh of seven kids," he said. "It was finally my turn."). Serendipity solved the problem: he would be accepted to BC if he could begin in January, a delayed start that enabled him to do the film.

The Agape Latte Beanpot featured a performance on electric violin by Christian Rougeau '17 of the student band Juice.
A graduate of the Carroll School of Management, O'Donnell peppered his remarks with memories of his former professors Richard McGowan, S.J., and the late Ray Keyes; living in Duchesne ("I like Newton"); and of his lack of luck in the housing lottery ("My roommates and I were like the island of misfit toys.")

"I wanted to be under the radar at BC," he said. "I didn't want to be the kid who'd done a film." That became harder to achieve when, after he'd auditioned for a role in The Prince of Tides, his roommate delivered a phone message: "'Hey, OD,' he said. 'Barbra Streisand called for you. What's up with that?'"

O'Donnell's film career continued during his time at BC with roles in School Ties and Scent of a Woman. He described the transition from being "a complete unknown" to co-starring with Pacino as an "explosion," an occurrence that he now recognizes as a pivotal point in his life. While it would have been easy to be influenced by the new-found fame, "Dad said 'don't get carried away by the excitement,'" he recalled, "'because it won't last.'" O'Donnell heeded his father's advice.

When the relentless pace of doing film after film without a break began to "take over my life," he stepped away from the spotlight. He married and began a family—he and his wife of nearly 20 years now have five children—but when he decided to return to work, he faced another pivotal moment at which, he said, his priorities kept him grounded.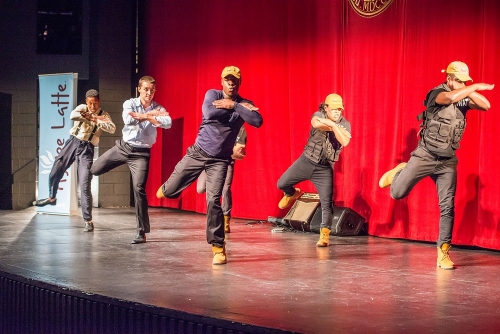 The evening also featured BC's all-male step team Sexual Chocolate.
"The film opportunities weren't as easy to come by," he said. "It was devastating. But I always put faith and family before career and I think having that focus got me through it."

The experience also prompted him to take a risk: he auditioned for, and landed, the lead role in a Williamstown Theatre Festival production of Arthur Miller's The Man Who Had All the Luck. Though he found the transition to live performance daunting at first ("I knew nothing about theater," he said. "I kept waiting for someone to say 'Action!'"), the play's success and subsequent Broadway run renewed his confidence, and also paved his way to roles in the television hit Grey's Anatomy and, ultimately, NCIS: Los Angeles.

During a Q&A, O'Donnell shared insights into his film career (wearing the Robin suit was "miserable; the thickest wet suit you can imagine" with the mask "glued to my face all day"); NCIS (he'd spent the previous day being repeatedly thrown fully clothed into the ocean while filming episode 175 ("I'm afraid of sharks")); and his personal taste (favorite film? "It's a Wonderful Life; my family watched it every Christmas").

Though he finds it "crazy to think I've been doing this for almost 30 years," O'Donnell hastened to add that he's grateful for the opportunities he's had, and for a steady job doing what he enjoys—especially one that allows him be settled in one place and see his kids every day.
His parting advice to students: "First, remember your priorities," he said. "For me it was always my faith, my family, my friends, and my work. It becomes a pattern of your life, and it serves you better than you know. I had my ups and downs, but I never let the highs get too high, and it protected me from the lows."

"Second, try things out of your comfort zone. The biggest risks can lead to the biggest success, and even failing helps you to grow and to become the person you're meant to be."

—Patricia Delaney | News & Public Affairs