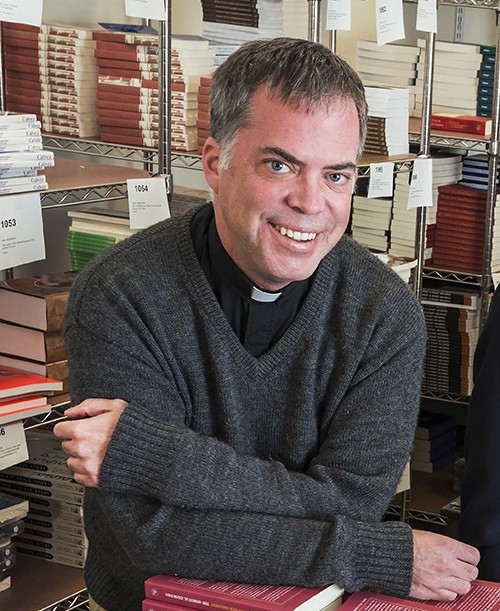 Casey Beaumier, S.J., Ph.D. '13, inaugural director of the Institute for Advanced Jesuit Studies and of Boston College's Loyola House residence for those discerning possible Jesuit vocations, has been named Vice President and University Secretary.

Fr. Beaumier succeeds Terrence Devino, S.J., who was transferred by the Northeast Province of the Society of Jesus to be a retreat director at the Eastern Point Retreat House in Gloucester.

Among his new duties, Fr. Beaumier will serve as a liaison to the Board of Trustees Committee on Nominations and Governance; host and coordinate visits of international academic, religious and political leaders; maintain official University records, and engage in pastoral outreach to students, faculty, staff and alumni.

"I am grateful to Fr. Beaumier for his willingness to accept additional responsibility at Boston College," said University President William P. Leahy, S.J. "I look forward to working even more closely with him in the future."
Fr. Beaumier holds a bachelor's degree in journalism from Marquette University, and master's degrees in philosophy and American Studies from Saint Louis University. He earned his master's of divinity degree and licentiate of sacred theology from the Weston Jesuit School of Theology, and a doctorate in U.S. history from Boston College. 
-University Communications