Hometown: Cranston, R.I.
Major: Political science; American studies and management and leadership minor
Notable Activities/Achievements: Harry S. Truman Scholarship; editor-in-chief of undergraduate research journal Elements; BC Splash executive board member; Liturgy Arts Group; Clough Center junior fellow; peer tutor, Connors Family Learning Center. Winner of the Edward H. Finnegan, S.J., Award, BC's highest undergraduate honor, given to the student who best exemplifies the University's motto "Ever to Excel."
Post-graduation Plans: Harvard Law School; career in government and public service involving educational or employment issues.

Overview: Serving formative internships through the Gabelli Presidential Scholars Program and doing research for Political Science faculty members David Hopkins and Kay Schlozman have been critical experiences at BC for Marandola, who envisions a career in public service focusing on educational advocacy and reform. She saw her interest affirmed last year when she was selected for a Harry S. Truman Scholarship, which is regarded as a touchstone of commitment to public service leadership.  
What impact has Boston College had on you?
The phrase cura personalis – care of the individual – is one we hear at BC a lot, to the point where it's almost casual. But it is very true: I see cura personalis in the classrooms, in relationships with faculty, employees and my peers. To see the personal connections that happen, and how these contribute to intellectual and spiritual development, it's made me more intentional about impacting the community.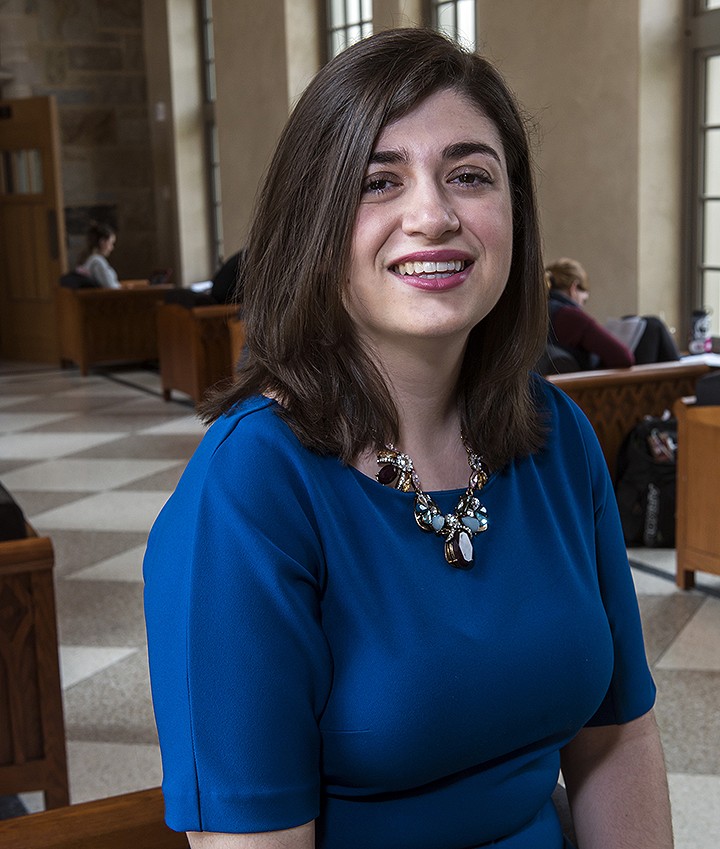 Marissa Marandola '16. (Lee Pellegrini)
How has your time at BC helped nurture your interest in educational reform and advocacy?
I can think of several courses that guided my focus. First, the Western Cultural Tradition seminar sequence offered through the Arts and Sciences Honors Program made me seriously reflect on the importance of education in my life and the obligation of a Jesuit-educated adult to contribute to the larger community in a substantial way. Professor Gigi Georges' seminar on the Politics of Education Reform was also key in solidifying my interest in education law and policy. 
Outside of the classroom, my work with BC Splash caused me to realize in a more concrete way the impact that a positive educational experience can have on a child's life, while volunteer placements at the Italian Home for Children and Educational Development Group Inc. (EDG) through the Gabelli Presidential Scholars Program's summer service learning program enhanced my understanding of the educational inequities that vulnerable populations face and the lifelong consequences of an inadequate education.
I also have to acknowledge David Hopkins and Kay Schlozman in Political Science for providing me with research opportunities, Mark O'Connor of the A&S Honors Program for being a formative influence, and Gabelli Presidential Scholars Program Director James Keenan S.J., for encouraging me to apply for the Truman.
Talk a little more about a couple of experiences that shaped your career interests.
EDG, where I volunteered the summer after freshman year, provides a number of resources and services with a focus on the vulnerable, like ESL for immigrant children and aid for dysfunctional families. I'd done community service while in high school, but this was more involved, and more direct. I could see how an organization would set its priorities and then arrange its activities and manpower to accomplish these. 
BC Splash involves bringing hundreds of high school kids to campus for classes and workshops that are taught by BC students. The idea is to get them excited about education and to see college is not just for kids from the suburbs. This semester I taught my last BC Splash class, which I called "Raucous Caucus": It was a simulation of a presidential primary caucus, to teach them about how politics works. BC Splash is an example of how you can make a difference to someone in a very direct way, even if it's only for a day. It was wonderful to be able to work together with my fellow BC students and make it happen.
There seems to be an unpopular view nowadays of government and public service. Why do you find yourself drawn to them as a career?
I think a lot of people appreciate the quiet ways government has an impact on life: worker protections like paid sick days and anti-discrimination; public education; basic services like public safety and maintaining infrastructure. They aren't necessarily all hot-button issues, but they do make a difference in how we live. 
I'm interested in public service because we've seen what happens when the system fails; and if people don't engage in the system, then government will fail. It's true that there is a lot of cynicism about government, but to me that's just not the Jesuit way.
I got some valuable insight when, as a Presidential Scholar, I did my professional internship the summer after sophomore year. I worked in the Office of the Governor of Rhode Island. For me, it was a place formed by mission, where there were shared goals and objectives that everyone worked toward. Not everything went right all the time, of course, but still, the people there knew the mission was to serve their public and that defined what they did. Working there really confirmed my motivation for law school and working in government.

By Sean Smith | News & Public Affairs