Hometown: North Reading, Mass.
Major: Psychology; General education minor
Notable Activities/Achievements: Captain, women's hockey team; 2015 Patty Kazmaier Award winner as top player in NCAA Division I women's ice hockey and top three finalist for the 2016 award; nation's leading scorer in 2015 and 2016; selected All-America three times, nominated twice for first team; selected four times for Hockey East All-Star; won silver medal with 2014 U.S. Olympic team; played on gold medal-winning U.S. national team in 2015 and 2016.  
Post-graduation plans: Was first pick in the inaugural National Women's Hockey League draft, selected by the New York Riveters then traded to Boston Pride, with whom she signed a one-year contract.  Will be among 13 Eagles headed to USA Hockey's annual Women's National Festival at the Olympic Center in Lake Placid, N.Y.

Overview: The BC women's hockey team has achieved unprecedented success over the past few years, and Carpenter has been at the heart of it. The Eagles' leader, poised to transition to a professional hockey career in the new NWHL, leaves behind BC's Kelley Rink, which has become a second home. With a demanding schedule of academics, hockey practice, and games – both at home and away – she has honed her time management skills and achieved balance, both on and off the ice, during her undergraduate years. 
How did it feel to be first pick in the National Women's Hockey League draft?
It was pretty special to be the first overall draft pick in the NWHL draft. It is something that will always be a highlight in my hockey career. I think that playing professionally will be a completely different experience than playing at BC and in the Olympics, because the league is so new. [It is] playing an instrumental part in growing women's hockey and I think that it will only continue to grow the sport.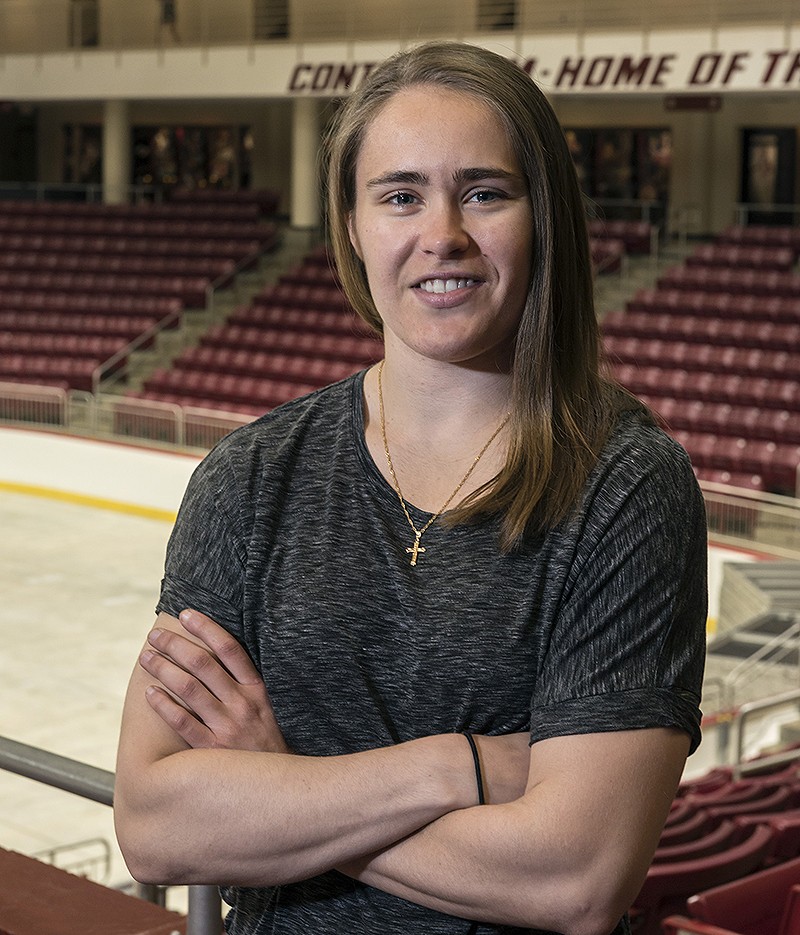 Alex Carpenter '16. (Lee Pellegrini)
How has BC made a difference in your life?
BC has taught me how to be a leader in the community. I'm fortunate enough to have been put in leadership positions on the hockey team and that has carried over into various aspects of my life.
I have enjoyed all of my classes at BC. My professors have been very understanding of my hectic hockey schedule, and that is something that I am extremely grateful for. 
Who have been some of the most influential people you've known at BC and why?
Fr. Tony Penna [director of Campus Ministry] has definitely been a very influential person in my life. We would have weekly meetings for a half hour and talk about so many things. I feel like he helped me see myself in different ways, which helped me to grow as a person.
What experience(s) at BC have had the most impact on you and why?
I believe playing on the hockey team has had the greatest impact on me as a hockey player, but more importantly as a person. You have to interact with your teammates on a daily basis and you learn a lot about teamwork and respect, two things I believe are exceptionally important in everyday life.
What will you miss most about BC?
I will definitely miss my teammates the most, as well as practicing and playing at Kelley Rink. It will be tough knowing that I will not be playing there anymore, but it is also nice to remember all of the great memories that will forever be rooted on that ice surface.
What advice would you give to incoming BC students?
Do something that you are afraid to do. It's so easy to get comfortable with the same daily schedule and group of friends, but getting out of your comfort zone and really pushing yourself to meet new people and try new things is what helps your grow as a person at BC.
By Rosanne Pellegrini | News & Public Affairs