Incoming Boston College freshman Mamadou Balde was among those in attendance at Michelle Obama's 2017 College Signing Day earlier this month.

The event, begun in 2014 as part of the then-first lady's Reach Higher Initiative, was hosted by Nick Cannon and held at New York City's Public Theater, where Obama addressed an audience of several hundred high school, and mostly first-generation, students.
She posted a photos of herself with Balde—a resident of  Bronx, NY, and soon-to-be graduate of Bronx Lighthouse Charter School—to an Instagram story (see photo below) and on Twitter.

"This event has grown from just a few dozen events in a handful of cities where we first started to this nationwide celebration we're having in just four years," said Obama, who talked about the effect education had in her own life and  stressed that, though she was no longer in the White House, she would continue to be an advocate for education.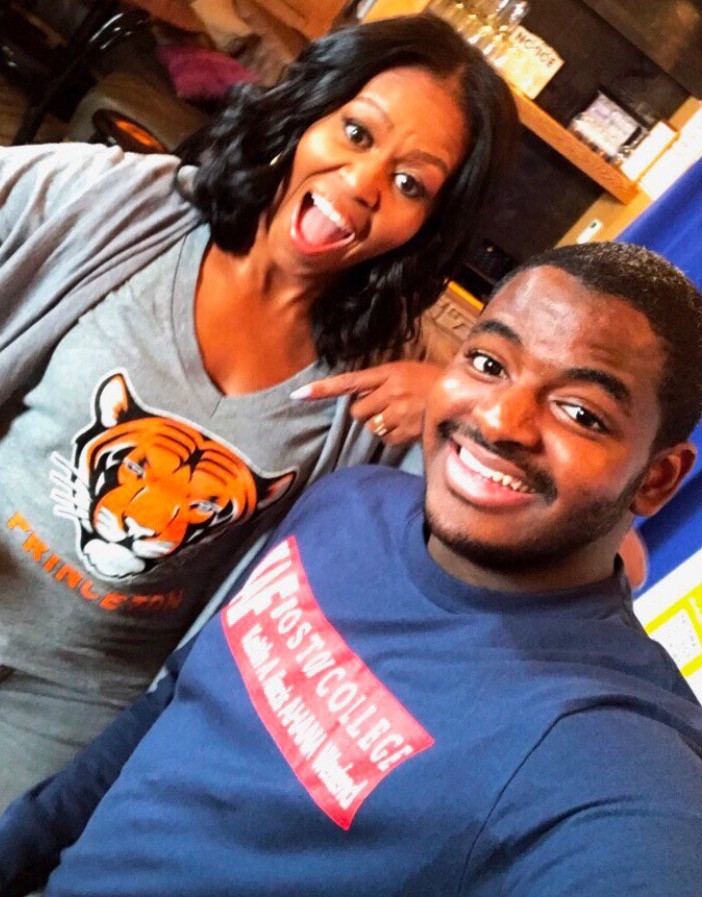 She expressed her hope that those in attendance would consider the number of college acceptance letters they received to be more important than their number of followers on social media.
Calling the students present "the leaders of tomorrow," she urged them not to be discouraged as they continued their academic careers.

"Remember this day," she said. "We need you...and I couldn't be more proud of you."
Balde, who recently participated in BC's Keith A. Francis Memorial Yield Program for accepted AHAHA students, wore the program's t-shirt at the signing day event. He will join the University's Options Through Education program this summer.

Read more about Michelle Obama's College Signing Day in the Huffington Post.


—University Communications